Alex Trebek's wife Jean is getting into the holiday spirit and writing publicly about the joy her family finds through its holiday traditions.
As beloved Jeopardy! host Alex Trebek continues to fight pancreatic cancer, his wife of nearly 30 years has taken to her platform — the website Insidewink.com — to share some wonderful details about how her family observes the holidays.
Read More
To be clear, Jean is not sharing details about Alex's health and is maintaining a level of well-deserved privacy around the family's struggle.
We do know that for some families dealing with cancer, the holidays can be a particularly difficult time. Many survivors feel that during treatment, the hustle and bustle of the holidays are just too much for them — and that's totally OK.
Jean Trebek says that the Trebeks take comfort in their holiday traditions. She pointed out that — like many families, as children grow older and family members move or become busier — their holiday traditions are "in flux," but the important thing is the time they get to spent together.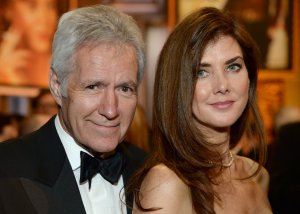 "To date, our holiday traditions are in flux," Jean wrote. "…a perfect paradox so to speak. That's Okay. For no matter what, the gratitude we have for each other is consistent, and that perhaps is the best tradition of all."
RELATED: PLAY THE CANCER CARD-DEALING WITH CANCER DURING THE HOLIDAY SEASON
Also in the post, Jean mentioned some of her favorite holiday traditions growing up — such as decorating her grandmother's house with decorative gnomes and cutting down their own tree. As she and Alex raised their two children, they developed some of their own family traditions — visiting Alex's mother's house for Christmas breakfast, having a family holiday movie night, and indulging in some Canadian meat pies … just to name a few. Many survivors have told us that during the cancer battle, it can be especially helpful to maintain an element of normalcy in your life, in whatever way you can. For the Trebeks, embracing their regular holiday plans is just one of the ways they're keeping things normal.
Trebek's Battle With Pancreatic Cancer
Trebek, 79, has been battling pancreatic cancer in a way that has inspired huge numbers of people. He went public with his diagnosis last March, disclosing that he would be undergoing treatment for stage 4 pancreatic cancer. This type of disease — especially in advanced stages — is notoriously difficult to treat. However, Trebek disclosed earlier this year that he was responding really well to treatment. In a May interview with People, he said that his body's response to chemotherapy was "mind-boggling."  In September, however, Trebek announced a bit of a reversal of those initial positive results.
In an interview with Good Morning America, the TV show host shared that he would be undergoing another round of chemotherapy after recent tests revealed "sky-high" numbers, and he experienced really rapid weight loss.
Trebek responded so well to his first round of chemotherapy, his doctors took him off his regiment, hoping to start immunotherapy shortly thereafter — so Trebek's own immune system could be rallied to begin killing off cancer cells. However, Trebek revealed that immunotherapy didn't do anything for his disease.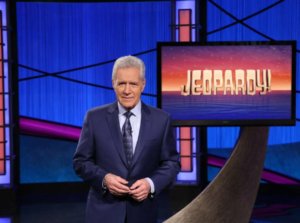 And with the recent results, his doctors decided that more chemotherapy was needed. In a recent interview with SurvivorNet, Dr. Dana Simeone, Director of the Pancreatic Cancer Center at NYU Langone's Perlmutter Cancer Center, said that the dramatic change in treatment response Trebek experienced is not uncommon for people with pancreatic cancer.
"As a clinician who oversees the care of many individuals like Mr. Trebek, recurrence following what was considered successful treatment is, unfortunately, all too common," Dr. Simeone said. "The more advanced a cancer is — in Mr. Trebek's case, stage 4 — the harder it is to keep it in check."
As of now, Trebek is continuing with his Jeopardy! duties — as well as giving the occasional interview — and things at the Trebek house seen to be active and upbeat as we head into the holiday season. However, Trebek did say that if his skills should diminish due to treatment — and he has admitted that chemotherapy has caused sores in his mouth, which he feels affect his voice — he will step down from his position as Jeopardy! host, which he has held for 36 years.
Learn more about SurvivorNet's rigorous medical review process.