Just weeks after Jeopardy! host Alex Trebek announced that his cancer journey took an unexpected turn, he appeared on a former contestant's podcast to engage in a fun and lively conversation that touched on everything from his family's history in the carpentry business to how much he enjoys visiting the Yorkshire English countryside. The podcast — created by fan-favorite contestant Austin Rogers (and aptly named A Lot to Learn with Austin Rogers) — aired on Thursday. A second part of the episode will be available on Oct. 24.
Trebek's love of tinkering, building and fixing things up around the house is no secret to his fans. His wife of 29 years, Jean Currivan Trebek, recently shared an update about how the 79-year-old game show host was working on remodeling her bathroom and is quite the handyman — even as he battles pancreatic cancer.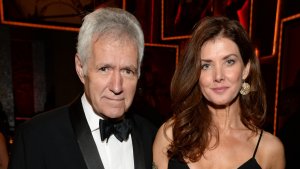 Read More
During the podcast interview, Trebek told Rogers about his family's hands-on history. "All of my mother's brothers were involved one way or another in the construction industry," he said. "Either in carpentry, painting, manufacturing, windows, doors, things like that — and so I watched them as I was growing up."
Also in this week's episode — the two discussed cars and troubling LA weather. In the episode airing on Oct. 24, Trebek and Rogers talk more about the beloved host's hobbies — and discuss a recent English countryside trip he took, as well as his appreciation of Victorian-era novelists, the Brontë sisters.
The Latest in Trebek's Cancer Journey
Trebek announced in March that he had been diagnosed with pancreatic cancer — which is an incredibly difficult disease to treat. What's more, the host was diagnosed at stage 4. However, he's kept an optimistic attitude throughout his months-long cancer journey. He was initially treated with chemotherapy and had responded quite well — announcing in May that some of his tumors had shrunk a significant amount, and the results were "mind-boggling." But in September, Trebek announced a reversal of those initial positive results.
In an interview with Good Morning America, Trebek shared that he would be undergoing another round of chemotherapy after recent tests revealed "sky-high" numbers, and he experienced really rapid weight loss. After Trebek responded so well to his first round of chemotherapy, his doctors took him off his regiment, hoping to start immunotherapy shortly thereafter — so Trebek's own immune system could be rallied to begin killing off cancer cells. However, Trebek revealed that immunotherapy didn't do anything for his disease.
And with the recent results, his doctors decided that more chemotherapy was needed. In a recent interview with SurvivorNet, Dr. Dana Simeone, Director of the Pancreatic Cancer Center at NYU Langone's Perlmutter Cancer Center, said that the dramatic change in treatment response Trebek experienced is not uncommon for people with pancreatic cancer.
"As a clinician who oversees the care of many individuals like Mr. Trebek, recurrence following what was considered successful treatment is, unfortunately, all too common," Dr. Simeone said. "The more advanced a cancer is — in Mr. Trebek's case, stage 4 — the harder it is to keep it in check."
As of now, Trebek is continuing with his Jeopardy! duties — as well as giving interviews like the Rogers podcast. But he has said that if his skills should diminish due to treatment — and he's admitted that chemotherapy has caused sores in his mouth, which he feels affect his voice — he will step down from his position as Jeopardy! host, which he's held for 36 years.
"When I feel that my skills have diminished to the point that I notice and am bothered by it… There will come a point where they [the producers and audience] will not be able to say, 'It's OK,'" Trebek told Canadian network CTV News. But he also said that he will continue to fulfill his role for as long as he can. "There are weaknesses that I feel in my body … but I can always suck it up [when] Johnny says, 'And now, here's the host of Jeopardy.'"
Learn more about SurvivorNet's rigorous medical review process.