After the shock and devastation of an advanced cancer diagnosis settles in, many people  take time to evaluate the time they have left — from milestones they hope to reach to bucket-list items they hope to experience.
For 58-year-old Dana Kennon, a California woman with metastatic breast cancer, her No. 1 wish was to visit Disneyland one last time — and with someone who had never been so she could experience it through their eyes.
Read More
"[I just wanted] one thing," Kennon shared with SurvivorNet. "To see the Christmas lights at Disneyland perhaps for the last time, to feel 12 again while doing it, and to take someone to share the in the exhilaration of someone who had never experienced the true magic of Disney."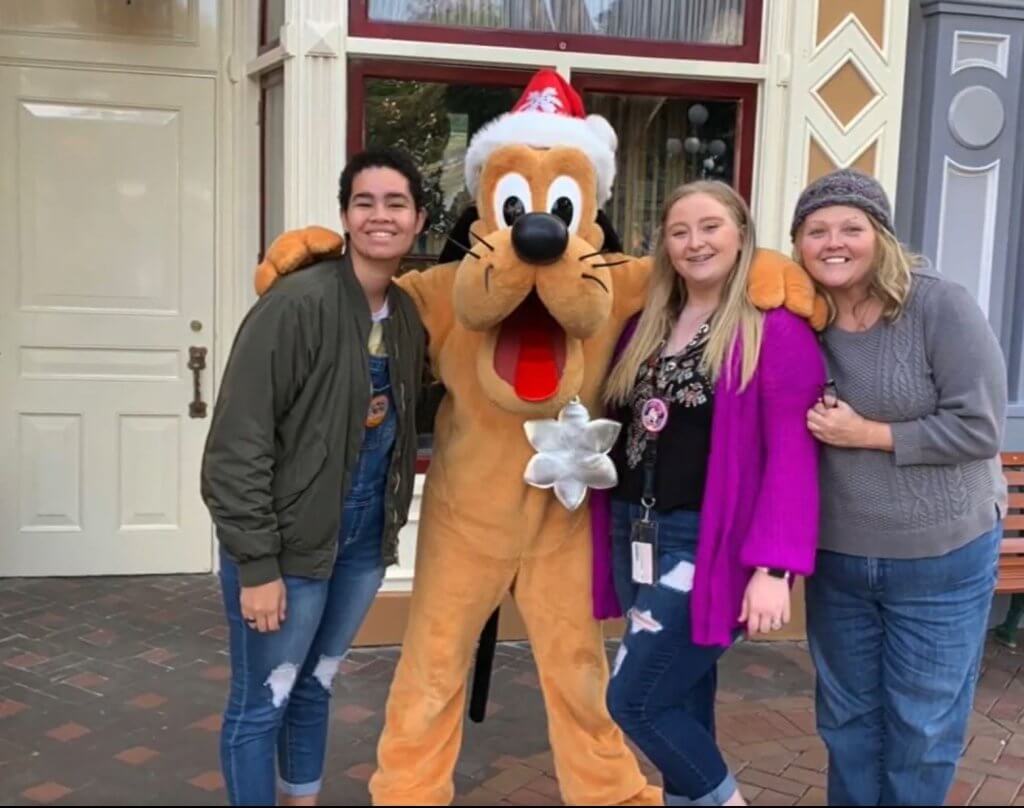 Kennon said in early October, she posted a simple question on Facebook: "Starting a bucket list. Anyone know if there is a way to get a discount on Disneyland passes?"
Once Kennon shared the post, a woman named Nancy Juetten, a former classmate of Kennon's from the John F. Kennedy High School in Granada Hills, Calif., wrote a blog post about Kennon's wish in a high school Facebook group. She asked their classmates to contribute what they could to help make Kennon's trip to Disneyland a reality.
RELATED: "Live a Little!" A Young Woman's Decision To Forego Chemotherapy And Embrace The Brief Time She Had Left
"Way back in 1979, one of the ways we got the word out to make a difference was by working together on the weekly school newspaper by the same name. The Word came out every Friday, sharing news, opinions, sports coverage, and feature stories about difference makers among us," Juetten wrote.
"Today, we have the benefit of social media, Facebook Live, and BeLive.TV to get the word out to invite action in perfect timing.
"This brings me to a bright idea for the difference makers in our class who are poised to gather in a few short days. What if every guest of the John F. Kennedy High School Class of 1979 reached into his or her pocket to share a "donate what you can" amount to make Dana Hall Kennon's Weekend in Disneyland Bucket List Wish come true?"
RELATED: Do What You Love — Even if Cancer Gets in the Way of Your Dreams
"Nancy [Juetton] never thought twice," Kennon told KABC. "She just sprang into action."

Kennon was able to take the trip she'd been dreaming of. She visited Disneyland with her 21-year-old daughter and her daughter's girlfriend, who had never been there.
"Our trip was perfect," Kennon told SurvivorNet. "Everything was perfect. I had forgotten that old familiar pain you felt as you pulled away from the Disneyland parking lot dreaming of how you would be back next week and the week after that and so on."
The trip to Disney may be over, but Juetten's generous help for her former classmate isn't. Kennon has faced a tremendous financial burden attempting to pay for her medical expenses on top of all of the day-to-day expenses, and now, Kennon told SurvivorNet, Juetten has created an online GoFundMe page to help Kennon pay for her care.
"The wonderful and amazing Nancy Juetten stepped in again and has helped me to post, for anyone who would care to help with a contribution, my fight for chemotherapy.
Go Fund Me has a post entitled, 'All I Want for Christmas is my Chemo,'" Kennon said. "Seeing my Bucket List dream of Disneyland come true has been absolutely incredible. But to see the possibility of extending my life here with my daughter, by being able to afford my chemotherapy and other medicines would be more than a dream, it would be miraculous."
RELATED: A Teenage Love Story, and Getting Through Cancer: Meet Sophie and Haydn
Dr. Elizabeth Comen, a breast cancer oncologist at Memorial Sloan Kettering Cancer Center, spoke with SurvivorNet about the prognosis and treatment for stage 4 breast cancer. 
Learn more about SurvivorNet's rigorous medical review process.