Shannen Doherty's Breast Cancer Fight & Divorce
Actress Shannen Doherty, 52, who has been battling breast cancer for years and filed for divorce earlier this year from her husband of 11 years, never ceases to impress her fans with her continued optimism and joy for life.
We're admiring how Doherty is staying positive and find happiness in her life despite her health challenges and all that comes along with filing for divorce. She recently took to Instagram to share a photo of herself dancing with her best friend Chris Cortazzo's two adorable children.
The "Beverly Hills, 90210" actress was first diagnosed with breast cancer in 2015 after finding a lump in her breast that turned out to be cancerous. In February 2020, her breast cancer returned and spread to other parts of her body.
In January 2023, a CT scan showed revealed her cancer had spread to her brain, ultimately leading her to  have surgery to remove a tumor in her brain and undergo radiation.
"Beverly Hills, 90210" actress Shannen Doherty, 52, isn't letting her recent divorce from her estranged husband of 11 years Kurt Iswarienko and ongoing journey metastatic breast cancer keep her from enjoying the little things in life—like dancing to loud music at home.
In a recent Instagram post, Doherty warmed the hearts of her fans with the most adorable and uplighting video of herself dancing with the children of her best friend, Malibu real estate powerhouse agent Chris Cortazzo.
View this post on Instagram
Read More
She captioned the post, "Dance party with Amoré and Aniello." Doherty is seen barefoot, dressed in comfy-looking jeans and a Pink Floyd T-shirt with her hair tied back, dancing vibrantly to the song "Flowers" by Miley Cyrus, a fitting song for the star as she's recently parted ways with her ex husband.
The song lyrics are, "I can buy myself flowers; Write my name in the sand/ Talk to myself for hours/ Say things you don't understand/ I can take myself dancing/ And I can hold my own hand/Yeah, I can love me better than you can."
As the powerful song plays fills the room, Doherty is seen hopping up and down as the cute kids follow her dances moves.
Doherty's dance moves included holding hands and swaying side-to-side while jumping alongside the children, as well as raising her hands up in the air and moving across the wooden floor in an unruly pattern.
RELATED: When Times Get Tough, Britney Spears Reminds Us that It's OK to Let it Out: 'For My Sanity I Need to Dance'
The post prompted praise from her fans, with one writing, "Dancing with little ones is just the best! They are some lucky little ones!" and another saying, "This puts the biggest smile on my face."
Cortazzo, who had Aniello Vincenzo and Amoré via surrogate, also shared the sweet footage on his Instagram page, writing alongside the video, "My greatest loves, #myfamily @theshando"
RELATED: Kids with Cancer Get a Thrilling Surprise a Diddy Dance Party on 'The Ellen Show'
His post was also greeted with heartfelt comments, including one reading, "All that matters most! Keep making those magnificent memories to last a lifetime."
View this post on Instagram
Doherty, a Tennessee-native popularly known for her roles in "Charmed," "Beverly Hills, 90210," and "Heathers," often takes to social media to share fun times spent with friends, especially the outings she enjoys with her closest friend Cortazzo. And although, at times, their posts could spark speculation that the two are dating, that doesn't seem to be the case as Doherty often refers to Cortazzo as her best friend.
RELATED: Glamorous Vegas Showgirls, Singing, Dancing, And Triple Negative Breast Cancer The Fabulous Lauren Clark Kept On Dancing!
Back in February 2021, Doherty shared a some photos on Instagram for Cortazzo's birthday, writing, "Today is an epic day because on this day, @chriscortazzo was born (we don't talk about how many years ago). I couldn't ask for a more kind, loving, compassionate, funny best friend.
"You are a rock and not only am I blessed with your friendship but the world is just a better place with you in it. I love you Chris!! Happy birthday!"
Later that year, she uploaded another selfie of the two of them, saying, "Never a bad night with this one. @chriscortazzo. It's not complicated. Fill your life with kindness and love. Spend time with people who make you smile. Who challenge you. Expand. Grow."
RELATED: Meet the Grooving Cancer 'Doc' Who Dances with his Patients
More recently, Doherty shared a photo of her and Cortazzo smiling close to each other for "dinner time."
It's clear Doherty is enjoying all that life has to offer and we're happy she continues to share these lovely memories on her Instagram page. It's also great to see Doherty with a loved one who has constantly been supportive throughout the years.
Shannen Doherty's Cancer Battle
Shannen Doherty was first diagnosed with breast cancer in 2015. It went into remission in 2017 but returned as stage 4 (or metastatic) in 2019. Metastatic cancer means the disease has spread to distant areas of the body, like the bones, liver, lungs, or brain.
RELATED: Going to London: Actress Shannen Doherty Is Not Letting Divorce Or Breast Cancer Stop Her From Finding Joy Through Hardship
This year, her continued battle with cancer involved surgery and radiation.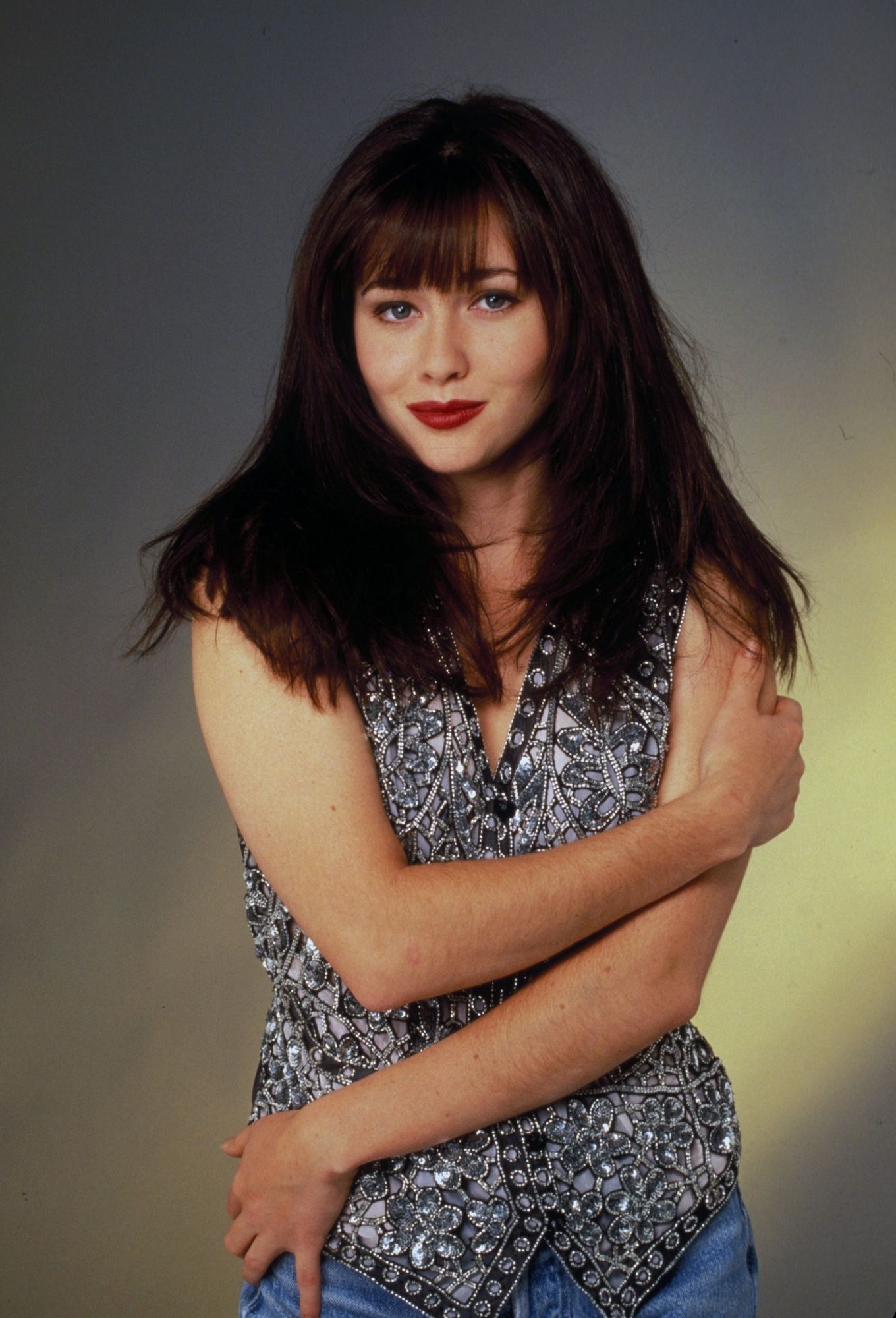 Earlier this year, the actress shared a handful of photos and videos of her getting prepared for radiation treatment on her head. During radiation, high-energy beams are aimed at the location doctors believe cancer cells to be. The MRI helps doctors pinpoint the exact location of the tumor within the skull.
She also underwent a craniotomy brain surgery where doctors worked to remove cancer from her brain.
"We take off the bone overlaying the area we need to get to. We open the little envelope around the brain called the dura and then we move through the brain tissue to get to where the tumor is to try to cut out as much as we can safely without hurting the patient's function or other important things like big blood vessels that can cause things like a stroke," neurosurgeon at Emory University School of Medicine, Dr. Kimberly Hoang, told SurvivorNet in a previous conversation.
Metastatic breast cancer survivor shares uplifting message: you are not a statistic.
After the procedure, the patient is closely monitored and usually receives radiation to keep the tumor from growing back.
"Because many patients can have more than one brain tumor or metastasis from their cancer, that was not reasonable to think about surgery for, they also get radiation for those spots as well to try to keep those tumors from growing or shrink them down," Dr. Hoang further explained.
Doherty's prognosis after having surgery to remove cancer from her brain is an encouraging sign of progress, several neurosurgeons have told SurvivorNet.
Dr. Elizabeth Comen Discusses Stage Four Breast Cancer
"A couple of decades ago, to have a brain metastasis was a very bad prognosis for patients. They didn't live for more than a couple of months, so it was a very terminal thing. Thanks to a lot of advancements in microsurgery we do and radiation, patients are living longer," Dr. Hoang said.
Letting Out Emotions By Dancing
For cancer patients, like Doherty, letting out emotions is vital and it can also be done by simply dancing and doing something fun. It's admirable to stay strong and positive and strap on your mental combat boots, but you also need days to process what you're going through.
RELATED: Less Than 100-Pounds Growing Up, How This 58-Year-Old Man Found Purpose in Hip Hop Dancing: 'Strong Men Cry' Too
Evelyn Reyes-Beato is a colon cancer survivor who comes from a culture where feelings and health issues aren't openly discussed. Evelyn tells SurvivorNet that dealing with her emotional pain was a big part of dealing with her physical pain.
"You have to let it out," Evelyn tells us. "Your mental and your emotional help your psychical get in line. If you keep all of the emotions in, the way I see it, is that stuff is going to eat you up inside and it's not going to let you heal."
You Just Have to Let it Out Survivor Evelyn Reyes-Beato on Healing Emotionally After Cancer
This survivor rocked out during chemo to stay sane.
Marquina Iliev-Piselli dressed up in fun, whacky outfits, and tried to stay connected with herself and her body during a tough time.
"With cancer specifically, every couple weeks I would grab a bunch of different clothes that were donated and bring them to the hospital and would just try to make something happen in those 6 to 8 hours while I was in the hospital. It was glam rock chemo," Marquina tells SurvivorNet. "I air guitared [during] my chemo, and it saved my spirit. It made it so I don't look back on that time with fear."
Glam Rock Chemo How Air Guitar Got This Survivor Through Cancer Treatment
Finding Joy While Battling Cancer
When faced with a cancer battle, like Shannen Doherty, it can be difficulty to focus on life outside of your disease. However, it's important to remember that your mental state can actually impact your success as a patient.
"I'm pretty good at telling what kind of patients are going to still have this attitude and probably going to live the longest, even with bad, bad disease," Dr. Zuri Murrell, a colorectal surgeon at Cedars-Sinai Medical Center, previously told SurvivorNet. "And those are patients who, they have gratitude in life."
Dr. Dana Chase, a gynecologic oncologist at Arizona Oncology, also advocates for cancer warriors to prioritize their mental health. She noted that emotional well-being has been studied as a factor in patient outcomes.
"We know from good studies that emotional health is associated with survival, meaning better quality of life is associated with better outcomes," Dr. Chase told SurvivorNet in an earlier interview.
"So, working on your emotional health, your physical well-being, your social environment [and] your emotional well-being are important and can impact your survival. If that's related to what activities you do that bring you joy, then you should try to do more of those activities."
Adversity And The Art of Happiness: How Hardship Makes You Even Stronger
If you're anything like Doherty, paying attention to your emotional health might look like spending time with friends and traveling, two things she often takes to Instagram to share. Other people might turn to yoga, painting, writing, spending time with family or a number of different things.
There are no right or wrong answers, but Dr. Chase says doing things that bring you joy is important.
She recommends writing down ten things that make you happy and intentionally making the time to do those activities throughout the day.
What Still Brings You Joy? Your Emotional Health is So Important to Living with Ovarian Cancer
"Sometimes I will talk to a patient about making [a] list of the top ten things that bring them joy," Chase says. "And trying to do those ten things, to make at least 50 percent of their experiences positive throughout the day."
Friendship & Support During a Cancer Battle
It's no secret that fighting cancer, and going through a divorce, can be overwhelming, so having physical and emotional support from friends during your battle is huge. Thankfully, it seems that Shannen Doherty has been able to live her life to the fullest with supportive loved ones, especially her best friend Chris Cortazzo, by her side.
Licensed clinical psychologist Dr. Marianna Strongin says having people by your side during this "arduous chapter" of your life can be very beneficial.
"Studies have found consistently that loneliness is a significant risk factor for physical and mental illnesses and the trajectory of recovery," she wrote in a column for SurvivorNet. "Therefore, it will be important that you surround yourself with individuals who care and support you throughout your treatment."
That being said, it's very important to know your limits on what you can handle during treatment.
"Going through treatment is a very vulnerable and emotionally exhausting experience," she wrote. "Noticing what you have strength for and what is feeling like too much [is] extremely important to pay attention to as you navigate treatment."
In a previous chat with SurvivorNet, psychiatrist Dr. Lori Plutchik added that some cancer warriors may need to look beyond their existing relationships to find the support they need.
"Some people don't need to go outside of their family and friends circle. They feel like they have enough support there," Dr. Plutchik said. "But for people who feel like they need a little bit more, it is important to reach out to a mental health professional."
Seeking Support: Dr. Plutchik shares the first 3 things to do after a cancer diagnosis
Dr. Plutchik said it's best to find a mental health professional with experience aiding people undergoing cancer treatment.
"Make sure that the mental health professional that you work it is reaching out, with your consent, to the rest of your team, to the oncologist, to the surgeon," she said. "It can also be helpful to reach out to family, friends, and any other caretakers that may be involved in the person's treatment."
Contributing: SurvivorNet Staff
Learn more about SurvivorNet's rigorous medical review process.
---