A Huge Milestone After Beating Cancer
Blink-182 bassist Mark Hoppus was fighting for his life last year while battling lymphoma.
The Grammy-nominated artist just celebrated the big 5-0, a huge milestone, especially after beating cancer.
It's important to know that getting diagnosed with late-stage lymphoma is not a death sentence; The odds are still very good for you to beat it with the right treatment.
What a difference a year makes. Blink-182 bassist and co-lead vocalist Mark Hoppus was fighting for his life last year while battling lymphoma. Now, the husband and father is free of cancer and celebrating being a half-century-old as he just turned 50.
The musician posted the song "Happy Birthday To Me" by the Vandals on his Instagram. A happy one indeed. Let's take a look back on his journey.
Read More
Mark Hoppus was diagnosed with Diffuse Large B-Cell Lymphoma Stage IV-A last April, and after treating it with chemotherapy, was given the "all clear" in September. Easier said than done, as many cancer patients know. Hoppus went through quite a battle.
His foe? Diffuse Large B-Cell Lymphoma, which is a type of blood cancer. Unlike breast or colon cancer, there's currently no screening test for lymphoma.
When Mark Hoppus began treatment for the disease, he accidentally shared his news on Instagram. He had meant to share a photo at his first chemotherapy with a select group of close friends, but accidentally posted wide.
Related: 'It Sucks & I'm Scared': Blink-182 Frontman Mark Hoppus Reveals He Is Battling Cancer
"Maybe part of me subconsciously posted it to my main, but I definitely didn't do it on purpose," Mark Hoppus said in a recent interview about his cancer with GQ, explaining the snafu. "But I don't know. It kind of felt like a Band-Aid had been ripped off and I was able to be honest with people."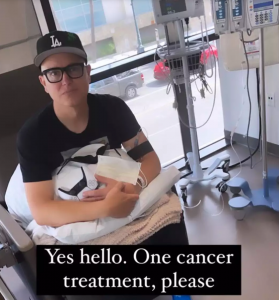 Hoppus's core nucleus of support was and is, of course, his family, but getting love from thousands of fans when you're down certainly can't hurt!
— Mark Hoppus (@markhoppus) June 23, 2021
Mark Hoppus has been married to fashion designer Skye Everly for just over 20 years, and they share a nineteen-year-old son named Jack, who is also a musician. His family was a huge source of support to him throughout his cancer journey.
 

View this post on Instagram

 
Lucky in love, life, and career for 49 years, Hoppus expressed that he just felt something was coming for him.
"I had a really dark time after finding out," he told GQ. "I went through this whole period of like, not why me, but of course me. Why wouldn't it be me? We've had so much good luck and good fortune, and things have kind of fallen into place for me specifically for so long, that of course I was due. I was due for something tragic."
Related: Dick Vitale, 82, To Miss NCAA Season Opener Due to Chemo; Sportscaster Reveals Lymphoma Was Initially Misdiagnosed As Bile Duct Cancer
The Grammy-nominated artist's good fortune came in the form of his pop-punk band selling over 35 million records worldwide. If you're a rocker having to go through cancer, you might as well go through it during a pandemic, as COVID-19 had halted most tours last year.
Another blessing was reuniting with former Blink-182 singer Tom DeLonge, who left the band in 2005. DeLonge and the band's longtime drummer Travis Barker showed up together in person for their friend, not long after finding out the unfortunate news.
Related: Blink 182's Mark Hoppus and His Former Bandmate Tom DeLonge Have Repaired their Friendship as Hoppus Battles Lymphoma
"I was like, 'Oh s—, band meeting!" DeLonge said. What we've learned over the years about ourselves. How we've grown, how nothing really matters when it boils down to what we were dealing with in that moment. And so, it wasn't some big meeting about Blink-182, it was more about brothers meeting and saying, 'How do we support Mark?'"
The downside of his battle was the likely suspect: chemo.
"Chemo is like being on the worst international, overnight flight where you can't sleep or get comfortable," Hoppus shared. "I felt so s–ty,"
Chemotherapy affects many people differently, and some do not have as awful of an experience during cancer treatment, but Mark Hoppus sadly did.
"Everything about chemo sucks except the part where it hopefully saves my life," he shared in a July tweet.
 

View this post on Instagram

 
Luckily, it did. Hoppus announced in September he was cancer-free!
 

View this post on Instagram

 
Understanding Lymphoma
The most common types of blood cancers include Hodgkin lymphoma, non-Hodgkin lymphoma, leukemia, and multiple myeloma. The Leukemia & Lymphoma Society reports that every 3 minutes, one person in the U.S. is diagnosed with a blood cancer.  This year alone, approximately 186,400 people will be diagnosed with leukemia, lymphoma or myeloma.
Some people may have an elevated risk of developing for a blood cancer like lymphoma, such as Mark Hoppus had. Here are some reasons which may put you in a higher risk category for lymphoma:
You have been infected with the HIV or Epstein-Barr virus
You have had an organ transplant
You have a family history of lymphoma
You have been treated with radiation or chemotherapy drugs for cancer in the past
You have an autoimmune disease
Speak with your doctor about your family's cancer history, if any, and ways you can stay on top of your screenings and limit risk factors for all cancers
Finding Lymphoma Early: Do you Know the Symptoms and Risks?
One of the positives of lymphoma is that even though most people get diagnosed at an advanced stage, like in Hoppus's case, the chances of beating it are still pretty high.
"The one thing that I always reassure people about when they are diagnosed with advanced-stage lymphoma is that, unlike other cancers, where the advanced stage is a death sentence, that's certainly not the case for lymphoma," Dr. Elise Chong, medical oncologist at Penn Medicine, told SurvivorNet in a previous interview.
For example, the 5-year relative survival rate for early-stage follicular lymphoma is 96%. Once the disease has spread, the 5-year survival rate is 85%—still good odds.
Staging Your Lymphoma: The Workup
"We have many treatments with which people can either be cured with advanced-stage lymphoma or have very good remissions," added Dr. Chong. "So it doesn't change how treatable someone is, even when they do have advanced-stage lymphoma."
If you have recently been diagnosed with lymphoma, we hope you read success stories like this one to keep your spirits high and remain hopeful.
Like Mark Hoppus, you too can beat it!
Learn more about SurvivorNet's rigorous medical review process.