The always upbeat "Good Morning America" anchor Robin Roberts, a two-time cancer survivor who has shown unbelievable grace and positivity, has shared that early detection and awareness are the two most important things she learned through her journey.
"My mother always said, 'Make your mess your message,'" Roberts, 59, said on "The Dr. Oz Show" on Wednesday. "And when I was diagnosed with [breast] cancer [in 2007], I was like, 'What is the message?' It was about early detection. … I was triple-negative, but because I had, through self-detection found the lump. I just told people that early detection is not a guarantee but it increases your chances."
Read More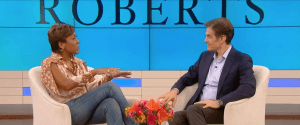 Five years later,  Roberts faced a second diagnosis for bone-marrow disorder myelodysplastic syndrome, known as MDS, which can occur when the blood-forming cells in the bone marrow become abnormal, according to the American Cancer Society. She again recalled her mother's wisdom and asked herself what the message could be. Then a lightbulb went off: "I  didn't realize that people were not aware to join the [bone marrow] registry and to be a donor," she said. "So I got the message out there."
RELATED: So Many TV News Anchors Diagnosed With Breast Cancer — The Enormous Outpouring of Support & Impact on Awareness
Roberts, who this week celebrated 30 years with The Walt Disney Company, explained that it's important to her to be a role mode. "I want to be a symbol to people that 'this too shall pass'," she said. "We are all stronger than we think we are. … I don't want to survive going through something like this, I want to thrive.'
The anchor, who started out at the company on ESPN in 1990, and who has inspired millions of viewers with her resilience, also said that she's "so incredibly grateful to the doctors, the nurses, the technicians who still to this day keep an eye on me."
In addition to vigilant monitoring, she added that watches what she eats, "more than before," and she's "started meditating."
Roberts' Cancer Journey
After preparing a news story the stressed early-detection for cancer, Robin Roberts went home, did a breast self-exam, and found a lump. "At first I thought, 'This can't be. I am a young, healthy woman,'" she posted on ABC's website when she announced her surgery in August 2007.
Dr. Nina Shah, a hematologist at the University of California San Francisco, explains blood cancers.
"Nevertheless, I faced my fear head-on and made an appointment," she said. "Much as I was hoping the doctor would say it was nothing, she did a biopsy and confirmed that the lump I'd found was indeed an early form of breast cancer." Roberts described hearing the words breast cancer out loud as "surreal."
RELATED: Jennifer Garner Shares Footage of her Mammogram Screening for Breast Cancer Awareness Month
After her successful treatment for breast cancer treatment, Roberts remained healthy until 2012, when she was diagnosed with MDS. She received a life-saving bone-marrow transplant using donor cells from her sister, Sally Ann Roberts, after undergoing 10 days of extensive chemotherapy.
"It's considered to be a rebirth," Roberts said of the transplant. "And I definitely felt that I was getting another chance at life."
ABC News Journalist Amy Robach Shares Advice for Anyone Facing Cancer
When ABC News journalist Amy Robach agreed to get a live mammogram in front of millions of people on "Good Morning America" as part of a breast cancer awareness campaign in 2013, she never dreamed that the results would actually come back positive, she told SurvivorNet.
But it's important, she said, to realize you are facing a life-changing disease. In this video she gives advice to those with cancer, from why you should let other people help, to taking charge of your life.
Learn more about SurvivorNet's rigorous medical review process.
---