Jenna Wolfe's Hysterectomy
Former NBC anchor Jenna Wolfe reveal this week she underwent a hysterectomy.
A hysterectomy is the surgical removal of part or all of the uterus (or womb), often along with the cervix.
A hysterectomy is used as a treatment for the following cancers: uterine (also called endometrial), cervical, and ovarian. It can also be used as a preventive measure when the person is at increased risk of developing cancer.
Other preventative cancer surgeries include a mastectomy, the removal of one or both breasts, if there's a high risk of breast cancer occurring.
Jenna Wolfe, a Jamaican-American journalist and personal trainer who previously worked as an anchor for NBC News, took to social media this week to reveal she underwent a preventive hysterectomy — the surgical removal of part or all of the uterus (or womb), often along with the cervix.
The 49-year-old, who is married to fellow journalist and NBC correspondent Stephanie Gosk, posted on Instagram this week about her preventative measure to lower her risk of cancer. The procedure is also used as surgical cancer treatment.
Read More
Alongside two photos of Wolfe appearing to recover from her surgery in a hospital bed, her
lengthy caption
began, "You know, for a long time, my approach to life was always: if you stumble, make it part of the dance. And until recently, I managed to stumble/dance/stumble/dance my way through everything… network television, personal training, parenting. Then I hit a pretty bumpy stretch, the most recent of which I wanted to share with you."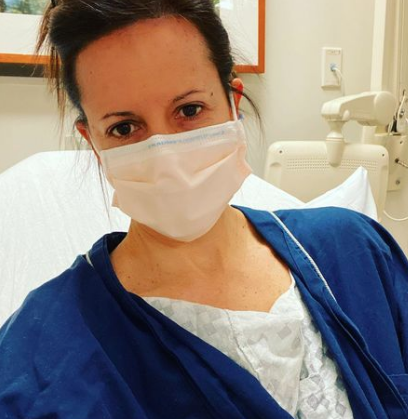 "About a month ago, I tested positive for the BRCA-1 breast cancer gene (meaning my chances of getting breast and ovarian cancer are… well… really high), leaving me little wiggle room to 'mull over my choices,'" she explained. "So without a ton of options, I stared down my fears, took a deep breath and opted for two pretty big surgeries." Having the
BRCA-1 gene mutation
means the person may be at an increased risk of developing breast or ovarian cancer.
Wolfe continued, "My hysterectomy is the first. It's not fun, not easy, not at all pleasant (I'm terrified of needles) but it's something I need to do. The second surgery, the bigger one, will be in 2 weeks. Happy to share more with anyone going through something similar."
According to the Cleveland Clinic, after a hysterectomy, women are no longer able to become pregnant and will no longer menstruate. Additionally, recovery from the surgical procedure usually takes approximately four to six weeks, depending on the type of surgery.
Wolfe, however, is not alone in getting this procedure, as about 300,000 women across the U.S. get hysterectomies annually. It's also the second most common surgery performed among women, following a Cesarean section (abdominal child delivery.)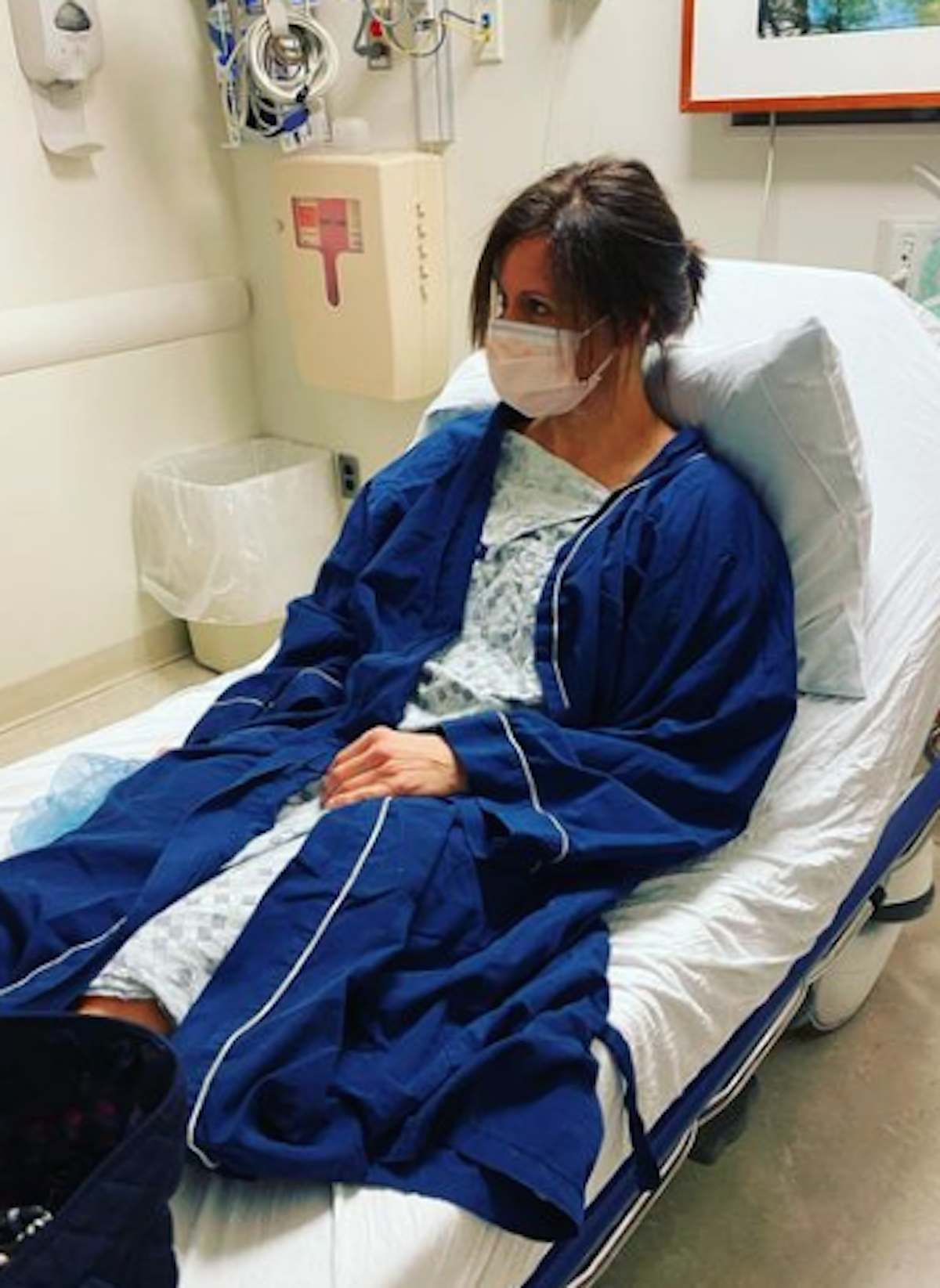 Recounting how she felt when learning she had the BRCA-1 gene mutation, Wolfe wrote, "Something like this spins your head a few whirls. Am I going to be ok? Will I heal? Will I ever have the drive I once had? I mean, a big chunk of my life is based around fitness and wellness. . I know I make it all look 'cute' on social media… but we all know it's usually far from cute. Especially with kids. Half the time, I'm up at 4:30am, sneaking in a quick workout before the kids get up, grabbing anything edible, racing to school, often times half dressed, most of the time half-witted."
She then admitted she's feeling "a little scared" about a lot that's going on in her life at the moment.
"But I also know I have to let myself be scared sometimes to learn how to overcome it. It's easy to ignore the hard things and opt for the comforts of safety," she continued. "But safety never challenged anyone or scared anyone or pushed anyone down or pulled anyone up. Safety just sort of sits there, keeps you from moving… from growing, from thriving."
The hysterectomy and her upcoming surgery, which she didn't go into detail about, have come amid a "challenging" past two years, she explained.
"But with anything in life, the only way is through. And I'm going through," Wolfe concluded. "I realize everyone has a story. This is mine. (Well, it's part of mine). As I embark on it, I'll be thinking about you and yours."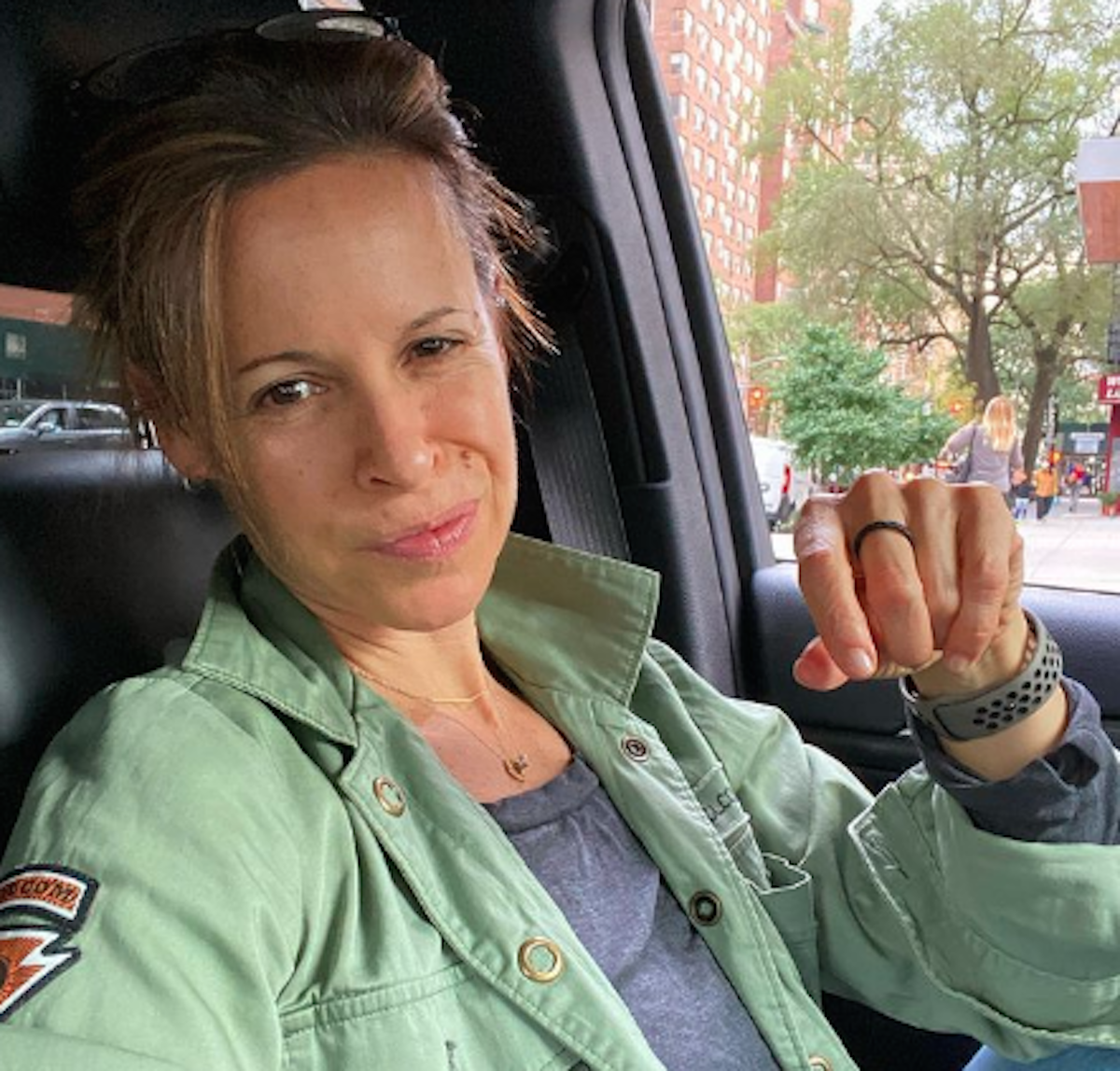 Wolfe, who has two daughters — 9-year-old Harper Estelle and an 8-year-old Quinn Lily — with her partner Gosk, first came out to the public as a lesbian about 10 years ago.
According to the American Cancer Society, "Lesbian and bisexual women may be at increased risk for breast, cervical, and ovarian cancer compared to heterosexual women."
Studies have suggested that "some lesbian and bisexual women get less routine health care than other women, including breast, colorectal, and cervical cancer screening tests." The reasons for this could be fear of discrimination, low rates of health insurance as some policies don't cover partners who are not married, and negative experiences with health care providers.
The ACS also says that women who haven't given birth or breastfed, or who are older than 30 when they first do so, "are also at a slightly higher risk" for breast cancer.
What Is a Hysterectomy?
A hysterectomy is the surgical removal of part or all of the uterus, and can include the cervix. "The uterus is where a fetus grows during pregnancy. Its lining is the blood you shed during your menstrual period," the Cleveland Clinic explains.
Jenna Wolfe did not say what specific type of hysterectomy she had, but the various types of hysterectomies include:
Total hysterectomy: Removal of the uterus and cervix, but keeping the ovaries.
Supracervical hysterectomy: Removal of just the upper part of the uterus, but keeping the cervix.
Total hysterectomy with bilateral salpingo-oophorectomy: Removing the uterus, cervix, fallopian tubes (salpingectomy) and ovaries (oophorectomy).
Radical hysterectomy with bilateral salpingo-oophorectomy: Removing the uterus, cervix, fallopian tubes, ovaries, the upper portion of the vagina and some surrounding tissue and lymph nodes. This hysterectomy is done when cancer is involved.
Hysterectomy as a Cancer Treatment
Women who receive a diagnosis of uterine, ovarian, and cervical cancer may have their cancer treated with a hysterectomy, to remove the area of the body where the cancer exists and from which it may metastasize (spread) to other parts of the body.
With the help of modern medicine, some surgeries can be performed with robotic assistance, and a hysterectomy is one of them.
In a previous interview with SurvivorNet, Dr. Heidi Gray, a gynecologic oncologist at Seattle Cancer Care Alliance, talked about open surgery versus robotic surgery, and how the two can be used to perform a hysterectomy. "The most common procedure that we do robotically would be a hysterectomy, removal of the tubes and ovaries, you can also do more complicated omentectomy… removing of the omentum [a fatty apron surrounding abdominal organs]," Dr. Gray explained.
When Should You Consider a Mastectomy?
"The least expensive in terms of just hospital costs, things like that, is open surgery," Dr. Gray said. "But that's because it's not using a lot of the equipment [that would be needed for robotic surgery]. But you have to factor in other things that cost the patient — like recovery time, how much time you're in the hospital, risk of infection."
"Women who get open surgery tend to need more recovery time in the hospital, which costs money as well. The overall costs for both types of surgery end up being very similar," she continued.
How Do You Prepare for Robotic Surgery?
Other Preventative Cancer Measures
A hysterectomy may be employed as a cancer treatment or, in the case of Wolfe, a preventative measure to lower the risk of developing cancer. Though, that may not be the best option for all people with an increased risk of cancer.
People may decide to undergo other surgeries, such as a mastectomy (removal or one or both breasts), as a preventative measure against cancer, even if they have not been diagnosed with cancer. This was the case for actress Angelina Jolie, who lost her mother to breast and ovarian cancers.
RELATED: The Angelina Jolie Effect — Important New Research for Women Making Critical Decisions About Breast Cancer
Jolie famously wrote a moving New York Times op-ed titled "My Medical Choice" about her decision to get a preventative double mastectomy. A mastectomy involves the removal of one or both breasts and it's a common treatment for breast cancer. The humanitarian's outspokenness about her procedure prompted an increase in testing for the BRCA1 and BRCA2 genetic mutations. The presence of these gene mutations leads to an increased probability of breast and ovarian cancers.
A Previvor: What to Know About BRCA Genes
Jenna Wolfe is a previvor because she took proactive measures for her health.
"Specific mutations in BRCA genes lead to an increased risk of developing breast cancer," Dr. Freya Schnabel from the NYU Langone Medical Center told SurvivorNet in an earlier interview. "People who have a family history of breast or ovarian cancer may want to consider being tested for mutations, particularly if the relative was diagnosed with cancer before age 50."
Dr. Schabel explained that if you've been diagnosed with a BRCA mutation, there are steps you can take to reduce your risk of developing a cancer. A preventative mastectomy may be the way to most lower your risk of breast cancer.
What Are the Options if You Have a High Risk of Developing Breast Cancer?
"When I meet with women who are at an increased risk for breast cancer because of BRCA mutations, I like to talk about the three options that they have for managing their risk," she said.
Intensive surveillance: "This means keeping an eye on your health, in an attempt to catch disease early if it does present itself."
Medication: "There are certain drugs available to lower the risk of developing breast cancer," Dr. Schabel says. "But as with any medical treatment, risks and benefits must be considered."
Surgery: "This is the option that will lower a woman's chance of getting breast cancer as much as possible," she says. "It involves removing as much breast tissue as possible, while attempting to preserve the nipple area, should a woman opt for reconstruction."
"By newer surgical techniques, patients having prophylactic mastectomies will frequently have the option for having the surgery done in a way that preserves the nipple and areola," Dr. Schnabel added. Prophylactic surgery means removing one or two breasts to reduce the risk of breast cancer.
The Tough Decisions: When You Know You Have a High Risk of Getting Cancer
Contributing: SurvivorNet Staff
Learn more about SurvivorNet's rigorous medical review process.
---