Young Dolph's Final Interview
Rapper Young Dolph's last interview was at a cancer clinic in Memphis where multiple members of his family were treated.
 "I just really wanted to show up and show my support and show how thankful I am for [my family being here]," the late rapper told employees and healthcare workers.
Opting for a caretaker during your cancer battle – whether informally, like relying on a friend, or formally, and paying a professional – is an empowered move that can make your cancer journey easier and less overwhelming.
Slain rapper Young Dolph's final interview was at a cancer clinic in Memphis where multiple members of his family were treated. He visited with oncologists and healthcare workers at
West Cancer Center & Research Institute Clinic in Memphis
two days before his death.
Young Dolph was shot to death in Memphis last week after buying cookies in a local bakery, and the artist's fans were heartbroken by the loss of this talented and big-hearted performer, who – as his final interview shows – cared deeply for his family and the well-being of others.
Read More
His Family's Cancer Battle
Young Dolph (Adolph Robert Thornton Jr.) conducted an interview at West Cancer Center & Research Institute after visiting the clinic to give thanks for everything they had done for the Thornton family.
Related: What is Lynch Syndrome? And Why Is it Important to Know About for People Fighting Cancer?
In the interview, Young Dolph explains what motivated him to spend his free time there, saying, "I just really wanted to show up and show my support and show how thankful I am for [my family being here]."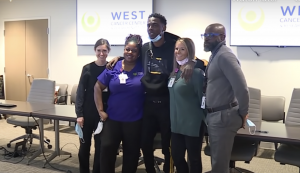 Young Dolph's aunt is currently being treated at West Cancer Center, he said during the interview. But she wasn't the only family member who was treated there. "My grandmother had cancer. My uncle had cancer."
The late artist didn't share details on what type of cancer his grandmother, aunt, and uncle battled. Some cancers, like breast cancer, can be hereditary, particularly if members of your family carry the BRCA1 or BRCA2 gene mutations.
Related: These 3 Sisters Were Each Diagnosed with Breast Cancer; Doctors Said It Was a Coincidence; Why It's Important to Know Your Family History
"They all came through these doors," he said. "I just wanted to show up and just really thank them for what they do. Because it ain't an easy job; seeing people in those conditions. They do a hell of a job; I just wanted to come in and congratulate them and let them know they're appreciated."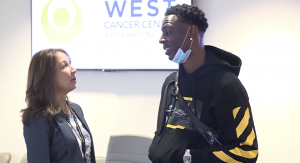 Young Dolph concludes the interview emphasizing his gratitude, "From the bottom of my heart, I appreciate you." He also shared how he planned to pass out turkeys in the clinic's area in the coming weeks.
Being a Caretaker to Someone with Cancer
It's unclear as to whether or not Young Dolph played an active role as a caretaker to his family members diagnosed with cancer, but we can tell that he cared a great deal about their well-being, as evidenced by his appearance at the clinic.
Related: Real Housewife NeNe Leakes Says She Prefers a Caretaker Look After Husband With Colon Cancer– How Many Other Spouses Feel This Way?
Being a caregiver or caretaker to someone with cancer is a noble and loving thing to do, particularly if it's for a family member, spouse, or friend. As the saying goes, no man is an island – we all need support during difficult periods of life, such as during a cancer battle.
Related: 'Let the Healing Begin…I Will Make a Full Recovery' Says Singer Pink After Surgery; The Grammy Winner Says Her Health Challenge is an Opportunity to Recalibrate & Recognize Blessings
Relying on those close to you – or paying someone to assist you – is an empowered action to take for your mental health and physical health when you're battling cancer. If you're interested in hiring a caretaker, versus solely relying on loved ones and friends, speak with an oncological social worker who can assist you with research and planning. You don't need to go through your cancer battle alone – there are many people ready, willing, and able to help.
The Value of Using a Social Worker During Treatment
Learn more about SurvivorNet's rigorous medical review process.