Finding Love After Cancer
Fans of TODAY show anchor Hoda Kotb, 58, and former "Good Morning America" co-host Amy Robach, 50, have spoken out following the recent life changes that took place after their separate battles with breast cancer.
Kotb, 58, was diagnosed with breast cancer in February 2007 at age 43 after doctors discovered lumps in her breast tissue during a routine exam. She then underwent a mastectomy and reconstruction followed by five years of taking the drug tamoxifen (Nolvadex).
After Robach's tumor was detected and she was found to have stage 2 invasive breast cancer, she had a bilateral mastectomy and six months of chemotherapy. The Michigan native, who recently filed for divorce from Melrose Place star Andrew Shue, has been cancer-free for nine years. Robach had previously told SurvivorNet that "cancer saved her marriage."
Many survivors talk about how hard it is to find love, or repair relationships after cancer; so please don't feel alone.
Cancer survivors of all types, but especially women who've been through breast cancer, often say that the desire to feel loved is part of feeling whole again.
Fans of TODAY show anchor Hoda Kotb, 58, and former "Good Morning America" co-host Amy Robach, 50, have spoken out following the recent life changes that took place after their separate battles with breast cancer.
Kotb parted ways with her ex-fiancé Joel Schiffman last year and Robach filed for divorce from Andrew Shue earlier this year, amid her newfound relationship with 45-year-old journalist T.J. Holmes.
Read More
Just months after
Kotb revealed she's not going to be alone
after her breakup and battle with cancer, fans have commented on her missing from her routine live broadcast on President's Day. "Where am I going to get my usual morning positivity energy with
Hoda missing
?" one viewer commented on social media, according to The Sun. It appears fans were worried about their favorite anchor, with one writing, "Once again Today, where are the anchors today? They can't seem to be able to show up to work!"
"Lord have mercy @TODAYshow. Everyone deserves time off but where are Hoda and Savannah?" another fan said. "We'd like to see our anchors on TV."
It wasn't revealed why the host wasn't on air on the holiday, but it's clear she's not giving up on finding love again.
"For everybody who is at a phase in their life where they may or may not be with a partner. My sister said to me once, 'Are you afraid of being by yourself?' And I know this is so weird, but I said to her, 'I am not going to be by myself,'" Hoda said a few months ago, speaking on Today with Hoda & Jenna. "Like, I actually know it, as sure as I'm sitting next to you at this desk. I have two beautiful daughters who I am wild about, obviously."
Kotb who remains hopeful, added, "So if someone is like, 'Maybe you'll meet someone by Christmas….' Maybe! I'm not on the hunt, but I have a weird, like, tingly Spidey-sense about it."
Back on Valentine's Day, Kotb shared a photo on Instagram of two drawings from her daughters.
"Best Valentine gift ever. Frame and hang somewhere. Ms. Hoda, your crushing motherhood. I enjoy your posts. Hugs from just another Gal who's gettin through life," one supportive fan commented.
Other fans praised the artwork as "sweet" and dubbed the anchor as an "awesome mom."
Meanwhile, Robach, who has been a leading voice in the breast cancer community ever since she was diagnosed back in 2013, was recently ousted from GMA3.
Robach, just like anyone battling cancer, is continuing to push through and find happiness despite any challenges she may be dealing with.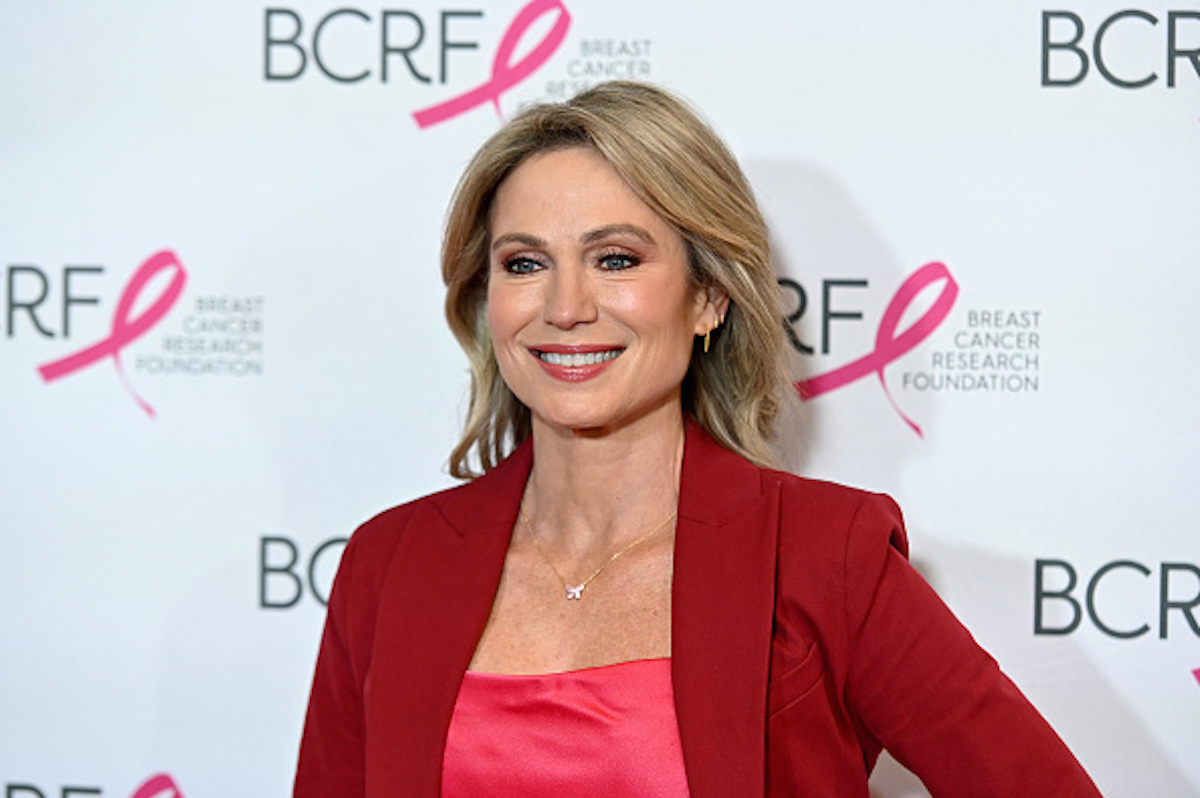 A few days ago, Robach was seen with her new love interest in Puerto Vallarta, Mexico, according to The Daily Mail.
Although Robach has faced criticism amid her relationship changes, some fans have continued to support her.
One fan tweeted last month, "I for one, totally support Amy Robach and TJ Holmes. All they did was fall in love. They both left their spouses for each other, which was a difficult decision. But the heart wants what it wants. I'd love to see them back on the air together!"
Although Robach appears to be enjoying her time with her new love interest, she previously admitted that her cancer diagnosis and the uncertainty that came along with it helped her and her husband Shue communicate better.
She told Survivornet, "We were already struggling when I got the cancer diagnosis. So this kind of threw everything into a further tailspin, until it didn't … until we realized that we were only stronger together and that we had to give each other a break."
Hoda Kotb's Breast Cancer Journey
Kotb, 58, received her breast cancer diagnosis in February 2007 after doctors discovered lumps in her breast tissue during a routine exam. She was 43 at the time and underwent a mastectomy and reconstruction followed by five years taking the drug tamoxifen (Nolvadex).
"Cancer shaped me, but it did not define me. It's part of me, but not all of me," Kotb said at an annual Breast Cancer Research Foundation New York Symposium and Awards Luncheon in 2017.
She's still cancer-free today, but Kotb has since opened up about her fertility struggles following her breast cancer battle.
"I remember that my oncologist called, and we were talking about freezing my eggs," Kotb told Good Housekeeping in April. "She basically said that given my age and (my breast cancer treatment), it was pretty close to a dead-end."
'I Was Just Falling Through Darkness' Giuliana Rancic Opens Up About Her Breast Cancer Journey 
Her reaction was, understandably, filled with sorrow. And at that moment, she doubted she'd ever realize her dream of becoming a mother.
"I was in my room, and I just sobbed. I thought, 'Well, that's that, isn't it?'" Kotb said. "Like, you almost blame yourself. 'Why didn't I do this? Why didn't I do that?' So I just pushed it away because the reality seemed impossible to bear. How do you survive knowing you can't have what you desire and what you feel like you actually physically need?"
Partners Through Cancer
Kotb revealed she was single last year, after ending her relationship earlier this year. Hoda and her ex-fiancé, financier Joel Schiffman, 64, announced their split in January after eight years together.
Related: I'm Not Going To Be Alone, Says NBC's Hoda Kotb– The Confidence To Find Love After A Break-Up And Cancer
The couple now amicably co-parent their two girls Haley, 6, and Hope, 3, whom they adopted when Hoda decided she still wanted to be a mother at 52 (after cancer threatened her fertility in her 40s). The TV personality has expressed that she is forever thankful for Joel for being there to help support her and make it happen.
Having a supportive partner or spouse through a cancer battle can help. In an earlier interview, actress and melanoma survivor Jill Kargman candidly expresses how she believes that cancer can be a litmus test for the strength of a relationship.
Jill Kargman on Relationships and Cancer
She says, "I think cancer is a great way to find out if you're with the love of your life or a shithead. I think it presses the fast forward button on getting to the bottom of that answer, because a lot of people in middle age are kind of at a crossroads, waiting for their kids to fly the coop."
Kargman continues, "And I think if you're with someone who is not supportive and kind of emotionally checked out or doesn't tell you you're still beautiful with that, this might not be your person."
Amy's Experience with Breast Cancer
Back in 2013, Robin Roberts, a breast cancer survivor herself, is the person who encouraged Robach to get a mammogram, and she did it on-air as part of the morning show's breast cancer awareness campaign.
The testing led to Amy learning she had stage 2 invasive breast cancer that had spread to her sentinel lymph nodes.
After her tumor was detected, she had a bilateral mastectomy and six months of chemotherapy. The Michigan native, who recently filed for divorce from Melrose Place star Andrew Shue, has been cancer-free for nine years.
Robach previously sat down with SurvivorNet for an interview to discuss a few of the trials and tribulations you go through as you take on cancer.
Related: Fear, Anger, Anxiety – You're Entitled To Your Emotions
As a seasoned journalist who has been on the ground at major events and disasters, Robach always considered herself a compassionate person. However, after facing cancer, Robach says she developed a new kind of compassion that wasn't possible before her experience with the disease.
TV Journalist Amy Robach Says Cancer Taught Her To Feel Other People's Pain
"Cancer is something that has changed my life forever, something that I will always live with," Robach expressed. "There's anger at first because you've lost security … and you've never had it to begin with, none of us actually have security, but you actually are grieving this loss of security because we all feel like there's tomorrow. We all feel like there's another day. When you get to something like this, you're angry that you lost that. That's been taken away from you. From that anger, I think, grew compassion and empathy."
Finding Love in the Time of Cancer
Robach considers that loss of security one of the gifts that cancer can bring. "You truly, truly can feel other people's pain in a way that you couldn't have before."
When Should I Get a Mammogram?
Screening for breast cancer is typically done via mammogram, which looks for lumps in the breast tissue and signs of cancer. The American Cancer Society (ACS) says women should begin yearly mammogram screening for breast cancer at age 45 if they are at average risk for breast cancer.
It's also important to be on top of self breast exams. If you ever feel a lump in your breast, you should be vigilant and speak with your doctor right away. Voicing your concerns as soon as you have them can lead to earlier cancer detection which, in turn, can lead to better outcomes.
There are many treatment options for people with this disease, but treatment depends greatly on the specifics of each case. Identifying these specifics means looking into whether the cancerous cells have certain receptors. These receptors – the estrogen receptor, the progesterone receptor and the HER2 receptor – can help identify the unique features of the cancer and help personalize treatment.
"These receptors, I like to imagine them like little hands on the outside of the cell, they can grab hold of what we call ligands, and these ligands are essentially the hormones that may be circulating in the bloodstream that can then be pulled into this cancer cell and used as a fertilizer, as growth support for the cells," Dr. Comen previously told SurvivorNet.
The ACS also says those aged 40-44 have the option to start screening with a mammogram every year, and women age 55 and older can switch to a mammogram every other year, or they can choose to continue yearly mammograms.
Contributing: SurvivorNet Staff
Learn more about SurvivorNet's rigorous medical review process.
---