After Dog Chapman was hospitalized for what may have been a heart attack, Lyssa Chapman says that Dr. Oz was there to help the Chapman family out. The heart attack came just months after the death of beloved family matriarch Beth from lung cancer, and Dr. Oz seems to have been a comfort to Lyssa and the family.
Toward the end of Beth's life, fans learned of a quarrel between Beth and Dog's daughter, "Baby Lyssa." But Dog clarified in an exclusive interview with SurvivorNet that the "feud" was never as serious as fans made it out to be, and that Beth and Lyssa had made up long before Beth died.
Read More
After Beth's death and her subsequent memorial service in Aurora, Colorado, Lyssa showed her grief in a number of ways, and shared a lot of her journey with her supporters online. Now that her dad also seems to be sick, she's showing the world just how much she cares about family, and wants to be a support as they all grieve together.
RELATED: "Love you Pops"– Bonnie Chapman's Message To Duane "Dog" Chapman As He Is Hospitalized For Possible Heart Attack
"Very grateful for @dr_oz coming to help my dad. Please tune in Monday to see how he was able to help our family [heart]," Lyssa wrote alongside a photo of herself with Dr. Oz.
Bonnie Chapman actually spoke to SurvivorNet about her mom's death, and Dr. Oz brought up her really open interview while talking to Dog on The Dr. Oz Show.
RELATED: Beth Chapman's Step-Daughter Lyssa — Long Past Their Notorious Feud — Remembers Beth During A Hike After Her Death From Cancer
In an earlier post after her dad's hospitalization, Lyssa uploaded a slideshow of photos taken during a hike she did called the "Manitou Incline" in Manitou Springs, CO, which she said made her think of her mom. "Dad is on the mend so I got to run out for a fun hike today. I forgot my shoes in Hawaii so I wore of [sic] pair of @mrsdog4real up. She would have loved this #HikeColorado #theincline #manitousprings #missingbae," she wrote alongside the pictures.
RELATED: "Love you Pops"– Bonnie Chapman's Message To Duane "Dog" Chapman As He Is Hospitalized For Possible Heart Attack
Beth's cancer journey
Beth was originally diagnosed with stage II throat cancer in 2017, and after treatment, was declared cancer free. Then, she was diagnosed again the following year with stage IV lung cancer. After the second diagnosis, she decided to forego chemotherapy, relying instead on her Christian faith. (A decision that Beth announced on Mother's Day of this year).
The journey became more difficult yet toward the end, when Beth Chapman was put into a medically induced coma to alleviate some of her pain and stress after a choking incident related to her cancer.
Beth Chapman ultimately died at age 51 in Honolulu, Hawaii, surrounded by family members and those who loved her.
The Chapman family went on to hold two emotional memorial services for their mother—one in Hawaii, and one in Aurora, Colorado. The two locations were where Beth and Dog Chapman split most of their free time when they weren't bounty hunting for criminals.
History of the feud between Lyssa and Beth
L'affair du Lyssa began after Mothers Day when Beth expressed on social media her concern that Lyssa had not acknowledged her on Mothers Day; had not invited her and Dog to Dog's granddaughter Abbie's high school graduation; and had blocked Beth and Dog on social media.
While Lyssa denied the allegations and called Beth an attention seeking liar, Beth stood her ground, despite the challenges both of her cancer journey and of filming her new reality series "Dog's Most Wanted" on WGN America.
A few weeks later, Lyssa reignited the feud between the two, posting the steamy beach shots and declaring herself a #milf (an obscene term for a sexually attractive mother). Lyssa was almost certainly slapping back at Beth, obliquely referencing a tweet Beth sent on May 27 at the height of their feud. In said tweet, Beth had written "Seriously who gives a f— ??" regarding a news item about Lyssa that discussed her fandom of the reality television series "Naked and Afraid".
Seriously who gives a fuck ?? Lyssa Chapman, Stepdaughter of Beth Chapman from 'Dog the Bounty Hunter', Reveals Her Favorite 'Naked and Afraid' Contestant https://t.co/OmkYMcOwpB

— Beth Chapman (@MrsdogC) May 27, 2019
The racy bikini pics vanished from Lyssa's Twitter feed when her mom's condition worsened, and when the news broke that Beth was in a medically induced coma, Lyssa came under enormous pressure to put down her sword.
"All of you talking s— need to grow up and mind your business," said one fan.
"Families fight no ones perfect, all that matters is that your there when you need them the most," wrote another Beth supporter.
"Lyssa, Go and be with your step mommy, she needs you," another fan wrote.
"Forgive each other and make peace. That regret will never leave your side. Praying for your family," added yet another Beth fan.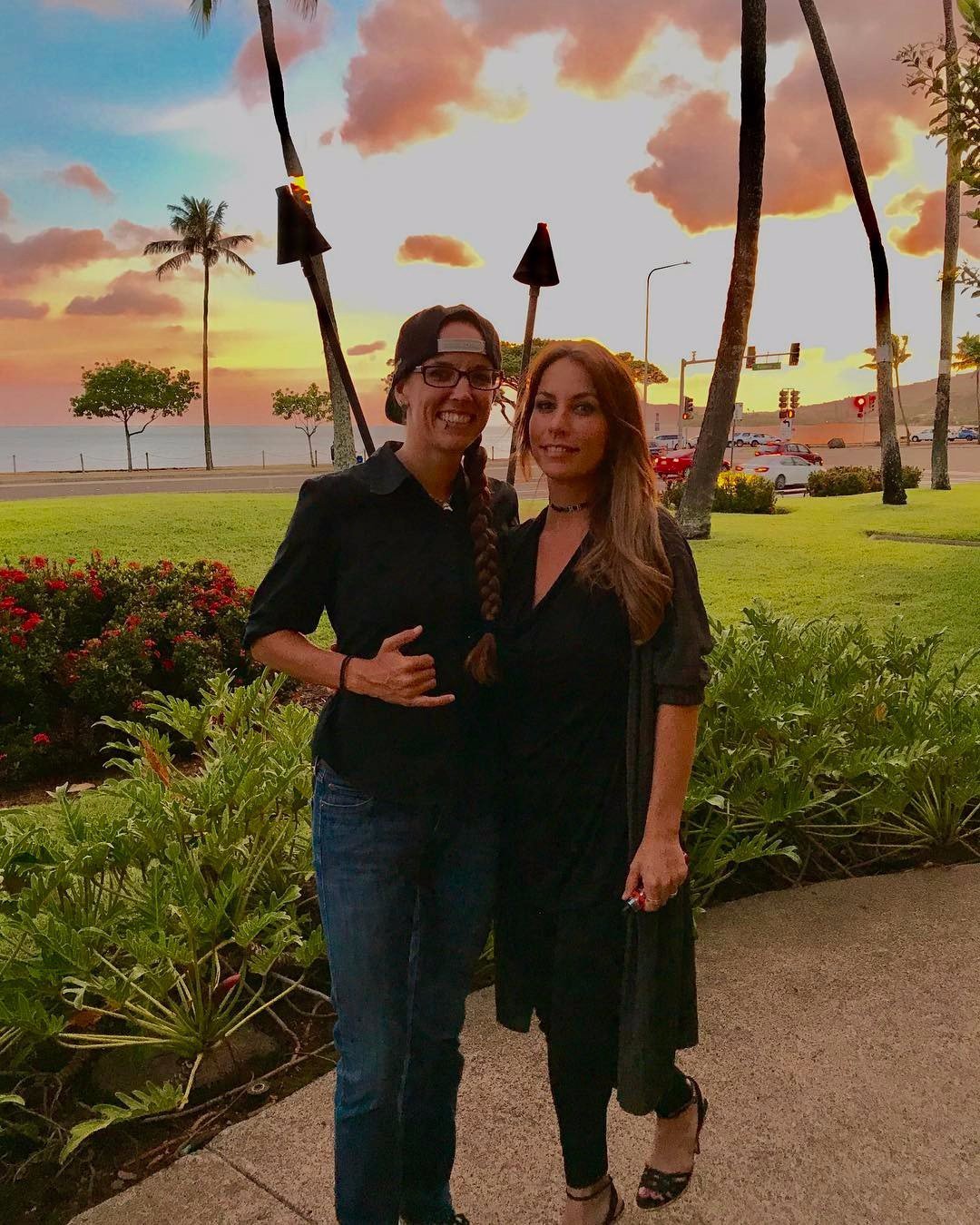 Lyssa, known as Baby Lyssa, is Beth's stepdaughter and the ninth of Duane's 12 children (Lyssa's mother is Duane's third wife, Lyssa Rae Brittain). The granddaughter at the center of Lyssa's dispute with Beth is Lyssa's first daughter Abbie, who was born when Lyssa was only 15. The 24 year old father was arrested for statutory rape. Lyssa would later go on to marry and divorce a different man. She is now engaged to a woman with whom she operates a tanning salon in Hawaii.
Lyssa's grief after Beth's death
But as Dog said in the interview, there was another, sweeter side to the relationship between Lyssa and Beth, and we saw it when Beth died.
We all have different ways of coping with the grief that comes with the loss of a loved one. Lyssa — the daughter of Duane (Dog the Bounty Hunter) Chapman and stepdaughter to Beth — got some new ink to deal with hers. In the time since Beth sadly passed away at age 51 after a brave battle with lung cancer, Lyssa has been regularly updating her various social media accounts to talk about how inspiring Beth was, and how much she could use her maternal guidance. Yesterday, she shared with fans that she decided to honor Beth in quite a permanent way — with a new tattoo.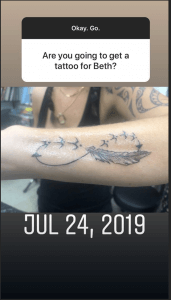 Lyssa showed off the ink in an Instagram story in a response to a question from a fan about whether she was "going to get a tattoo for Beth." Lyssa's response was a photo from July of some ink on her arm that appears to be the infiniti symbol, along with birds and a feather.
In addition to the tattooed ode to Beth, Lyssa has been regularly updating her Instagram with throwback photos of the family together in happier times. On July 30, she posted a photo of Beth and herself on a beautiful beach with the caption, "I miss you as deep as the ocean. I'm going thru some shit and I just need you to tell me how dumb I am for worrying. Around you all my problems seemed menial, I used to hate that. I miss sitting next to you and OG on the couch. You always listened to me, heard every word I said. You'd digest my thoughts thru your head and spin them out to me in a way I could never understand."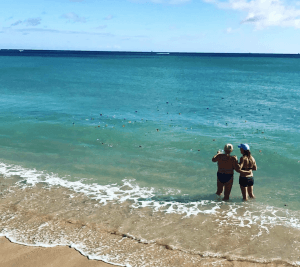 Lyssa, who also appeared in Dog the Bounty Hunter alongside Dog and Beth, went on to say that she misses Beth's wisdom — even though the two women were having a bit of a family tiff at the end of Beth's life. The spat began when Beth accused Lyssa of failing to wish her a happy Mother's Day and blocking her and Dog on social media. Lyssa denied the allegations, but it set off a public feud that had many fans worrying that the stress would have an affect on Beth's cancer battle.
Information about dealing with fear and negative emotions during cancer
Anxiety and fear are totally normal reactions to the news of cancer, and acknowledging these emotions can be therapeutic and important to the healing process.
"I think the most important advice I would give to someone who has just received a cancer diagnosis is to find people whom they find as a source of support. To allow themselves to go through all of the different emotional reactions to that news," said Dr. Susan Parsons, Director of the Center for Health Solutions/Center on Child and Family Outcomes at Tufts Medical Center, in a prior interview with SurvivorNet. Dr. Parsons did not comment on this case specifically.
"The anger, the frustration, the fear. The disappointment. Whatever those emotions are, figure out what's important to you and find those people that can help you realize that."
Dr. Susan Parons, Director of the Center for Health Solutions/Center on Child and Family Outcomes at Tufts Medical Center on dealing with fear and anxiety after a cancer diagnosis.
In times of frustration, it can be useful to a little bit of direction on specific ways to deal with it. A few of the most common ways to deal with fear and anxiety after a cancer diagnosis, that have helped people in the SurvivorNet community in the past, include:
1. Let your family and close friends know – and let them help. So many cancer survivors tell us they want and need support but are often too preoccupied to make specific requests. Urge those close to you to jump in with whatever practical help they can offer.
2. Keep a journal. It can be extremely cathartic to let those feelings loose on paper. Grab a pen and a nice journal and chronical your different thoughts throughout the day.
3. Join a cancer support group. There are groups in nearly every community offering opportunities to connect with others going through a similar journey. You'll learn incredibly helpful insight from others who can tell you about what to expect and how to stay strong on tough days.
4. Consider seeing a therapist. Ask your doctor to refer you to a therapist so you can discuss your fears and concerns in a safe space. Often, vocalizing your thoughts and feelings rather than internalizing them can provide relief.
Learn more about SurvivorNet's rigorous medical review process.