Facing Cancer as a Parent
In honor of Marcia Cross's 61st birthday, SurvivorNet is looking back on the anal cancer survivor's story and reflecting on her experience as a parent fighting cancer.
Facing cancer as a parent can be overwhelming, physically and emotionally. Cross aid her daughters were angry after her diagnosis, but it then turned into loving support.
One cancer survivor said having children who depended on her supplied more motivation to fight the disease with everything she had.
It's important to have productive conversations with your children about your cancer battle and encourage them to acknowledge their feelings. There are also many resources to look to if you're a parent with cancer.
Marcia Cross is a proud anal cancer survivor. The actor's willingness to share her story with the disease as a mother has likely inspired many other families who've navigated similar experiences. And when she described the immense anger her young daughters felt learning their mom had cancer, that was certainly a story many cancer warriors can relate to. In honor of her 61st birthday, let's take a look at how her kids' anger turned into loving support and what other families can learn from these tough conversations Cross had to have.
"It's life or death, so you get over it and you do what you gotta do," Cross told SurvivorNet when we got up with her a while back.
Read More
Cross was diagnosed with anal cancer in November 2017 following a routine check-up at the gynecologist. The "Desperate Housewives" actress' doctor felt something unusual during a digital rectal exam, so Cross was referred to a clinic for further testing. After one colonoscopy and two biopsies, she was told she had anal cancer. The diagnosis came about 24 years after losing her then-boyfriend, fellow actor Richard Jordan, to brain cancer and eight years after her current husband, Tom Mahoney, was diagnosed with throat cancer. "When Tom was diagnosed, I thought, 'Oh my god, I never thought my history with this was ever going to be something positive,'"
Cross told Coping
. "It was because I had been through it before – I'm not the greatest with details about normal life, but I am quite fantastic in a crisis – I really knew what to do. I was able to use that experience, and that helped me to take care of Tom. And by the time it got to me, it was kind of old hat."
RELATED: Actress Marcia Cross Beat Anal Cancer & She's Made a Point to Give Her Daughters the HPV Vaccine – Here's What You Should Know about the Vaccine and HPV-Linked Cancers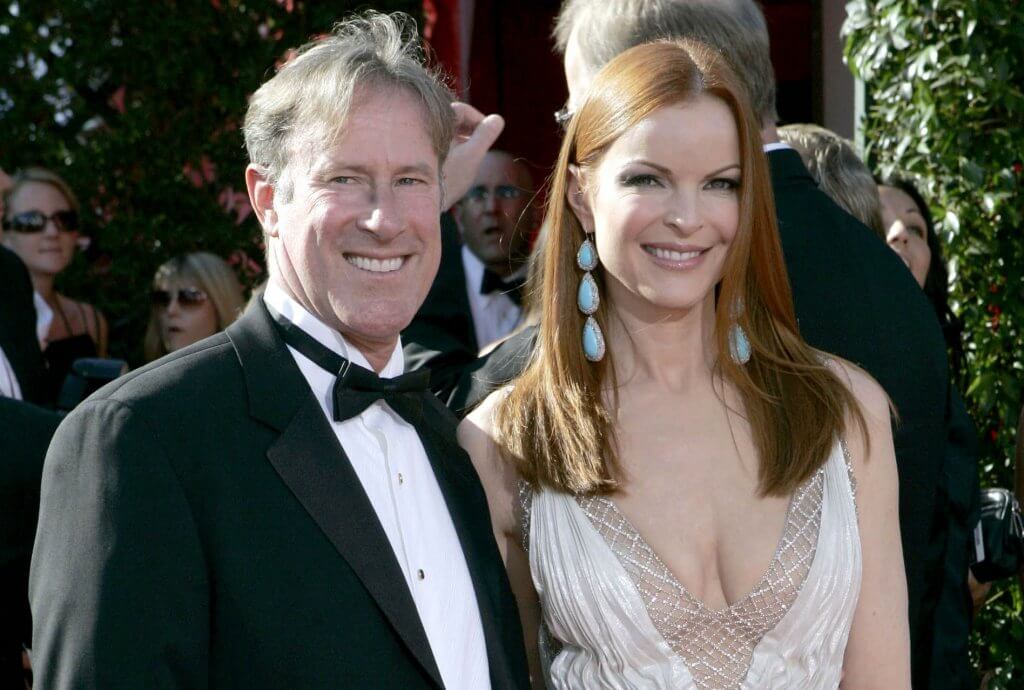 Cross later revealed her cancer was related to the human papillomavirus (HPV), the most common sexually transmitted infection, according to the CDC. Her husband's cancer was also HPV-related, and Cross is now a staunch advocate for the HPV vaccine.
"It was, in fact, HPV-related anal cancer," she said in an exclusive 2019 conversation with SurvivorNet. "I didn't have any symptoms. Never had an irregular pap smear. I had never heard of HPV until my husband.
"We both probably carried it for most of our lives. I think there's just a vast lack of knowledge about HPV and how it's spread, how we carry it, what happens to it when you have it."
How Marcia Cross Navigated Cancer With Her Family
After 28 radiation treatments and two week-long courses of chemotherapy, Marcia Cross defeated anal cancer. And though she dealt with everything in stride, she's admitted it was really hard telling her then 10-year-old daughters about the diagnosis.
"I have the most wonderful daughters, but their initial reactions were anger." Cross told SurvivorNet. "You don't know how to process it, it's bad news."
RELATED: Actor Marcia Cross Beat Anal Cancer, Farrah Fawcett Was Taken – Working To Remove The Stigma Of Cancer And The Anus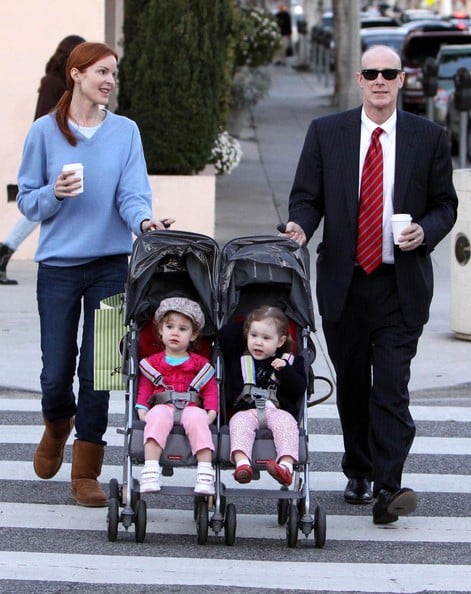 Thankfully, the two girls eventually came around.
"Eventually they were so loving and supportive, of course, but in the first moment … you're not supposed to be that person, you're the mother! You're not supposed to be sick," she said. "We had a history with cancer, so it brings up more trauma."
Tom Mahoney really stepped up as a caregiver and father, even though the experience was likely triggering for him as cancer survivor, himself.
"My husband … he's a do-er, probably like most men," Cross explained. "He took care of those kids. He was fantastic. When I needed him, I would say, 'I need you now.'
"My husband had already been traumatized and then he was around me going through it, and it didn't even occur to me until a doctor said, 'You know, this might be bringing up a lot of feelings for your husband.' I was like, 'Oh!' Because, of course all I was thinking about was myself!"
Fighting Cancer as a Parent
Facing cancer as a parent can be incredibly daunting. Fearful thoughts about leaving your children may creep into your mind and add even more to your overflowing plate.
Gina de Givenchy, like Marcia Cross, knows this to be true. She struggled to navigate the relationship with her 12-year-old daughter during her breast cancer battle.
"I felt it was important to mask it because I really wanted her to know that I was going to be OK," she said. "I didn't want her to see me weak and sickly.
"When it comes to your kids, I think you always want to sort of protect them."
Facing a Cancer Diagnosis as a Single Parent: "I Knew I Had to Fight for My Life"
The pressures of parenting are always there – whether cancer is a factor or not. But feeling that pressure may actually be something that helps you battle the disease with everything you've got, according to colon cancer survivor Jovannie Lorenzo.
"I knew that I had to do everything possible to be here for my children," the single parent of three told SurvivorNet. "They are my saving grace. They are the reason I wake up every morning. They are the reason why I fight every single day and I make a choice to be positive, to be happy, and to move forward."
Resources for Cancer-Fighting Parents Trying To Support Their Kids
There are many resources to look to if you're a parent with cancer who's trying to figure out how to navigate the relationship with your children while you fight cancer, including specific pages on the American Cancer Society and MD Anderson Cancer Center websites.
"Children tend to think in very concrete terms and like to know what's going on and what to expect," a MD Anderson Cancer Center article reads. "If they ask something that you don't know the answer to, it's okay to tell them that you don't know and that you will work on finding the answer. The most important thing is to communicate openly, honestly and frequently."
RELATED: Young Mom With Breast Cancer Makes Adorable Superhero Slideshow to Tell Her Kids About Diagnosis
Telling Your Kids You Have Cancer 'When it Comes to Your Kids, You Want to Protect Them'
The American Cancer Society says talking about a cancer diagnosis with your children will vary greatly depending on their age(s).
"Children of different ages will have different concerns," the website reads. "For example, teens, who are testing their independence and limits, will have very different concerns from a 5-year-old who needs parents for basic caregiving. Young children (up to 8 years old) might not need a lot of detailed information like older children (8 to 12 years) or teens."
You'll have to find a balance between sharing too much and too little information about your cancer battle, but children should know how life will change regardless of their age. Most kids of all ages need to know the following basics, according to the American Cancer Society:
The type of cancer (for example, colon cancer or lymphoma)
Where the cancer is in the body
What will happen with treatment?
How treatment might change how the person looks and feels
How their lives are expected to be changed by the cancer and its treatment
Licensed clinical psychologist Dr. Marianna Strongin encourages people with sick parents "to talk about your feelings with your immediate family as well as your parents." She's previously talked about the importance of expressing your feelings in her advice column for SurvivorNet.
"Talking about difficult things does not cause more anxiety," Dr. Strongin said. "It is NOT talking about the very thing that we are all afraid or worried about that causes our body to feel dysregulated (unable to manage emotional responses or keep them within an acceptable range of typical emotional reactions) and anxious."
RELATED: Being The Parent Of A Sick Child Or The Child Of A Sick Parent: Dr. Marianna Strongin Addresses These Topics In Her New Column 'Strong In Cancer'
For some people, therapy could be a good option, too. Though she was not a child when her mother fought breast cancer, singer-songwriter Jazmine Sullivan can attest to the benefits of therapy when a parent goes through a cancer battle.
"Breast cancer changes everything about your life. I've actually started seeing a therapist and I'm taking care of my mental health because that's something that you just need to kind of figure out," she told Yahoo Life. "I've been looking up so much since [starting] therapy and getting that pain and everything that I went through out."
In addition, children of certain ages might benefit from attending a local or national camp or joining a support group. Camp Kesem, for example, is a national camp for children whose parents have a cancer diagnosis that has local chapters. If your child or teen needs people to talk to outside of the family, see what groups and organizations are nearest you.
Learn more about SurvivorNet's rigorous medical review process.