Mark Hoppus' Healing Garden
Blink-182's Mark Hoppus battled lymphoma earlier this year and in a new interview, he talks about how he began creating a garden shortly after he was diagnosed.
Hoppus was diagnosed with the blood cancer Diffuse Large B-Cell Lymphoma; it was stage 4 and he treated it with chemo. Today, he's cancer-free.
Finding an activity that calms you, such as gardening, may be helpful during the cancer journey, to take your mind off of your diagnosis and focus on doing something you love.
Blink-182's Mark Hoppus is newly cancer-free after beating stage 4 lymphoma earlier this year, and now he's getting candid about his healing journey – not just physically, but emotionally, too.
Related: Blink 182's Mark Hoppus is 'Cancer Free': Musician Says He Beat Stage IV Lymphoma After Chemo
Read More
In a new interview with 
Architectural Digest, 
Hoppus, who lives with his wife Skye in Los Angeles, opened up the doors to their Hal Levitt-designed house, which they purchased in 2004. Hoppus also talks about his "cancer garden," and how it has helped him cope with cancer.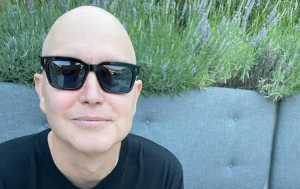 The magazine details how Hoppus has found "particular comfort" in their home's front garden, which has been newly refreshed.
In the garden, he's added many mutated plants which he picked up during a visit to a nursery shortly after his diagnosis. "I built this cancer garden with these mutated cactuses that I felt kind of connected to just because of my own body's mutation. It is a nice area to go and sit in the morning and have a cup of coffee," he tells AD.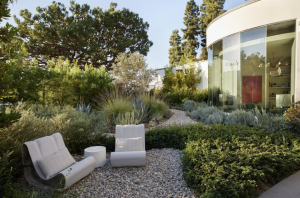 Mark's Lymphoma Journey
Hoppus was diagnosed with Diffuse Large B-Cell Lymphoma Stage IV-A earlier this year, and after treating it with chemotherapy, he's now cancer-free. Diffuse Large B-Cell Lymphoma is a type of blood cancer; there's currently no screening test for lymphoma, unlike breast cancer or colon cancer, for example.
Related: Dick Vitale, 82, To Miss NCAA Season Opener Due to Chemo; Sportscaster Reveals Lymphoma Was Initially Misdiagnosed As Bile Duct Cancer
The most common types of blood cancers include Hodgkin lymphoma, non-Hodgkin lymphoma, leukemia, and multiple myeloma. The Leukemia & Lymphoma Society reports that every 3 minutes, one person in the U.S. is diagnosed with a blood cancer.  This year alone, approximately 186,400 people will be diagnosed with leukemia, lymphoma or myeloma.
Some people may have an elevated risk of developing for blood cancers like lymphoma. Here are some reasons which may put you in a higher risk category for lymphoma:
You have been infected with the HIV or Epstein-Barr virus
You have had an organ transplant
You have a family history of lymphoma
You have been treated with radiation or chemotherapy drugs for cancer in the past
You have an autoimmune disease
Speak with your doctor about your family's cancer history, if any, and ways you can stay on top of your screenings and limit risk factors for all cancers
Finding Lymphoma Early, Do You Know the Risks?
Emotional Healing Through Cancer
Hoppus's cancer garden is one example of cultivating healing spaces, hobbies, or habits through the cancer journey. For many, a diagnosis of – and journey through – cancer is overwhelming, initially. It may also produce some anxiety, grief, and even clinical depression, for some people.
Related: Treating Depression After a Cancer Diagnosis
It's important to care for your mental health during cancer and do things that make you feel whole. Some people find solace in practicing yoga through cancer, engaging in meditation, building a garden, or discussing their emotions and struggled with a psychologist. Explore what feels good and right to you.
Feel the Fear, and Let it Go — Meditation for Cancer Survivors
Learn more about SurvivorNet's rigorous medical review process.