Valerie Harper, who rose to fame in the 1970s for her role as Rhoda Morgenstern in The Mary Tyler Moore Show, has been battling lung cancer since 2009. According to her husband, Tony Cacciotti, doctors have now recommended Harper be moved to hospice care — but Cacciotti can't bring himself to let it happen. He made the announcement via Harper's public Facebook page on Wednesday.
"I have been told by doctors to put Val in Hospice care and I can't [because of our 40 years of shared commitment to each other] and I won't because of the amazing good deeds she has graced us with while she's been here on earth," Cacciotti wrote in the post. "We will continue going forward as long as the powers above allow us, I will do my very best in making Val as comfortable as possible."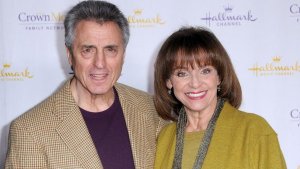 Read More
Cacciotti continued to say that anyone who has been through a similar situation with a loved one battling cancer will understand the extremely difficult position he is in.
Harper, who is 79, was first diagnosed with lung cancer about a decade ago. In 2013, doctors gave her just months to live. But Harper beat the odds and continued living her life to the fullest. She even competed in dancing competition show Dancing With The Stars in 2014. However, it seems her health has taken a turn in recent weeks.
Earlier in July, a friend of Harper's took to the actress' Facebook page to share a GoFundMe meant to raise money for Harper's medical expenses. "Many of Valerie Harper's fans have asked how she is doing. Valerie is currently taking a multitude of medications and chemotherapy drugs as well as going through extreme physical and painful challenges now with around the clock, 24/7 care needed immediately," the friend, named Deanna, wrote. "Health insurance and patient care costs are out of our hands. This GoFundMe account has been established to ensure she receives the best care possible."
When to Choose Hospice Care
In a previous interview with SurvivorNet, Dr. Raja Flores, Chairman of the Department of Thoracic Surgery for the Mount Sinai Health System, said that a lot of times when a patient is considering hospice or palliative care — they'll hold off because the thought of "giving up" the cancer battle is too hard on their family.
"The toughest thing that I've seen is when patients will continue to fight to the end because they feel that that's what their family wants," Dr. Flores said. "Their body has taken a pounding, and they just feel that they have to keep going or else their family feels that they're quitting on them. They have to realize, or the family has to realize, that that's not in the patient's best interest. Sometimes the patients get so tired, and they need to be told, it's OK, let 'em go."
Dr. Flores explained that a pain and palliative care team can work with people suffering from cancer to ensure that the last weeks or months of their life are painless and manageable.
"What you need more than a medical degree is a sense of what human beings feel, and what the family is feeling as well, to make sure that you help them through those dark times," Dr. Flores added.
Of course, every person's situation is different, and every cancer battle is different. Some people aren't ready to stop treatment. Cacciotti assured fans in today's note that as long as he is able to care for his wife, Harper will not be put into hospice care.
"As long as I'm able and capable, I'll be where I belong right beside her," he wrote.
Learn more about SurvivorNet's rigorous medical review process.