Barbara Reed's Oral Cancer
When a mouth ulcer didn't heal, doctors biopsied it
Reed was diagnosed with squamous cell carcinoma and doctors removed a portion of her tongue in a 12-hour surgery
Tissue grafts from her arm were used to rebuild her tongue
Barbara Reed, a British event planner, was 31 when she bit into a piece of chocolate and felt a twinge at the back of her tongue. She looked at the spot and discovered a small sore.
"'I noticed the ulcer but was sure it was just a minor thing," Reed told METRO UK. "They're really common. I didn't want to make a fuss."
Read More
RELATED: Smart Tips For Getting Cancer Screenings Right Now From The Chief Medical Officer of the American Cancer Society
But when drugstore remedies didn't help, Reed saw her dentist, who filed down two of her teeth to prevent rubbing and allow the sore spot to heal.
RELATED: Does Dental Floss Cause Cancer? No. Debunking the Fake Health News
The sore didn't heal and the dentist referred Reed to a doctor – apologetic that the U.K. health system required this protocol. "I was 32, freshly engaged, and had only just started to find my feet as a business owner," Reed said.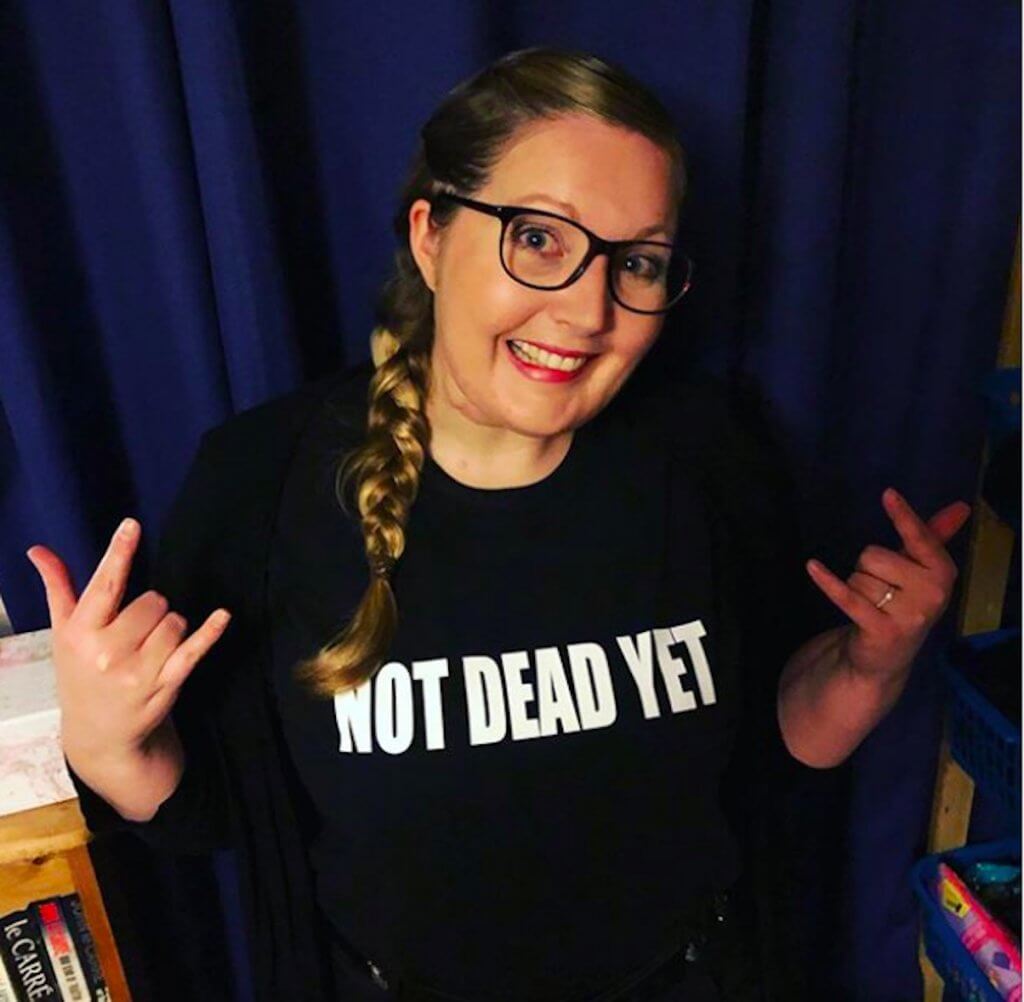 '
Barbara Reed, an event planner, endured a tissue graft from her arm to rebuild the portion of her tongue, lost to cancer. 
She assumed the stress of her busy life had caused her mouth sore. What else could it possibly be?
The doctor told her to return in a few weeks if the sore didn't clear up on its own.
It didn't; so she did.
RELATED: Hospitals are Seeing a Spike in Late-Stage Cancers as COVID-19 Restrictions Lift — What to Do if You Have Symptoms
Finally, the sore was biopsied. She returned for the results with her fiance. "I was actually really relaxed … because we really didn't think this was going to be anything sinister.  I went into the room and there were five people there and I thought that was a bit excessive."
The oral health consultant then told Reed she'd done the right thing by getting the sore checked, "because it's bad news — you have cancer," she recalled the doctor saying.
After Diagnosis: 12-Hour Surgery
Before she underwent a 12-hour surgery to remove the tumor, Reed had MRI and CT scans, blood tests and x-rays.
RELATED: Fairytale Wedding In An English Castle Four Weeks After The Bride Learned That Her Cancer Had Spread
The surgeons removed a 2 x 3-centimeter section of her tongue, as well as some glands and lymph nodes in her neck, as a precaution.
View this post on Instagram
 Reed, who was planning her wedding, thought her mouth ulcer was caused by stress.
Tissue Graft For New Tongue
During the same surgery, doctors then cut along her arm to remove fat and tissue for her tongue and an artery to create a transplant. They also removed skin from her leg to create a graft for her arm.
Each person's tongue is unique, doctors told Reed. There was no way to know how the surgery would impact her speech and ability to eat.
RELATED: Aggressive Cancer Forced Mom to Have Nose Removed: 'I Realized I Had a Bigger Battle on My Hands'
Fortunately, she could talk immediately after surgery. "'I am really chatty and public speaking is a part of my work so talking is a huge part of my identity. The risks were a big thing to come to terms with, but this was the best treatment.  'My medical team were amazing and I felt taken care of. I trusted them completely.'
"It took a long time for recovery in my arm," Reed said. But, "in the grand scheme of things, I do feel like I had a lucky escape: When they took the cancer out, they analyzed it, they found that it was a spider tumor, which spreads quickly and is very aggressive.  I was very lucky to find it when it was a matter of months old."
"Cancer doesn't discriminate," Reed said. "It doesn't care who you are and what you do. If something isn't right, have it checked."
About Oral Cancer
Most oral cancers are a type of squamous cell carcinoma. These cancers start in the flat, scale-like cells that form the lining of the mouth and throat. Risk factors include tobacco and alcohol use–  and the human papillomavirus (HPV), according to the American Cancer Society.
RELATED VIDEO" HPV Is Responsible For 5% Of Cancers In The World: An Advocate's Crucial Message
Your dentist is often the first to spot signs of oral cancer.
The vast majority of humans in the U.S. will eventually get infected with human papillomavirus," says Dr. Allen Ho, a head and neck surgeon at Cedars-Sinai Medical Center.
Risk factors include tobacco and alcohol use —  and the human papillomavirus, or HPV.
HPV and Oral Cancer
The human papillomavirus (HPV) is a highly common sexually transmitted virus that can cause 6 cancers, including oral and throat cancer. About 80 percent of people who are sexually active will end up infected with HPV at some point in their lives.
RELATED: "Top Gun" Star, Val Kilmer, 59, Makes Rare Appearance With Neck Covered By Scarf After Battle With Throat Cancer
Most of the time, the body's immune system naturally clears the HPV on its own and the person never experiences health problems or symptoms.
But if a person contracts one of the "high-risk" strains of HPV (out of roughly 100, there are about 14 'high-risk' strains of HPV), the infection can linger, ultimately damaging cell DNA and resulting in cancer-causing mutations.
HPV Awareness Is Lacking
According to a national survey, more than 70 percent of adults do not know that the human papillomavirus (HPV) can cause oral, anal, and penile cancers. This knowledge gap comes even as famous actors such as Michael Douglas and Marcia Cross have opened up to the public about surviving these cancers themselves — and have confirmed that their cancers were HPV-related.
RELATED: More than 70% of Americans Don't Know that HPV Can Cause Oral, Anal, and Penile Cancers 
The numbers are especially troubling given that HPV is responsible for 34,800 cases of cancer in the U.S. each year—90 percent of which could be prevented with the HPV vaccine. People are at-risk for avoidable cancers simply because they don't know that risk exists. The survey also revealed that only 19 percent of men and 31.5 percent of women eligible for vaccination received HPV vaccine recommendations from their doctors.
"HPV vaccination campaigns have focused heavily on cervical cancer prevention in women," Dr. Ashish Deshmukh of UTHealth School of Public Health, who led the study, said. "Our findings demonstrate a need to educate both sexes regarding HPV and HPV vaccination."
Learn more about SurvivorNet's rigorous medical review process.
---