If you have Pinterest or Instagram, or even Facebook, you've likely seen someone posting about how easy it is to make natural products, and how much better it is for your body and for the environment. While this claim may hold some truth when it comes to certain products, this claim does not hold up when it comes to sunscreen.
The fact that the do-it-yourself sunscreen method has been gaining so much traction on social media is worrying dermatologists — because the sunscreen products that get Food and Drug Administration (FDA) approval do so because they're safe, they've been tested, and doctors can say with certainty that they really do reduce our chances of getting skin cancer. The sunscreen recipes you see online that boast of a more "natural" way to protect your skin don't come with the same guarantee.
Read More
A new study
set out to study the effects these DIY sunscreen claims had on Pinterest users, and whether the sunscreens in question actually worked. What they found was quite unsettling, especially as the summer months kick off in the U.S. and the need for skin safety becomes even more important. Ninety percent of recipes the study authors looked at advertised themselves as effective sunscreen — but more than 2/3 of those recipes didn't actually work.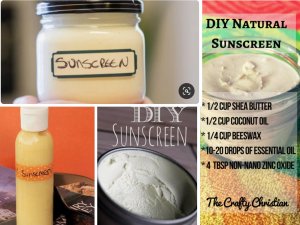 The study authors did note that many of the tested online recipes did make use of products that have demonstrated some UVA or UVB blocking ability — but the ingredients were simply not effective enough. "These homemade sunscreens often suggest a natural oil or juice mixed with a base such as shea butter to moisturize skin and beeswax to increase water resistance. While natural ingredients such as coconut oil, olive, carrot juices, and citrus oils have some natural UVB blocking properties, used alone they provide insufficient overall UV protection," study authors wrote.
Many of the recipes (about a third) also claim to have a certain amount of SPF — between 2 and 50. But researchers explained that you can't actually test the SPF of a sunscreen made at home. Testing requires special equipment — hence the need for FDA-approval of products. Many of the DIY products call for the use of substances that have demonstrated a mild ability to protect the skin from harmful sun rays, such as coconut oil, but nowhere near the ability of your typical sunscreen.
SurvivorNet has spent a lot of time discussing skin cancer prevention with dermatologists, and every one of them has emphasized that sunscreen is an absolute must if you're going to be exposing your skin to the sun — there's no alternative.
When discussing sun safety in general with SurvivorNet, Dr. Cecilia Larocca, of the Dana-Farber Cancer Institute, said that people should be vigilant about their sunscreen. "When it comes to sunscreen, which is one of the most important things you can do to minimize your risk of melanoma and other skin cancers, we recommend a minimum of SPF 30," Dr. Larocca said. "The truth is that when you put on sunscreen, most of us don't even put on enough sunscreen to get the true SPF that's listed on the label. In general, we actually only put on 50% of what our SPF is. So when you put on an SPF-60, you're likely to get an SPF-30 effect."
That's why dermatologists recommend SPF-30 as an absolute minimum. That means that Pinterest recipe with natural ingredients and an SPF-2 really isn't going to cut it if you actually want to reduce your skin cancer risk. Dr. Larocca also specified the type of sunscreen people should be looking for when they shop. "The other important thing to look for when it comes to sunscreen is whether or not it's broad spectrum. So broad spectrum means it covers both UVB and UVA rays. Thankfully, those are FDA regulated terms and if it's not listed on the sunscreen bottle, chances are it doesn't provide them," she said.
So even though it may be tempting to whip up a recipe that claims to have skin-protecting qualities, while also being kinder on the body, recipes you find on the internet simply do not have to go through the same screening process that FDA-approved products do — and that makes them unreliable. A study out of Australia found that people who use sunscreen regularly can reduce their risk of getting skin cancer by up to 50% — but that risk-reduction comes from using products that have been tested and are regulated.
So, bottom line is, to reduce your risk of skin cancer: buy an FDA-approved product, make sure it's SPF-30 or higher, and if you're hitting the beach this weekend, make sure you're re-applying every two hours.
Learn more about SurvivorNet's rigorous medical review process.
---