Olivia & Hoda Bond over Breast Cancer
On the TODAY show this morning, Olivia Newton-John, 73, who has metastatic breast cancer, appeared to discuss the anniversary of her song Physical; she and anchor Hoda Kotb, 57, also talked about their shared breast cancer battles.
Newton-John was first diagnosed with breast cancer in 1992, and Kotb was diagnosed in February 2007 at age 43 after doctors found lumps in her breast during a routine exam.
Having a strong community and sources of support through cancer can make the world of a difference.
Olivia Newton-John appeared on the TODAY show this morning to celebrate the 40th anniversary of her massive hit single
Physical
, but she ended up talking about something else entirely with anchor Hoda Kotb: Their shared battles with breast cancer.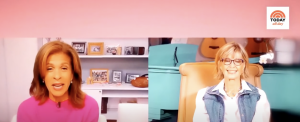 Read More
During the interview, Hoda shares that she, too, is a member of the breast cancer community. In her genuine and warm nature, Olivia asks Hoda how she's doing as the anchor appears emotional.
"I'm really sorry you went through that," the Aussie actress says to her. "I didn't know that about you. So you're well now, you're doing good?" Hoda replies that she's doing well, and also notes Olivia's kindness and caring. "By the way," says Hoda, "I'm just going to pause for a second. Another wonderful thing about you is what you just did there. Thank you. Thank you for asking."
Related: Lessons We've Learned From 'Today's' Hoda Kotb, A Breast Cancer Survivor, As She Celebrates Her 57th Birthday
Olivia explains that they're sisters in the breast cancer journey. She says, "Oh, of course. We're sisters. Anyone that has gone on this journey with cancer, it's unknown destinations and surprises and turns."
Olivia & Hoda's Breast Cancer Battles
Olivia, 73, currently has advanced-stage breast cancer (stage 4).  The Aussie singer was first diagnosed with breast cancer in 1992. To treat her cancer, she had chemotherapy and a partial mastectomy (surgical removal of cancerous breast tissue). In 2017, Newton-John's cancer returned and it had spread to other parts of her body, so she had radiation therapy to treat it.
Hoda, 57, was diagnosed with breast cancer in February 2007 when she was 43. During a routine exam, doctors discovered lumps in her breast tissue. To treat her breast cancer, Hoda had a mastectomy and was then declared to be in remission. Today, she's an advocate for breast cancer prevention and awareness.
Related: When Should I Get a Mammogram?
A mastectomy is the removal of the entire breast during surgery. There are different factors to weigh when considering a mastectomy; chief among them is whether breast-conserving surgery (or, a lumpectomy) is possible.
In an earlier interview, Dr. Ann Partridge, an oncologist at the Dana-Farber Cancer Institute, explains the process for determining whether or not a woman should have a mastectomy to treat her breast cancer. She says, "So when I talk to a woman who comes to me and she has breast cancer, I evaluate what the standard options for treatment for her are, which typically include cutting out the cancer– which is either a lumpectomy if you can get it all with just a little scooping around of the area that's abnormal or a mastectomy for some women meaning taking the full breast because sometimes these lesions can be very extensive in the breast."
"And I'll talk to a woman about that and I'll say these are two main options or the big fork in the road," says Dr. Partridge.
When Should You Consider a Mastectomy?
Community Through Cancer
We love to see this special bonding moment between Olivia and Hoda; many people battling cancer find strength and support by aligning with peers who also have cancer. Support groups for cancer patients can be found virtually or in person; your oncologist or an oncological social worker may be able to point you to support groups and support programs in your local area.
Related: Support Groups Can Offer Comfort and Encouragement
Having a strong, supportive community while going through the cancer journey can mean the difference between feeling like you're battling it alone, or that you're being carried by others during the especially tough moments of cancer.
Related: Shannen Doherty's Dear Friend is Perfect Example of the Kind of Sisterhood of Support Needed When Battling Metastatic Breast Cancer
For Beverly Reeves, after she was diagnosed with ovarian cancer she knew she needed loved ones to support her. She says in an earlier interview that for anyone diagnosed with cancer: pull your people close to you. Reeves says, "If I had one piece of advice for someone who had just been diagnosed with ovarian cancer, it would be to get a strong support group together."
"Get your close friends," she says. "If you're connected to a faith community, get your faith community. Get your family. Let them know what's going on and let them help you. And sometimes that's the most difficult thing to do, but just know that they are there."
'Faith, Family, and Friends' Helped Beverly Reeves Get Through Ovarian Cancer Treatment
Learn more about SurvivorNet's rigorous medical review process.