Learning About Ovarian Cancer
Jessie Sanders, 21, was diagnosed last year with an extremely rare and aggressive cancer, known as Small-cell carcinoma of the ovary, hypercalcemic type (SCCOHT).
For years, doctors dismissed her chronic abdominal pain as a result of her menstrual cycle or other conditions.
Sadly, we've heard many stories of women's concerns being dismissed by doctors. That's why being your own advocate can be key to getting a correct diagnosis.
People should remain vigilant and aware of any new or unusual symptoms and report to their physicians for appropriate evaluation.
Ovarian cancer treatment may involve a combination of surgery, chemotherapy, and possibly targeted therapies called PARP inhibitors.
Jessie Sanders was in her early teen years when she began feeling severe abdominal pain, which doctors continually dismissed as "UTI, severe cramps, hormonal changes, endometriosis." It would be for another six years until she got the diagnosis she actually needed:
ovarian cancer
.
In honor of Adolescent and Young Adult Cancer Awareness Week, Sanders' story is an important reminder that cancer can happen at any age.
Read More
After years of being dismissed by doctors, it was in November 2021 that the San Diego State University student experienced sharp pain in her abdomen and weight loss — so she decided to visit the emergency room. "I thought I was crazy having these pains (because) doctors always (dismissed) my pain," Sanders told Today.com. "I was having very severe abdominal pain for two weeks, and I couldn't eat. I couldn't go do things because it was so severe."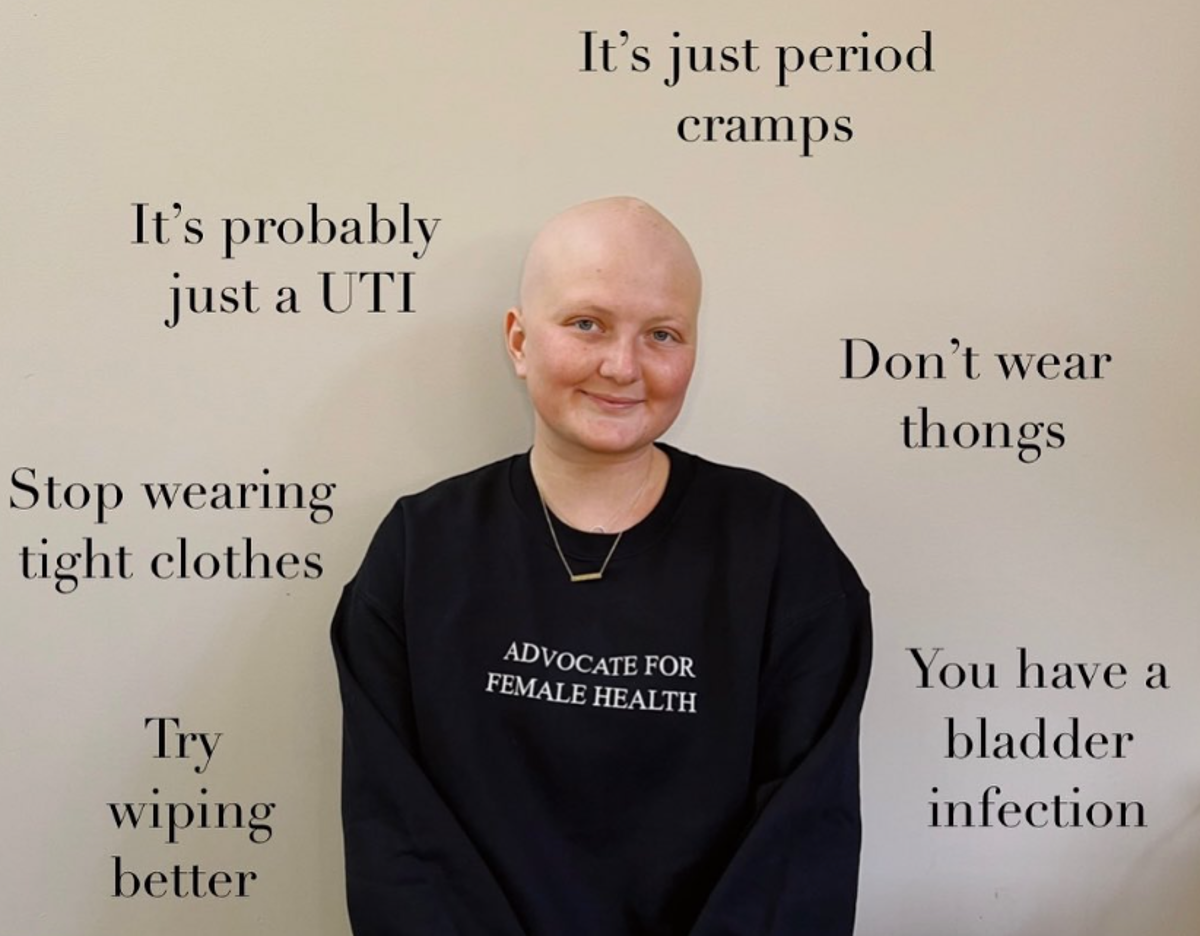 Thankfully, that hospital visit led the Division 1 college soccer player to undergo emergency surgery for an ovarian cyst. One week later, the surgeon called to inform her about her shocking diagnosis of ovarian cancer, specifically an extremely rare and aggressive for called small-cell carcinoma of the ovary, hypercalcemic type (SCCOHT).
Her diagnosis came about six years after her chronic abdominal pain began. She first visited an OB-GYN about her symptoms at 15 years old, but she was told it was simply her body changing and suggested she try birth control. And throughout high school, Sanders' pain was often dismissed as menstrual cramps.
"I was always so frustrated because the thing that … doctors always assume is you're pregnant or it's just hormones or it's your menstrual cycle," Sanders explained. "And I'm just like, 'No, it's not. I know there's something else wrong with my body.'"
It turns out Sanders' gut feeling was right. When she took herself to Kaiser Zion Medical Center in San Diego on the day after Thanksgiving last year, doctors found a 17-centimeter cyst on her right ovary.
She then underwent emergency surgery to remove the cysts and her right ovary, a procedure that ultimately put an end to Sanders' abdominal pain.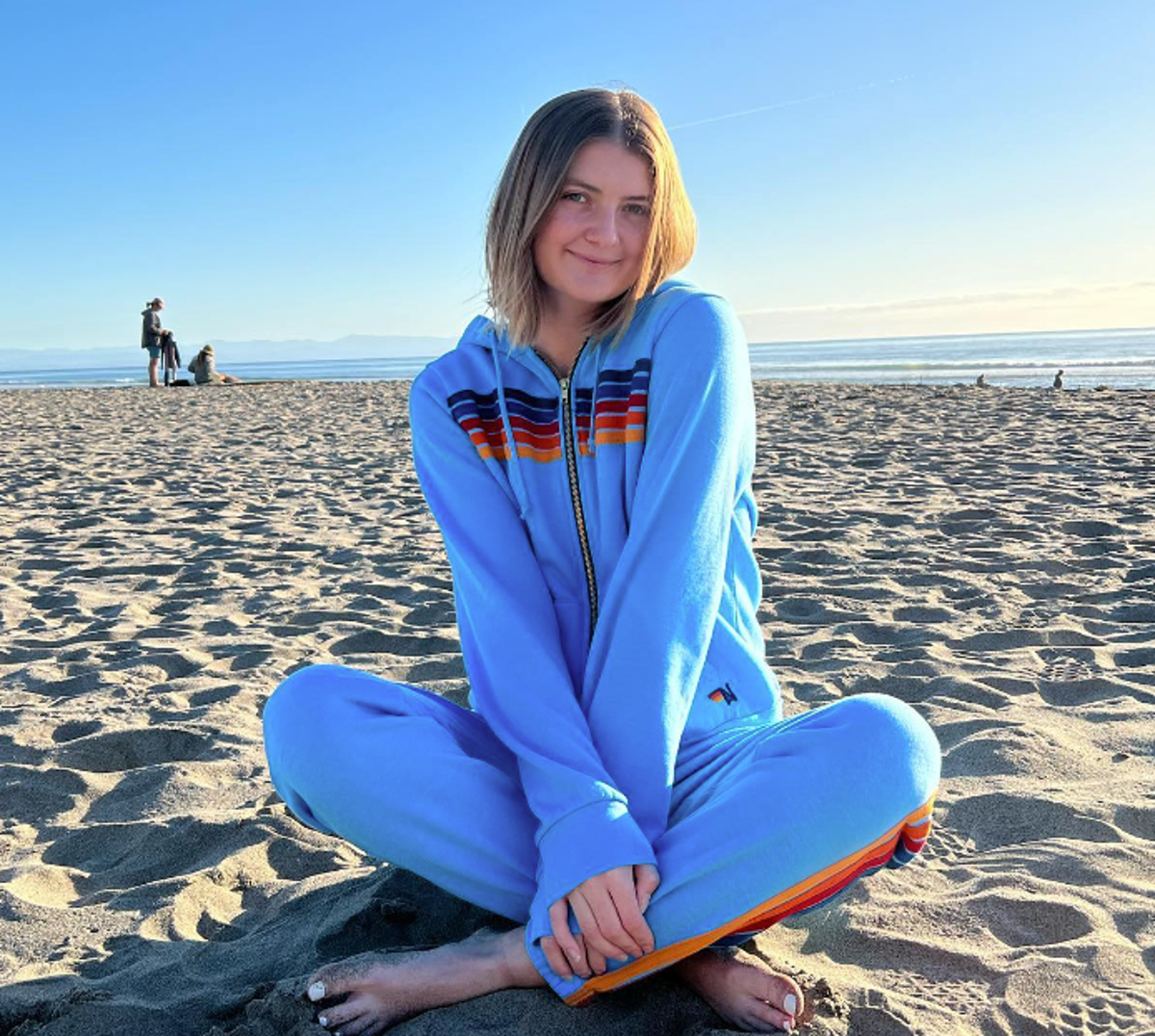 According to Dr. Kathleen Schmeler, of The University of Texas MD Anderson Cancer Center, Sanders is lucky her cancer did not spread. Dr. Schmeler told the news outlet that the type of cancer Sanders was diagnosed with is very different from other forms of ovarian cancer due to it mostly affecting younger women.
"Most of the time, people don't think it's necessarily cancer because the women are so young. No one does a lot of testing because they're so young, and it's so unlikely that they would have ovarian cancer," Dr. Schmeler said.
Sanders began chemotherapy at Redwood City Kaiser Oncology in December 2021, which involved three weeks of treatment, consisting of eight hours a day, three days a week. After six rounds of chemo, Sanders underwent a weeks-long bone marrow transplant at Stanford Hospital.
Now, in remission, Sanders has been out of the hospital for five months and back at school for her senior year.
"It's really important for all women to know their bodies and when something's not right, and if it's not right, then to see a health care provider and … if they feel like they're being dismissed, to change to someone else. Nobody should be dismissing patients, not looking into whatever was causing (me) to have all those symptoms. Clearly something wasn't right," Sanders told TODAY.com.
Since her recovery, Sanders has been urging others to pay attention to their bodies and advocate for themselves when they suspect something is wrong.
She took to Instagram earlier this month to share a photo of herself with some words doctors have told her in the past, in an effort to promote a website she created spreading awareness of female health.
The words listed were, "It's just period cramps," "It's probably just a UTI," "Don't wear thongs," "Stop wearing tight clothes," "Try wiping better," and "You have a bladder infection."
Alongside the photo, Sanders wrote, "These are some of the quotes I have been told by doctors over the years. I felt alone and crazy when I was in pain and told nothing was wrong with me. I want to start the conversation about how important female health is and all women deserve the right treatment. you know your body better than anyone else- advocate for it!! Here's the website link www.fightforfemalehealth.com and it will be in my bio!! If you wanna donate to small cell ovarian cancer or buy clothes you can do so there! Thank you to everyone for all the love and support."
Today, Sanders seems to be doing quite qell, sharing travel photos on Instagram and hanging out with her friends.
View this post on Instagram
Learning About Ovarian Cancer
Jessie Sanders is extremely young to develop ovaria cancer. According to the American Cancer Society, it is rare in people younger than 40, as it usually occurs in people after menopause. Half of all ovarian cancers diagnosed are in people older then 63.
With ovarian cancer, chemotherapy is usually the first stage of treatment, but as far as staging your actual cancer? It's a little more difficult to tell until your doctor performs a surgery.
Related: Teacher And Mom Of Two, 48, Thought Her 'Painful Periods' Were Menopause: It Turned Out To Be Cancer
For ovarian cancer, gynecologic oncologists recommend a staging procedure after a diagnosis when they have evidence that the cancer may be early or limited, which has to do with the location of the tumor. Based on where the cancer is found, it will be assigned a stage.
How Do I Know The Stage of My Ovarian Cancer? Staging Surgery Determines Spread
We spoke with Dr. Amanda Fader, who further describes the notion of staging your ovarian cancer through surgery, that determines what, if any, cancer has spread.
"If it's remained in the ovary where it was initially found or developed, then the cancer is Stage 1," says Dr. Amanda Fader, vice chair of gynecologic surgical operations at Johns Hopkins University in Baltimore, tells SurvivorNet.
"But if the cancer has started to spread to other organs or through the lymph nodes to other parts of the body, then it would be identified as Stage 2, 3, or 4," Dr. Fader adds.
The Stages of Ovarian Cancer
Stage 1:  The cancer is confined to the ovaries or fallopian tubes
Stage 2:  The tumor involves one or both ovaries with extension to other pelvic tissues (or is a primary peritoneal cancer)
Stage 3:  The cancer has spread outside of the pelvic peritoneum including to the outside of the bowel, liver and spleen and/or it involves the lymph nodes
Stage 4:  There are distant metastases (outside of the pelvis and abdomen) or metastases to the inside of the spleen or liver
When doctors have evidence before the surgery, such as from imaging tests, that the tumor may be limited to the ovary, they will usually recommend a staging procedure. During that operation, doctors remove all or part of the ovary with the tumor and send it—while the patient is still asleep on the operating table—to a pathologist who will examine the tissue and identify the type of tumor so doctors can decide how best to treat it.
If the tumor is determined to be benign, the surgery can end. Otherwise, more extensive surgery is usually performed. Prior to the surgery the patient and her doctor would have discussed the various possible findings, so that depending on the result of the ovarian biopsy, the surgeon knows what the patient's wishes are and how to proceed. "We would have made these decisions ahead of time through our preoperative counseling," explains Dr. Fader.
If the tumor is malignant—ovarian cancer—"then we usually do a hysterectomy and remove the opposite ovary, too, in case it's involved with the cancer. We also remove the omentum—an apron of fat in the abdomen. It has no known function, like the appendix, but can be involved in many ovarian cancer cases. And we'll do several biopsies around the abdomen and pelvis, including biopsies of the lymph nodes and peritoneum (the tissue lining of the abdomen)."
These biopsies will determine whether the cancer has spread and if so, how far.
Ovarian Cancer: Symptoms
Ovarian cancer often has symptoms that are very vague and are often similar to the symptoms many women experience every month with their menstrual cycle. However, if you are experiencing any of the following symptoms, and they seem to be "crescendoing," or getting worse, it is worth it to see a doctor to rule out ovarian cancer:
Feeling full earlier/decrease in appetite
Feeling bloated
Changes in bowel habits
Pain in the pelvis
Urinary symptoms, such as an urgent need to go
Extreme fatigue
Abdominal swelling
Pain during sex
As Jessie Sanders showed, it can be hard to connect these symptoms specifically with cancer because they could be caused by a whole host of other issues. That's why Dr. Beth Karlan, a renown gynecologic oncologist at UCLA Medical Center in Santa Monica, California, as well as many other top gynecologic oncologists in the U.S., highly suggest women be vigilant about getting tested if they feel that something is amiss with their bodies.
Because many of these symptoms are associated with women's menstrual cycles, this may mean being insistent with doctors who may want to write off symptoms.
Related: Pregnant Mom, 22, Was Told By Doctors Her Strange Leg And Pelvis Pain Was 'A Harmless Cyst:' It Turned Out To Be Cancer
Ovarian cancer also tends to be diagnosed in older women; roughly half are diagnosed when they are over the age of 60. Because of this, many doctors will write off symptoms as signs of menopause. Since there is no screening test for ovarian cancer so far, only about 20% of cases are diagnosed in the early stages, according to the American Cancer Society.
Ways to Diagnose Ovarian Cancer – The Initial Examination
If you've noticed that one or more symptoms keeps recurring for over a week, or if you also have a history of cancer in your family, your physician should test you for ovarian cancer. Here's what to expect from your workup:
History: Not only will your doctor ask you how long you've been experiencing these symptoms, they will also want to know your family's medical history. Did any of your relatives experience ovarian or other cancers? According to the National Ovarian Cancer Coalition, about 15% of ovarian cancer cases have a hereditary connection, mostly due to mutations in the BRCA1 or BRCA2 gene (which can also factor into breast cancers).
Physical Exam: Once you're done talking, your doctor will examine you. Along with all the normal measurements—blood pressure, weight, etc.—they will most likely perform a pelvic exam. This should include a recto-vaginal exam so the doctor can feel the tissue behind the uterus where the ovaries are often found.
Imaging: In order for the physician to get a better picture of what's happening, you will probably be advised to get a trans-vaginal ultrasound. Depending on what the doctor has ordered, the imaging office may ask you to show up with an empty bladder, a full bladder, or somewhere in between.
Once you're in the examining room, the doctor or sonographer will insert a transducer (a wand-like instrument), into your vagina. Depending on how full your bladder is, this may be mildly annoying or fairly uncomfortable, but any discomfort will disappear once the exam is over.
The sonographer will move the wand around, causing sound waves to bounce off your organs. These echoes form images that are transmitted onto a video screen so the person performing the exam can see them in real time. If a doctor is performing the ultrasound, you can get the results immediately, but if a sonographer is doing it, you will need to wait for a radiologist to interpret them. Unlike an x-ray, a sonogram will not expose you to any radiation.
There's also a chance your doctor will want to do more in-depth imaging and prescribe a CT scan. This x-ray makes highly detailed cross-sectional images of your body and can show your physician whether or not the disease, if present, has spread to other organs or if the lymph nodes are enlarged. The CT scan isn't used in place of a biopsy, because it often misses very small tumors. It can show larger tumors and illustrate whether or not the disease has migrated to other organs.
Blood Test: Your doctor may also take blood as part of the exam. The CA-125 blood test is a barometer for many of ovarian cancers, but it's not a screening test. According to Dr. Beth Karlan, Gynecologic Oncologist at UCLA Medical Center, "even in stage one, the earliest ovarian cancers, CA-125 is normal in over half the cases, so we're missing a lot of the cases by just checking the blood test." But if your physician suspects you might have ovarian cancer, this test can be very helpful and should be done in the beginning so your oncologist can monitor the progression of the disease and the impact any treatments have on it.
Ovarian Cancer Treatment Options
If your doctor diagnoses you with ovarian cancer, you might be referred to a gynecologic oncologist. Surgery and chemotherapy both factor into treatment for most women with ovarian cancer and, according to SurivorNet's experts, the only variation is the sequence in which women get them.
Should You Have Chemotherapy Before Surgery for Ovarian Cancer?
Several factors go into deciding what kind of treatment is best, depending on the type and stage of ovarian cancer, your age, and whether you are planning to have children in the future. Surgery is usually the first treatment recommended, with chemotherapy afterward to get rid of any cancer that may have been left behind. The other option is to have chemotherapy first, called neoadjuvant chemotherapy, to shrink the tumor so that it's easier to remove surgically.
If a doctor is confident that he or she can remove the ovarian tumor completely without initial cycles of chemotherapy, they will go ahead with a surgical procedure. Doctors who are not confident they can perform successful surgical tumor removal will go with chemotherapy initially, then proceed with surgery once tumors have shrunk.
Meanwhile, chemotherapy can shrink ovarian cancers. The standard chemotherapy regimen for ovarian cancer is made up of two drugs in combination: a platinum-based chemotherapy drug like carboplatin or cisplatin and a taxane chemotherapy drug such as paclitaxel (Taxol) or docetaxel (Taxotere).
Women with ovarian cancer typically get these treatments through an IV every three to four weeks. The usual course of chemotherapy is made up of three to six treatment cycles, based on the cancer stage, but different drugs have different treatment cycles.
After the initial treatment with surgery and chemotherapy got rid of as much of the cancer as possible, the next goal is to extend the amount of time before the cancer comes back. Doctors call this maintenance therapy, and for ovarian cancer it can include two drugs: bevacizumab (Avastin) and olaparib (Lynparza), which is a PARP inhibitor
PARP inhibitors work by preventing cancer cells from repairing their damaged DNA.
They have shown great promise in keeping the cancer from returning. These drugs can also now be used in the initial treatment of ovarian cancer.
Contributing: SurvivorNet Staff
Learn more about SurvivorNet's rigorous medical review process.
---