Bob Ross: The Inspiration Behind 'Paint'
Owen Wilson, 54, plays Carl Nargle – a fictional character who closely resembles beloved painter Bob Ross – in the film "Paint," released on April 7, 2023.
Ross died of lymphoma in 1995 at age 52 – just one year after his iconic show "The Joy of Painting" ended its 11-year run.
Lymphoma is a type of blood cancer. It's unclear what type of lymphoma Ross was diagnosed with.
Early symptoms of the disease can be tricky to notice, but they may include swollen lymph nodes, fatigue or unexplained weight loss.
The American comedy film "Paint" stars Owen Wilson as the fictional TV painter Carle Nargle, a character who may leave viewers remembering the incredibly similar life and career of beloved Bob Ross, who passed away from lymphoma in 1995.
Although Wilson's character closely resembles Ross, who starred in the beloved PBS television series "The Joy of Painting," the film isn't about Ross himself. The movie's character simply has the same permed hairstyle as Ross, including his painting mannerisms, casual wardrobe, and soothing voice.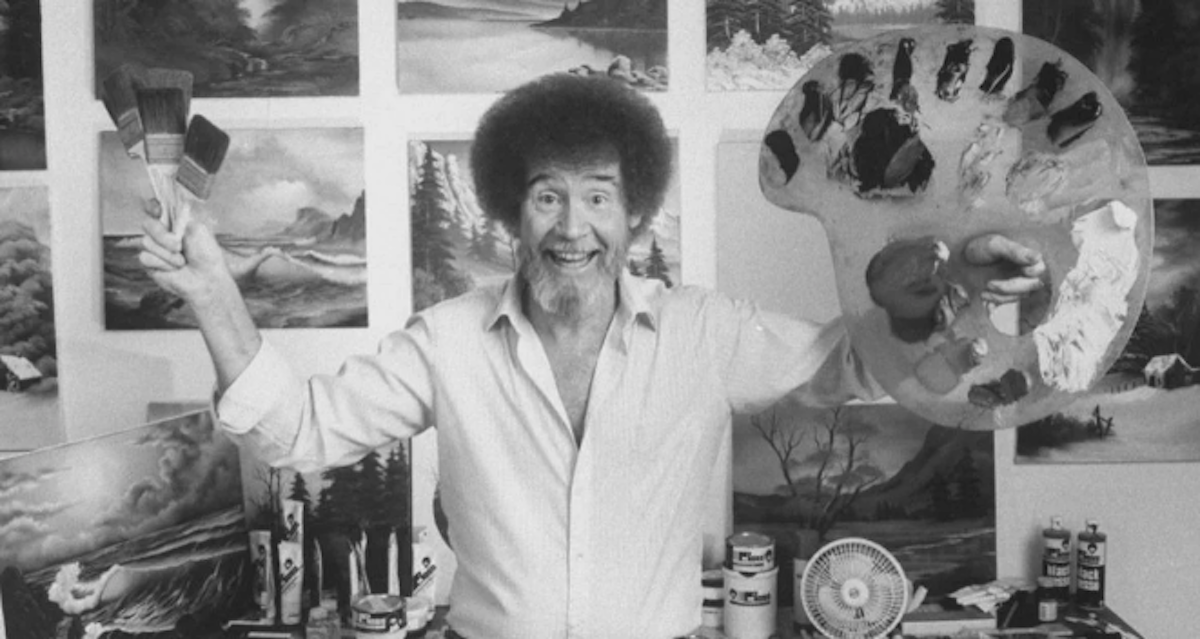 Read More
Ross starred in "The Joy of Painting"
for 11 years before his death. The artist kept his cancer battle hidden from the public, so it's unknown when he was diagnosed and whether he decided to undergo treatment. Ross passed away on July 4, 1995, at age 52 just one year after his painting show stopped airing.
Paint" is about a fictional man named Nargle
who paints Vermont landscapes on a TV show rated number one for nearly 30 years. However, when the TV station he works for decides to hire a young painter named Ambrosia, challenging Nargle's popularity status. Nargle's life drastically compares to Ross' life, as Ross was born in Florida and later stationed at Eielson Air Force Base in Alaska after enlisting in the Air Force at age 18, where he picked up his love for painting landscapes. Ross, who moved back to Florida later in life, filmed "The Joy of Painting" at a studio of PBS station WIPB in Muncie, Indiana. Additionally, Ross had estate complications that arose after his death, which was explained in the 2021 Netflix documentary "Bob Ross: Happy Accidents, Betrayal & Greed," according to
CinemaBlend
. A "Paint" review on
RogerEbert.com
explains, "It's incredibly challenging to separate Bob Ross from 'Paint.' … Ross haunts this film. For one, the likeness is how writer/director Brit McAdams wants to hook viewers, to see what an 'Owen Wilson as Bob Ross movie' could be.." According to
USA Today
, Britt McAdams, the writer and director of "Paint," said in a recent interview, "I love Bob Ross. I grew up watching him and this is coming from nothing but a respectful place. There's a really good-natured element to the film, and having watched it play to audiences, it's a really funny film, too. That's something the world needs a little bit more of these days."
Understanding Bob Ross' Cancer: Lymphoma
While not much is known about Bob Ross' personal cancer battle, we do know he had lymphoma, a type of blood cancer. Blood cancers can affect the bone marrow, blood cells, lymph nodes and other parts of the lymphatic system.
The Leukemia & Lymphoma Society
reports that every 3 minutes, one person in the U.S. is diagnosed with a blood cancer. More specifically, lymphoma is a cancer of the immune system that begins in the white blood cells called lymphocytes. Lymphoma begins when lymphocytes develop a genetic mutation that makes them multiply much faster than normal. This mutation also forces older cells that would normally die to stay alive. From there, the quickly multiplying lymphocytes collect and build up in your lymph nodes, the small glands in your neck, armpits, and other parts of your body.
What Kind of Lymphoma Do You Have? Why Your Type Matters
We don't know the specific type of lymphoma that Bob Ross had, but it's important to note there are more than 40 different types of the disease. Hodgkin lymphoma and non-Hodgkin lymphoma are the main two sub-categories with the latter being more common. Diffuse large B-cell lymphoma (DLBCL) is the most common form of lymphoma.
The type of white blood cells linked to the disease determines the distinction between Hodgkin lymphoma and non-Hodgkin lymphoma. If doctors are unable to detect the Reed-Sternberg cell – a giant cell derived from B lymphocytes – then the cancer is categorized as non-Hodgkin lymphoma.
Sneaky Lymphoma Symptoms Often Lead to a Late Diagnosis
In a previous interview with SurvivorNet, Dr. Elise Chong, a medical oncologist at Penn Medicine, explained that lymphoma symptoms could be difficult to detect.
"The symptoms of lymphoma, especially if you have a low-grade lymphoma, often are no symptoms," Dr. Chong explained. "People say, but I feel completely fine, and that's very normal."
People with lymphoma do not always have symptoms, but common ones are:
Swollen glands in your neck, armpit or groin
Fever
Chills
Night sweats
Unexplained weight loss
Feeling tired
Swelling in your stomach
No matter what, it's important to communicate anything unusual happening to your body with your doctor. Even if there's nothing to worry about, it's good to rule out the possibility of more serious issues.
Working During a Cancer Journey
Bob Ross demonstrated his desire to continue working and doing the job he loved while fighting lymphoma.
A cancer battle can change your life. But how you proceed to go about your days as you face the disease is entirely up to you.
RELATED: Ad Giant Publicis Launches Major Effort To Improve The Workplace For Cancer Survivors & Caregivers After CEO's Diagnosis
Whether it be for financial reasons, a sense of normalcy, or simply because you like what you do, it's important to try to make a work schedule that suits you during your cancer journey if you want to continue working. It's also important for you to know there are people out there to help you navigate the process of not working if that's your preferred option.
Laurie Ostacher, a social worker at Sutter Bay Medical Foundation, spoke to SurvivorNet in an earlier interview about how she helps people figure out their working situation after a cancer diagnosis.
Working During Your Cancer Treatment
"Some women choose to continue working [through cancer] because working is a significant part of their identity, they enjoy the job, and there's flexibility built in," she said. "I help folks think about whether it makes sense to work … If you really don't want to but are worried you're not going to be able to make ends meet, then I'll sit down and help them figure out, you know, with your disability insurance, would this be possible?"
Ostacher also shared the questions she might pose to people in order to help them think about how their work life might look while fighting cancer.
"For women who choose to work, I help them think about what types of conversations do you need to have with their employer? How much information do you want to share with him or her? What type of work schedule seems like it might work for you? Where might you need more flexibility?" she said.
No matter what, it's important to do what's right for you and seek out valuable resources like Ostacher if you need help deciding on the right course of action when it comes to working during a cancer battle.
The Reality About Going Back To Work After Cancer
There are people who can continue to work during cancer treatment and those who need to take some time away. The reality is — it truly depends on the person, their individual cancer, and the treatment.
Returning To Work After Cancer
People who work in the oncology field, doctors and social workers, have told SurvivorNet that they absolutely recommend working during cancer treatment, if you can, because work can really establish a sense of normalcy in a person's life. However, not everyone can. For example, Victoria Rego, a triple-negative breast cancer survivor who previously spoke with SurvivorNet, said that during her treatment — work simply wasn't possible.
"My treatment went through a year and a half, at which point I had stopped working," Victoria said. "I was on leave for about a year, and when I went back they had hired two people to replace me, so they laid me off. I was actually kind of grateful for it."
In Victoria's situation, the loss of one job was kind of serendipitous. She discovered that SHARE Cancer Support, an organization meant to educate and empower women with breast and ovarian cancer, was hiring.
"SHARE Cancer Support, which helped me out during my treatment, happened to be hiring and I applied," Victoria said. "There are all these other side effects and body image aspects that you don't really hear about when you're diagnosed … People claim they don't discriminate, people try not to discriminate. But they do look at you like, hey, what's going on? So when I was interviewing at SHARE, it was like a relief, almost, knowing that I was going into a place where they would get it."
Controversy Surrounding Bob Ross' Cancer Death
Bob Ross left behind an explosive legacy. However, it was one he never truly got to enjoy while being alive. "Bob Ross: Happy Accidents, Betrayal & Greed," which was released in August 2021, has taken a deeper look at what happened as the TV painter was dying from cancer.
The film, heavily narrated through interviews with his son Steve Ross, explains that after "The Joy of Painting" ended in 1994, Ross attempted to pursue a children's show — a dream he'd always had. He was even the guest star in the pilot episode of "The Adventures of Elmer & Friends."
His father wanted to bring the art world to a younger audience, Steve Ross said. He was even talking about working on a book for children, but that's when Ross became "really ill." He was wearing a wig and weighed less than 100 pounds, his son said.
Annette and Walt Kowalski were Ross' long-time business partners during his rise to stardom through "The Joy of Painting," and they co-founded Bob Ross Inc. The Kowalskis have also been involved in legal battles related to Bob Ross' estate and his family over the right to his name and image.
"They both thought of Bob as something that they had packaged and that they had made from the beginning," Steve Ross said of the Kowalskis. "They didn't want people to know he was sick."
After Bob passed, Bob Ross Inc. filed a lawsuit against Bob's third wife, Lynda, who he married two months before he died, and Cox. Cox, without Steve Ross' knowledge, ended up settling the suit in 1997 by signing over all the rights of the Bob Ross name to BRI.
However, Ross' will stated that Cox and Steve Ross held almost all of the rights to Bob Ross' name and publicity. This wasn't discovered until 2018 when Steve Ross filed a lawsuit against BRI; it was null and void by the time Steve Ross found out because of the 1997 settlement agreement.
"My own uncle had signed over those rights to them totally against my father's wishes," Steve Ross said in the documentary.
In June 2019, Steve Ross lost his legal battle with BRI due to money issues; an appeal would've cost about $90,000. BRI retained all the rights to the Bob Ross name and likeness, and Bob Ross Inc. still operates today in the suburbs of Washington, D.C.
"The Kowalskis made millions of dollars from, I would say, exploiting his (Bob Ross') name and image," Steve Ross said. "But he brought so much happiness to people, and that's what's important."
Contributing: SurvivorNet Staff
Learn more about SurvivorNet's rigorous medical review process.
---