Leanne Hainsby Talks Hair Loss After Chemotherapy
Leanne Hainsby, a 35-year-old Peloton instructor from London, has been battling breast cancer since August 2022 after finding a lump in her breast.
Following the completion of her 12-week chemotherapy treatment, Hainsby has opened up about her hair loss and how it has affected her self-esteem.
Hainsby used cold caps during chemotherapy, which are tight helmet-like devices full of cold liquid that can slow hair loss.
Hair loss is a treatment side effect people going through cancer are often most worried about, since it can cause such drastic changes to appearance.
Aside from cold caps, there are other options for patients to help with this change — including haircuts, wigs, and head coverings.
Leanne Hainsby, a 35-year-old Peloton instructor from London, England, took to social media this week to be truthful about the "reality" of hair loss from chemotherapy, something she describes as "one of the cruelest parts of cancer treatment."
Since getting diagnosed with breast cancer about six months ago and completing 12 weeks of chemotherapy, Hainsby has opened up about how the treatment sessions caused her to lose more than half of the hair on her head.
Read More
Included in her carousel of photos
shared on Instagram
on Monday, Hainsby explained, "Over the last six months, I've been determined to not let my insecurities about the way I look affect how I've shown up." She even admitted that the bright-colored long-sleeved outfit she wore to instruct her morning Peloton class gave her a "boost of confidence."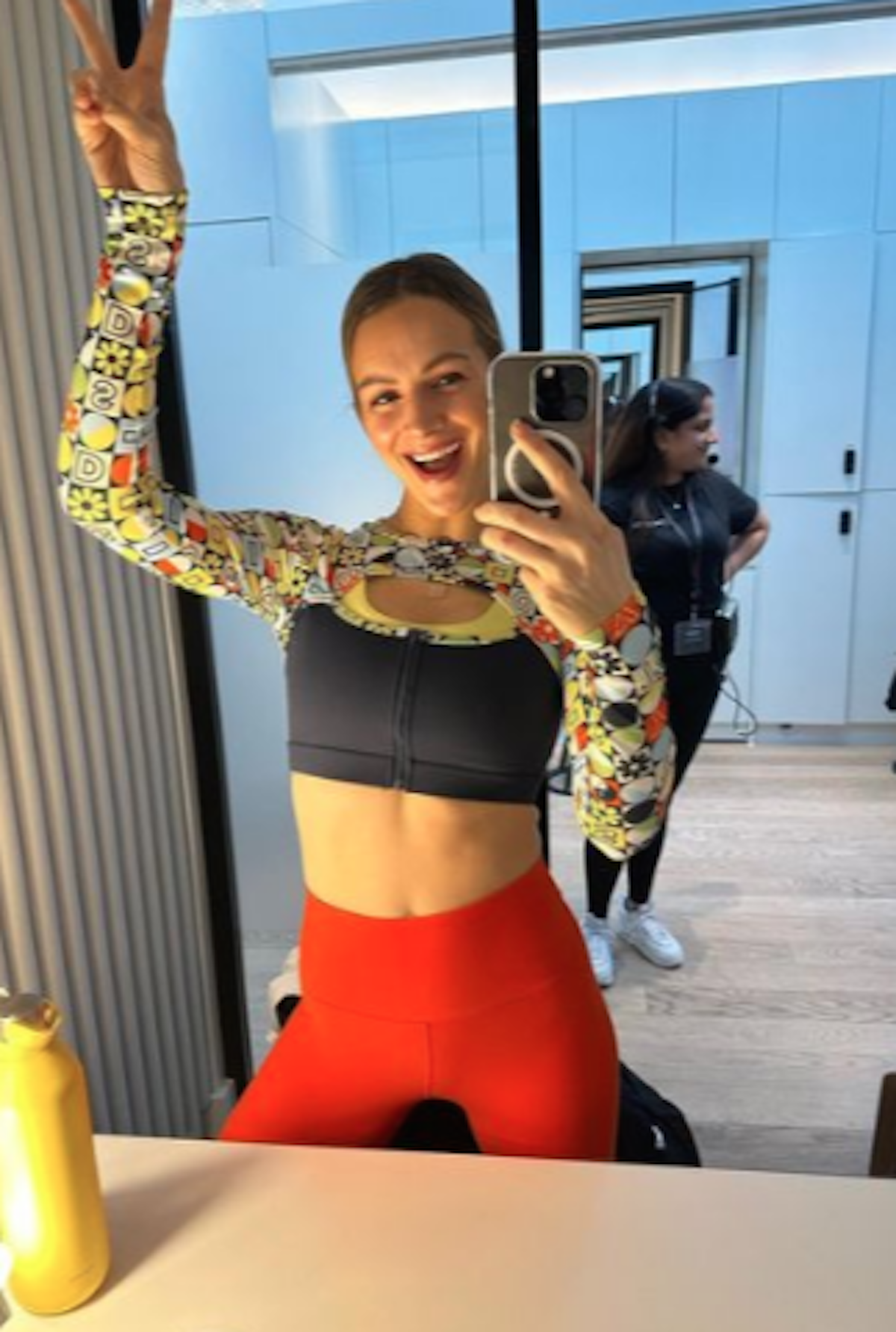 "Some days that's been easier than others. There have been some dark days, and 'why me?' moments along the way, I just don't stay there," she wrote. "Like I've said before, I feel lucky, but it doesn't mean it hasn't felt completely s**t at times too."
She continued, "People tell me how lucky I am that I didn't lose my hair. No, I'm not bald, but I did lose my hair. I lost over half of it, and every ponytail has been strategically placed to make it less obvious. Losing any of my hair felt terrifying, but keeping half of my hair was the goal with the particular chemo I had. I worked hard to keep it, and so that's been a win for me."
Hainsby explained that her sideburns are now growing back after the "traumatic" and  "relentless hair shedding/meticulous hair care" she had to endure for months.
The cycling instructor noted that her eyebrows are tattooed on after losing them at the start of the treatment and she's lost her eyelashes, too. However, with the help of fake eyelashes, Hainsby appears to look like her normal self.
"In the grand scheme of things, these side effects have felt irrelevant compared to having the opportunity to get better, but they do make a difference to your self-esteem. Hair loss is one of the cruelest parts of cancer treatment," she added. "I mentioned the above for a few reasons. I want to have the frank conversations about the reality of it all, because I believe in some way, the transparency might help someone who might be going through/has been going through/or is about to go through. or is supporting someone in a similar position to me, feel seen and less alone."
Hainsby admitted to feeling less like herself as treatment went on but said that helping others work out and feel better about themselves, ultimately helped her.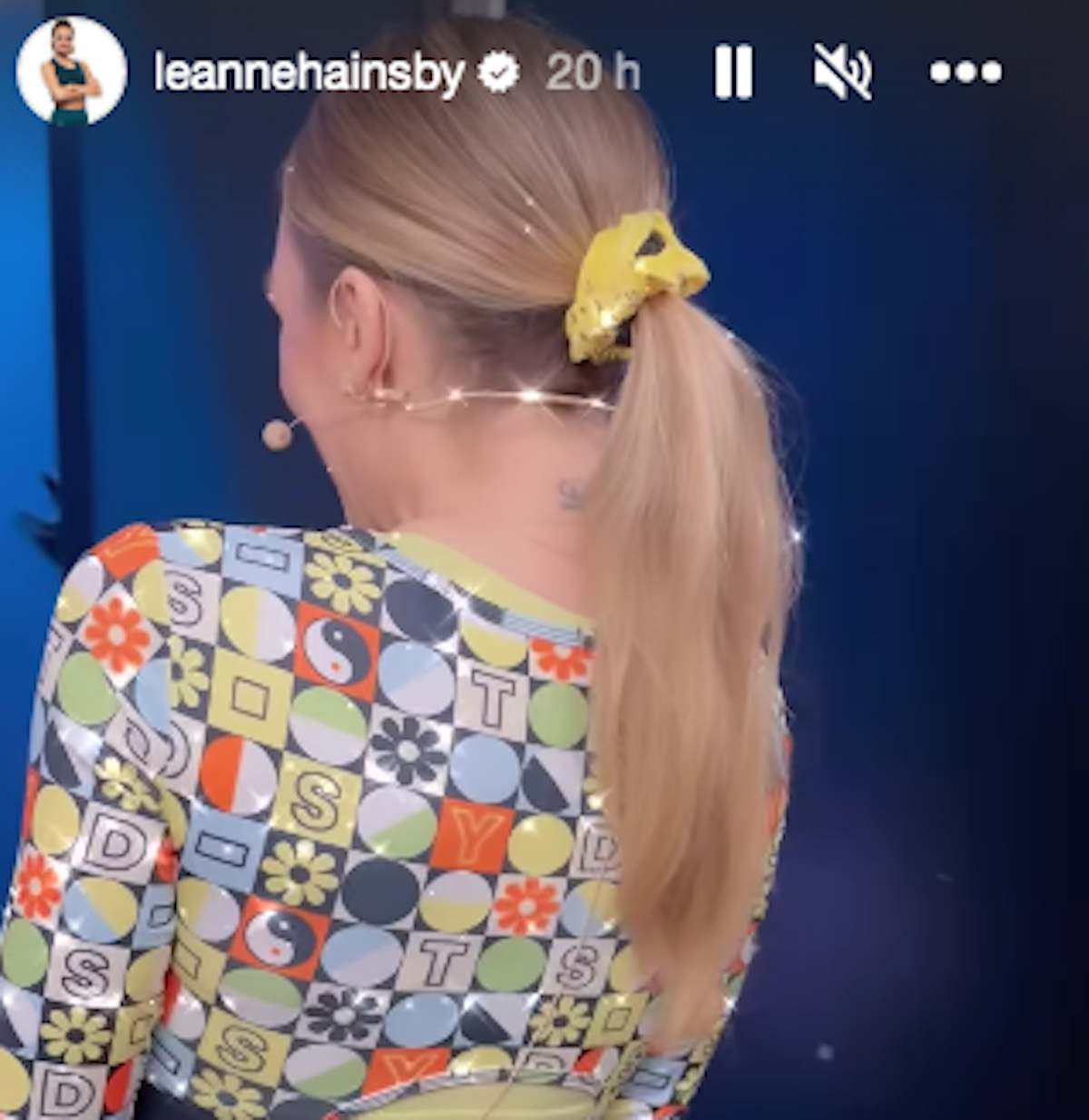 Hainsby's Breast Cancer Battle
In January 2023, Hainsby shared that she'd been diagnosed with breast cancer in August 2022. The native Londoner told her followers on Instagram that she was diagnosed with the disease last year. Hainsby shared that continuing to teach Peloton classes throughout her cancer fight has "given her focus, and some sparkle in an otherwise incredibly tough time."
Her cancer was detected when she found a lump in her breast. She writes, "After multiple scans and appointments with both consultants and cancer nurses, and being completely terrified for a few weeks, in August 2022, I was diagnosed with breast cancer."
Back On The Bike! Beloved Peloton Instructor Returns To Loyal Devotees As She Fights Breast Cancer
Hainsby, described by OnePeloton as "a former professional dancer turned fitness enthusiast," was told she had cancer after getting a second doctor's opinion about a lump she had found in her breast. The first doctor she visited, on the same day she found the lump, told her "everything was ok." However, after trusting her "gut", she got a life-saving second opinion, which led to her diagnosis.
Hainsby recently completed 12 weeks of chemotherapy and will undergo surgery to remove her portacath, which will be followed by two weeks of radiation treatment.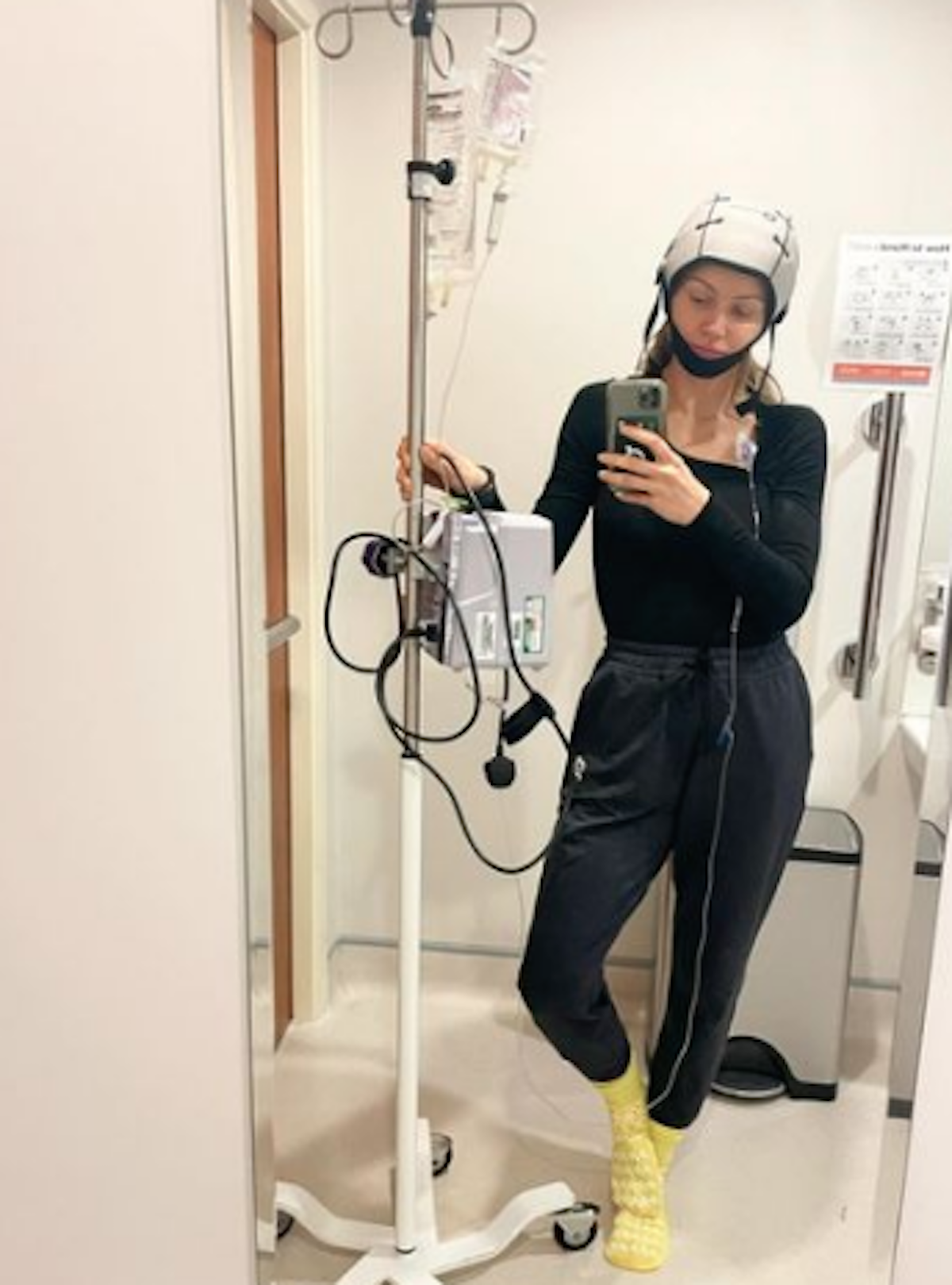 Chemotherapy & Other Treatments for Breast Cancer
Common treatment modalities for breast cancer include chemotherapy – which is what Hainsby recently finished getting – radiation, surgery, hormone therapy, targeted therapy and immunotherapy.
The treatment path depends greatly on the specifics of each case, including the stage of the cancer at the time of diagnosis. (We do not know the stage of Hainsby's cancer at the time of her diagnosis.)
Identifying these specifics means looking into whether the cancerous cells have certain receptors. These receptors – the estrogen receptor, the progesterone receptor, and the HER2 receptor – can help identify the unique features of cancer and help personalize treatment.
"These receptors, I like to imagine them like little hands on the outside of the cell, they can grab hold of what we call ligands, and these ligands are essentially the hormones that may be circulating in the bloodstream that can then be pulled into this cancer cell and used as a fertilizer, as growth support for the cells," Dr. Comen told SurvivorNet.
One example of a type of ligand that can stimulate a cancer cell is the hormone estrogen, hence why an estrogen receptor positive breast cancer will grow when stimulated by estrogen. For these cases, your doctor may offer treatment that specifically targets the estrogen receptor. But for HER2 positive breast cancers, therapies that uniquely target the HER2 receptor may be the most beneficial.
Dealing With Hair Loss During Chemotherapy
Losing hair or thinning hair while undergoing chemotherapy is a common side effect of cancer treatments.  And while hair loss is not a medically significant or dangerous side effect of chemotherapy, for many women it can be a blow to their self-esteem. "It can have implications about how they feel about themselves," says Dr. Renata Urban, a gynecologic oncologist at the University of Washington in Seattle.
What You Think You Know About Chemotherapy Side Effects May Be Wrong
It's completely normal to feel upset about losing your hair—even when you know that your hair will usually grow back after treatment stops. In the meantime, there are steps you can take to make the experience less distressing.
Try a Cooling Cap to Minimize Hair Thinning
One potential option is something called cryotherapy—"just a fancy way for saying cold therapy," says Dr. Urban. What that means is wearing what are called cold caps or special cooling caps before, during, and after each chemotherapy treatment. The caps, which are tight fitting and strap-on helmet-style, are filled with a gel coolant that's chilled to between -15 to -40 degrees Fahrenheit.
Essentially the caps "cause vasoconstriction, or a narrowing of the blood vessels bringing blood to the scalp," Dr. Urban explains. By constricting the blood flow to the scalp, the caps limit the amount of circulating chemotherapy that reaches the hair follicles, protecting them from some of the chemo's damaging effects. The cold also decreases the activity of the hair follicles, which slows down cell division and makes the follicles less affected by the chemotherapy medicine.
"This has been shown to reduce hair loss by 50 percent," Dr. Urban says. "I do try to let patients know it's not a 100 percent prevention strategy, and it's not been studied in all hair types, but it is at least an available strategy for patients to try."
Keep in mind, though, that it does take commitment to tolerate the cold. Some women find the caps give them a headache. And they can make you really chilled, so if you want to tough it out, dress warmly and bring blankets.
Choose a Wig or Other Head Covering
Some women choose to cut their hair very short or even shave their head before their hair starts falling out, and then buy a wig or other type of head covering.
If you're thinking about buying a wig, consider buying it before your treatment starts, or soon after. Cancer.org suggests asking if the wig can be adjusted as you might need a smaller size as you lose hair. To match your hair color, they recommend cutting a swatch from the top front of your head, where your hair is lightest—or try a completely new hairstyle or color.
Dr. Manojkumar Bupathi Says Coping With Hair Loss Really Comes Down To Personal Preference
Wigs and other scalp coverings may be partially or fully covered by your health insurance. If so, make sure the prescription says "cranial prosthesis." (Don't use the word wig.) Someone on your cancer care team can likely recommend wig shops in your area.
Hair Loss Is Temporary
Losing your hair can feel overwhelming in the moment. Experts tell SurvivorNet that being aware of the timing can help you better cope. Hair loss typically begins about three to four weeks after you begin chemotherapy for ovarian cancer — and will continue throughout treatment. Most women can expect regrowth around four to six weeks after they complete treatment, though you may see some changes to color and texture.
But it's important to remember that your hair will grow back after chemotherapy ends.
Coping With Hair Loss & The Anxiety It Brings
For many people going through cancer treatment, changes to their physical appearance — like hair loss associated with chemotherapy — are a huge emotional burden. It can be difficult to adjust when you're struggling to feel like yourself because you don't look like yourself.
"For cancer patients losing one's hair can be unbelievably stressful. To start with, the dread of losing one's hair can lead to some sleepless nights and feelings of anxiety," Dr. Samantha Boardman, a New York-based psychiatrist and author, told SurvivorNet. To cope, Dr. Boardman suggested reaching out to other survivors who have been through a similar situation — if you feel comfortable doing so.
"Talk to people who have been through it, get their advice, voice your concerns to your caregiver and see what they can do," Dr. Boardman added. She stressed that anxiety over hair loss doesn't just affect women, as men going through cancer often struggle with it as well.
For those who can't stand the idea of being seen without their hair, there are plenty of options available, such as wigs, head wraps, and hats. Some survivors have even created products specifically for people with cancer so they can feel comfortable in their own skin.
Dr. Boardman also noted that some people may not feel comfortable talking about hair loss, and that's OK, too.
"To encourage them to bring that up, to encourage them to talk about it, I think can be very helpful," she said. "But also, for patients, it might be something that they don't talk about. [And they should] feel good and strong about saying, 'This is something that I don't feel like discussing right now, and I'll let you know when I do.'"
Coping With Chemo-Related Hair Loss
Questions to Ask Your Doctor
Is it likely that I will lose my hair due to treatment?
Is there anything I can do to reduce these side effects?
What can I do to reduce anxiety I am feeling over hair loss?
Are there any products you recommend?
Contributing: SurvivorNet Staff
Learn more about SurvivorNet's rigorous medical review process.
---