Pierce Brosnan, 66, sent a heartfelt message to wife, Keely Shaye Smith, as the couple celebrated the day they met, 26th years ago. "My darling angel heart Keely, thank you for bringing such love and beauty into my life, for making these past twenty six years the greatest joy of my life…Happy anniversary my brown eyed girl'.
RELATED: Pierce Brosnan's Heartache: "James Bond" Star Lost Wife, Daughter and Mother in Law to Ovarian Cancer. 
Read More
Brosnan, 66, lost his first wife, Cassandra, to ovarian cancer in 1991. Her mother also died of the disease. Later Cassandra's daughter Charlotte, who Brosnan adopted after her father died,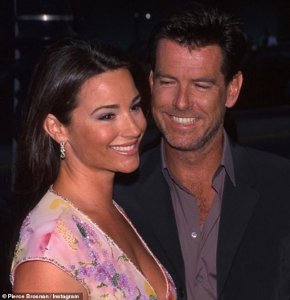 Brosnan, who posted this photo with his anniversary tribute, met Smith in 1994. The couple married in 2001. 
also faced an aggressive form of ovarian cancer and died at 41 in 2017. He has been open about Smith's role in relieving the depression that swallowed him after such devastating family loss, calling her "a strength I wouldn't be able to live without."
RELATED VIDEO: Ovarian Cancer: What Genes Have To Do With It
Smith responded with her own sweet words: "Still celebrating the day we met …on a beach in Mexico. Happy 26th my love 4/8 (1994)."
Brosnan's COVID-19 Tragedy
Brosnan faced another loss this week, when fellow-actor Jay Benedict died of COVID-19 on April 4. "My dearest friend … brother in this life," he said of Benedict, 68, in a tribute on
Instagram. Of their 40-year friendship, which culminated in a recent run in a London theatre, Brosnan said, "We were on that Lyric stage for the best part of year….Life was so much fun with Jay, on stage and off. He was a courageous man of handsome life force, that shone its light in every room he walked into."
Dr. Ursula Matulonis of Dana-Farber Cancer Institute says patients diagnosed with ovarian cancer, she should undergo genetic testing for BRCA mutations.
The link between the ovarian cancer deaths of Cassandra, her mother and daughter is likely in the women's shared genes, and their story could be an important one to note for other women on ovarian cancer journeys.
Genetic Testing For Ovarian Cancer
Experts urge women diagnosed with ovarian cancer, to seek genetic testing at the time of diagnosis, not recurrence. A recent study found that too few women are being tested for mutations of the BRCA gene, like BRCA1 or BRCA2 — both can place people at a heightened risk for breast cancer or ovarian cancer.
RELATED: My Life Depends on Social Distancing– An Ovarian Cancer Patient's Plea
Dr. Beth Karlan, gynecologic oncologist at UCLA Medical Center did not treat Cassandra or Charlotte, but advises genetic testing can have life-saving benefits, especially because ovarian cancer is curable in over 90 percent of cases when diagnosed early on.
RELATED: Olympic Gymnast Shannon Miller, 42, Says She'll Talk About Her Ovaries All Day Long To Get Women Focused On Health
"It's important when you're deciding whether or not genetic testing would benefit you to try to find out what types of things run in your family," Dr. Karlan says. "Because it can really help to save lives."
Ovarian Cancer Risk: How Much?
Ovarian cancer usually develops in women who are post-menopause. But younger women may also get the disease, especially if they carry the BRCA-1 or BRCA-2 genes. A woman who inherits the BRCA1 gene has a 44% lifetime risk (by age 80)  for developing ovarian or fallopian tube cancer., and 70-80% risk of developing breast cancer. With the BRCA2 gene, the risk for ovarian and fallopian tube cancer is 17% higher, while the breast cancer risk is around 70%
RELATED: Comedian Karen Mills Laughs About Ovarian Cancer: But This Brave Survivor's Not Kidding Around
Women should consult with their doctor, rather than relying on home genetic test kits, to identify BRCA genes. A recent study found that the home DNA testing offered by 23andME may be highly unreliable for determining cancer risk. Although the study was conducted by a market rival of 23andME and not peer-reviewed, it asserts that 23andME can miss the BRCA genes in 90 percent of women.
Learn more about SurvivorNet's rigorous medical review process.
---