"I said to myself that I would not let cancer keep me down," says Georgia Representative John Lewis, who is still fighting for civil rights despite his current battle with pancreatic cancer.
Lewis, 80, was diagnosed with stage 4 pancreatic cancer in 2019, and even though he's currently battling the disease, that hasn't stopped him from taking on civil rights issues and speaking out on injustices. In an interview with Men's Health, Lewis revealed that he wasn't surprised by his pancreatic cancer diagnosis due to feeling discomfort on his left side. Once receiving the news, he still remained positive and promised himself that he would fight the disease.
Read More
Related: The Love Is Real for U.S. Rep. John Lewis as He Turns 80 Amid His Pancreatic Cancer Battle
"I said to myself that I would not let cancer keep me down," Lewis said. "One medical attendant encouraged me. She said, 'Congressman Lewis, you're a fighter — you must fight.' I assured her, 'I will. I will not give in.' I don't feel like I'm 80. I feel much younger, and I try to carry myself that way. I am optimistic that no matter what happens, everything will all work out."
Dr. Anirban Maitra explains why catching pancreatic cancer is crucial
Navigating A Pancreatic Cancer Diagnosis
Detecting pancreatic cancer early can be a key way to help patients through treatment. The disease has a five year survival rate of just nine percent, it's vital that it's caught as early as possible. Nearly 57,000 people will be diagnosed with pancreatic cancer this year. Although pancreatic cancer survival rates have been improving for decades, it's still considered to be largely incurable. An exception to this is if the tumor is still small enough and localized enough to be operated on. As most pancreatic cancers are particularly aggressive and progress rapidly, catching it early is critical.
Related: Rep. John Lewis and Stage 4 Pancreatic Cancer — The Incredible Advances in Treatment
Pancreatic cancer has proven to be one of the cancers that's the most difficult to treat. This is because of the stroma — which is surrounded by cancer cells and is often resistant to medication, chemotherapy, and radiation. Since it serves as a barrier against treatment, it's more difficult to kill cancer cells in the body.
"Think of pancreatic cancer as an oatmeal raisin cookie and the raisins are actually the cancer cells, and the cookie part is actually all the stroma around it," says. Dr. Allyson Ocean, a medical oncologist at Weill Cornell Medical Center. "And imagine having to navigate through all that stroma for a treatment to be able to get into a cell to kill it. So that's why the treatments just really aren't good enough to penetrate the cancer. But we're improving, we're getting better treatments."
Dr. Allyson Ocean explains why pancreatic cancer is so hard to treat
Racial Disparities In Cancer Research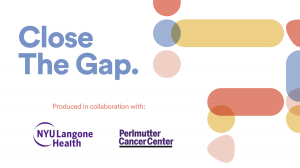 SurvivorNet and NYU Langone Health's Perlmutter Cancer Center are collaborating to help close the racial gap in cancer prevention, cancer care, and survival rates.
Lack of racial diversity in the cancer world has been a problem for a long time, and clinical trials are only one way in which underrepresented groups are often disadvantaged when it comes to this illness. Researchers from the University of British Columbia, the University of Texas MD Anderson Cancer Center, the Fred Hutchinson Cancer Center in Seattle, and Baylor University in Texas found a lack of racial diversity in landmark clinical trials used to determine government approvals for cancer drugs. Blacks, Asians, and Hispanics were dramatically underrepresented in the trials compared to whites.
Related: Clinical Trials Need More Minority Patients
If racial minorities are left out of clinical trials that are used to grant government approvals, then those approvals may not accurately reflect what is best for the population with cancer. Given the finds, the study advocates for increased efforts to enhance minority representation in clinical trials and to eliminate racial disparities. This disparity points to past and current distrust of medicine from minority groups.
Dr. Kathie-Ann Joseph explains how past experiments have made some African-American communities fear clinical trials
"African-American patients don't want to feel as if they're being experimented on," says Dr. Kathie-Ann Joseph, Co-Director of the Welters Breast Health Outreach & Navigation Program at NYU Perlmutter Cancer Center. "It does go back to the Tuskegee experiment. At the Tuskegee experiment, men who had syphilis were part of a study. During the study they were not given the appropriate treatment but yet there actually was a treatment for syphilis, penicillin. And so it didn't come out until many decades later that the government had access to penicillin and these men could have been treated and they weren't."
Learn more about SurvivorNet's rigorous medical review process.