Quiet Riot drummer Frankie Banali, who was diagnosed with pancreatic cancer last April and told he had six months to live, isn't ready to step away from his drum set. The heavy metal rocker not only performed in a sold-out "Quiet Riot" concert in Los Angeles last month, he's now helping others by starring in a PSA video, produced with the Pancreatic Cancer Action Network (PanCAN), to raise awareness about one of the most difficult to treat cancers.
"A lot of people consider having pancreatic cancer as a death sentence," Banali, 67, said in a statement to SurvivorNet. "But that was unacceptable to me."
Banali's Diagnosis and Family History of Pancreatic Cancer
Read More
For many people, the words "you have cancer" come as a shock, but this was not the case for Banali. "My father died of pancreatic cancer in 1974, so I knew this disease could affect me someday," the drummer told SurvivorNet. "Then in April, that day came."
Banali received his diagnosis, he told PanCAN, after being rushed to the emergency room for shortness of breath, leg pain and a loss of energy. He quickly learned he had a blood clot in his leg, and then imaging tests revealed tumors in his liver and pancreas.
RELATED: Quiet Riot's Frankie Banali Has Pancreatic Cancer — "Quiet Riot Changed My Life" Say His Fans In An Outpouring Of Love
The prognosis for stage 4 pancreatic cancer — that is, pancreatic cancer that has spread beyond the pancreas and metastasized to other organs — is poor. The five-year survival rate is only 3%, which means that only 3% of people diagnosed with the disease go on to live five years or more. The median survival time for people diagnosed with advanced pancreatic cancer is only about 3 to 6 months.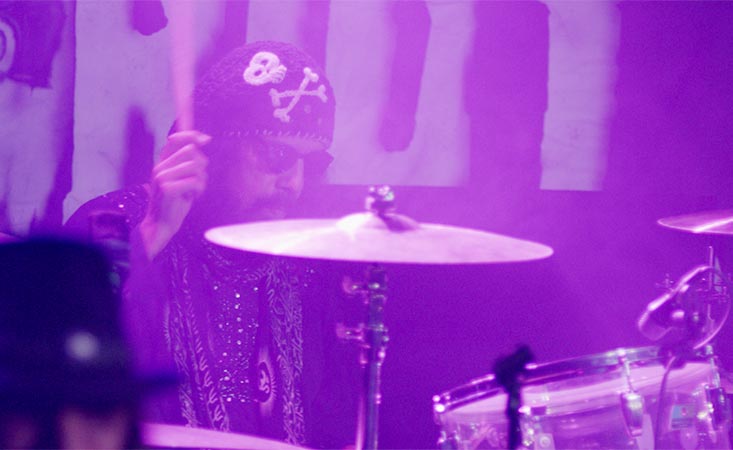 Frankie Banali's PSA
After learning of his prognosis, Banali's wife, Regina, contacted PanCAN to learn more about the disease. PanCAN provided Banali with a genetic test, Know Your Tumor, to profile his tumor's DNA. For some people, discovering certain genetic mutations in a cancer tumor can open the door to additional treatment options called "targeted therapies" that only work with those specific options.
Though Banali did not disclose whether the test made him a candidate for more treatment options, he did share in his statement that he was " impressed with the comprehensive report" he received about his tumor's genetic profile.
View this post on Instagram
Why Is Pancreatic Cancer So Difficult to Treat?
One reason why pancreatic cancer has such a notoriously challenging prognosis is that the disease is rarely detected in early stages, before it has spread beyond the pancreas. Early stage pancreatic cancer (which, in most cases, is much easier to treat, since the tumor is confined to the pancreas alone) rarely causes symptoms.
"By the time individuals walk into the clinic with symptoms like jaundice, weight loss, back pain, or diabetes, it's often very late in the stage of the disease," Dr. Anirban Maitra, co-leader of the Pancreatic Cancer Moon Shot at the MD Anderson Cancer Center told SurvivorNet in a previous conversation. "And of course, this has an impact on the prognosis of the disease, because patients who have advanced disease, the treatments we have available for them, they work somewhat, but they don't really do as well as we would like for them to have an impact."
According to Dr. Maitra, roughly 80% of patients present with advanced disease, and only about 20% of patients with pancreatic cancer are candidates for surgery.
As Banali continues to face his own disease — while simultaneously touring with Quiet Riot — he's also sharing his story, and emphasizing the importance of knowing your family history, in the hopes this will emphasize the urgent need for improved early detection methods.
It's Pancreatic Cancer awareness month. Pitch in to Frankie Banali's PANCAN fundraiser! https://t.co/XVgBvug2on pic.twitter.com/kvFTxL7We2

— Frankie Banali (@FrankieBanali) November 2, 2019

Having a family history of pancreatic cancer is considered a risk factor for the disease — and one that should absolutely be discussed with a doctor or genetic counselor. PanCAN defines a family history of pancreatic cancer as having:
Two or more first-degree relatives (parents, children, siblings) who have had pancreatic cancer
A first-degree relative who developed pancreatic cancer before the age of 50
An inherited genetic syndrome associated with pancreatic cancer
"By speaking out and sharing my story through this PSA, my hope is that I can prevent others from going through what my family has," Banali said.
Dr. Anirban Maitra of the MD Anderson Cancer Center spoke with SurvivorNet about why detecting pancreatic cancer early is so crucial. 
Learn more about SurvivorNet's rigorous medical review process.
---