Raquel Welch Gives Back to the Cancer Community
Raquel Welch decided to start donating wigs to cancer warriors after her cousin came to her during chemotherapy to ask for a hairpiece from the film star's signature collection
Since 2000, Welch has donated approximately $15 million worth of wigs from her HairUWear line to the American Cancer Society for more than 100,000 people
 There are a number of charitable organizations dedicated to cancer care and research that people can donate their time and/or money to
Raquel Welch has been a silver screen starlet, a sex symbol, and a successful saleswoman over the course of her illustrious six-decade career.
Her latest role is that of philanthropist, and it may just be the most rewarding one yet for the 81-year-old beauty.
Read More
The idea came to her after a cousin battling cancer requested one of her wigs following her chemotherapy treatment.
"Although previously depressed about losing her hair she soon became thrilled about how attractive she looked in a wig and couldn't wait to show her friends!" recalled Welch in her 2010 memoir Raquel: Beyond the Cleavage.
Welch then decided to give back in a big way by donating $1 million of wigs to the American Cancer Society each year from her HairUWear line.
To date, she has donated approximately $15 million of wigs from her HairUWear line. That is more than 100,000 wigs.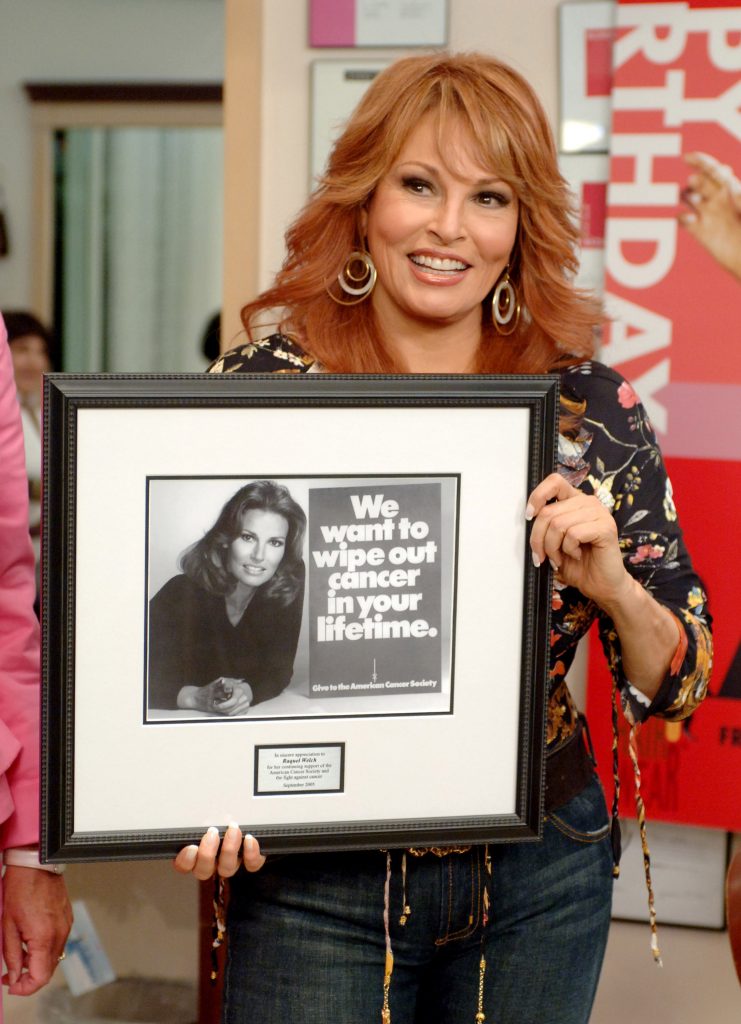 Related: Fragrance Maven Jo Malone Lost Her Sense of Smell From Chemo During Her Breast Cancer Battle; How to Manage Chemo Side Effects
"I still cherish the memories of one very pretty 19-year-old who had become almost completely bald from chemotherapy. I was struck by how hard it must be for this young girl, who was a Katherine Heigl look-alike, to face herself in the mirror each day," wrote Welch in her memoir.
"She asked me for a long blonde wig, smooth and flowing. The look on her face when we slipped this wig onto her head was priceless. The style was a replica of her own hair before she had been diagnosed with cancer. In an instant, she looked as gorgeous as she ever had, and her smile was all the proof I needed."
Welch said that she was even more touched when she read the thank you notes that these women would send to her after receiving one of her wigs, while noting: "In all honesty I was the one who owed them a debt of thanks for letting me share their experience."
The actress has been involved with the American Cancer Society since 1975, when she became a spokesperson for the organization.
In that role, she appeared in a national ad campaign which encouraged Americans to get screened for the disease.
Cancer then hit close to home in 2007 when her sister Gayle, a financial advisor, was diagnosed with ovarian cancer. Welch was by her sister's bedside as she battled the disease.
"What I do know is that Gayle will always be with me, in this world and the next … God willing," wrote Welch in her memoir.
Gayle passed away last year at the age of 77.
Related: 7-Year-Old's Sprained Knee Turns Out to Be Osteosarcoma; Devoted Dad Shaves Head After Son Loses His Hair
Ovarian cancer survivor Stephanie Hess shares her story of coping with hair loss after chemotherapy
What You Need to Know About Wigs
When someone hears a cancer diagnosis, often one of the first things that crosses their minds is hair loss. That's because many cancer treatments cause patients to lose their hair.  It's normal to mourn the loss of something so personal as your hair.
But there are a variety of remedies for hair loss, as Racquel Welch shows.
SurvivorNet offers a complete guide to wigs for cancer patients here.
Among the important things to know:
Wig prices vary a lot. You can get a good basic wig, made of synthetic hair for as little as $30. Higher quality ones can go up to $400.
Wigs may be covered by insurance. Ask your insurance company if you have coverage for "cranial prosthesis" or "hair prosthesis" for cancer treatment-related hair loss.
If you don't have insurance coverage for a wig or can't afford the out-of-pocket portion, some charities provide wigs for adults who have cancer. Your social worker, church, support group, or local chapter of the American Cancer Support may have advice.
Complete guide to wigs for cancer patients
Learn more about SurvivorNet's rigorous medical review process.
---