King Crews Says 'Thank You' For Hard Moments
In a new post on Instagram, Rebecca King Crews emphasizes the importance of gratitude, even during life's challenges, like a cancer journey.
King Crews is a breast cancer survivor; she was diagnosed with stage 1 breast cancer in 2020 after a mammogram and ultrasound.
Approaching the cancer journey with gratitude, positivity, and open-mindedness can go a long way.
Breast cancer survivor Rebecca King Crews knows it's about the journey – not the destination.
Related: Actor Terry Crews Says "World Came Crumbling Down" After Wife, Rebecca Crews, Was Diagnosed With Breast Cancer
Read More
In her new motivational Instagram post – an image with the words "You Don't Have to Figure Out the Next Step for Yourself" typed on it – she underscores the importance of presence and gratitude. King Crews captions the post, writing, "When life is sweet, say 'thank you' and celebrate, and when life is bitter, say 'thank you' and grow…"
 

View this post on Instagram

 
She continues, saying, "You don't have to figure out the next step for yourself, trust God in his work. Just say 'thank you' and embrace every day like it's your last."
We love this outlook! And we admire how King Crews stresses the importance of being in the moment and living each day with intentionality.
Rebecca's Breast Cancer Journey
King Crews was diagnosed with stage 1 breast cancer in 2020 following a mammogram and ultrasound. Today, she is cancer-free, thanks to screenings and early intervention. To treat her disease, she had a double mastectomy within a month of being diagnosed.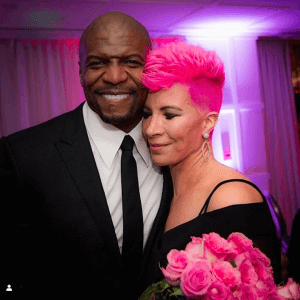 When it comes to a mastectomy, Dr. Ann Partridge, an oncologist at the Dana-Farber Cancer Institute, says in an earlier interview that she likes to present patients with options. "So when I talk to a woman who comes to me and she has breast cancer, I evaluate what the standard options for treatment for her are, which typically include cutting out the cancer– which is either a lumpectomy if you can get it all with just a little scooping around of the area that's abnormal or a mastectomy for some women meaning taking the full breast because sometimes these lesions can be very extensive in the breast," says Dr. Partridge.
"And I'll talk to a woman about that and I'll say these are two main options or the big fork in the road," she says. "Depending on the size and other features, such as family history, a patient may opt for more aggressive surgery. And so even for early stage 1 breast cancer, a woman may elect a mastectomy to remove her whole breast."
When Should You Consider a Mastectomy?
Feeling Grateful Through Cancer
King Crews says in her post just how important it is to say "thank you" for the difficult moments in life, such as a cancer diagnosis. Approaching the cancer journey with gratitude, positivity, and open-mindedness can go a long way.
In an earlier interview, Cedars-Sinai colorectal surgeon Dr. Zuri Murrell highlights this idea, saying, "A positive attitude is really important…My patients who thrive, even with stage 4 cancer, from the time that they, about a month after they're diagnosed, I kind of am pretty good at seeing who is going to be OK."
"Now doesn't that mean I'm good at saying that the cancer won't grow," says Dr. Murrell. "But I'm pretty good at telling what kind of patient are going to still have this attitude and probably going to live the longest, even with bad, bad disease. And those are patients who, they have gratitude in life."
Learn more about SurvivorNet's rigorous medical review process.