The Gift of Words
In 2005, the late tech legend Steve Jobs delivered one of the most impactful commencement speeches in history when he spoke to the Stanford University graduating class.
The Apple co-founder, who lost his life at 56 from a rare form of pancreatic cancer, gave some important advice—both hopeful and realistic—that can resonate with people at all phases of their life, and those going through cancer.
Neuroendocrine tumors, what Jobs had, and typical pancreatic cancers come from different types of cells, are treated differently and have different symptoms.
In 2005, tech legend Steve Jobs delivered what many believe is one of the most impactful
commencement speeches
in history when he spoke to the Stanford University graduating class. The Apple co-founder, who lost his life at 56 from cancer, gave some important advice—both hopeful and realistic—that can resonate with people at all phases of their life, and those going through cancer.
"I am honored to be with you today at your commencement from one of the finest universities in the world," he started. "I never graduated from college. Truth be told, this is the closest I've ever gotten to a college graduation."
Read More
Related: Remembering Tech Pioneer Steve Jobs Who Died at Age 56 from a Rare Form of Cancer in the Pancreas
Jobs dropped out of Reed College in Portland after six months, and here he was speaking at one of the top colleges in the nation. It just proves that you need to follow your own path, and you never know what can come from it, considering that he revolutionized our world as we know it.
In honor of all of the high school and college graduations happening this month, here are five of Jobs' top gems from his speech:
"You can't connect the dots looking forward; you can only connect them looking backward."
Sometimes the future can seem unclear. But later in life, looking back, you realize that certain things happened in your life for a reason. After Jobs dropped out of school, he was still able to drop in on random classes, and he wound up using knowledge learned in a calligraphy class to build the first Mac computer.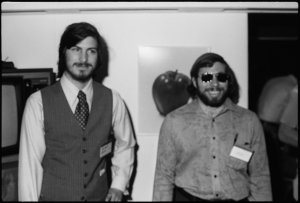 "It was the first computer with beautiful typography. If I had never dropped in on that single course in college, the Mac would have never had multiple typefaces or proportionally spaced fonts," he said. "If I had never dropped out, I would have never dropped in on this calligraphy class, and personal computers might not have the wonderful typography that they do."
"Of course it was impossible to connect the dots looking forward when I was in college," he added. "But it was very, very clear looking backward 10 years later."
When going through a cancer journey, it's really difficult at first to connect the dots. There may be feelings of guilt, or that you are being punished with disease. There's the "why me?" and negativity at times, along with depression.
Related: Dealing With Fear and Anxiety After a Cancer Diagnosis
But many patient say that the experience becomes clearer as they go, and it's easier to look back and realize why you were meant to go through this health battle. Maybe it was to get someone out of your life who wasn't serving you, maybe there's a change in career, moving closer to loved ones, developing healthier habits. And it certainly makes you stronger and can sometimes wind up being an unexpected gift.
2. Picking yourself back up; "Don't lose faith"
Jobs said that he was lucky to find out what he loved to do early in life. He and co-founder Steve Wozniak started Apple in his parents' garage when he was 20. They worked hard, and in 10 years Apple had grown into a $2 billion company with over 4,000 employees.
"We had just released our finest creation — the Macintosh — a year earlier, and I had just turned 30. And then I got fired," he said. "How can you get fired from a company you started?"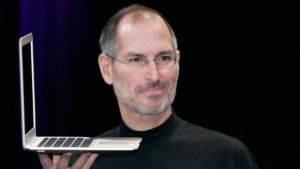 They recruited someone talented to run the company with him, but they had different visions, and had a falling out.
"When we did, our Board of Directors sided with him," he shared. "So at 30 I was out. And very publicly out. What had been the focus of my entire adult life was gone, and it was devastating."
He thought about "running away from the valley," referring to the Silicon Valley in Northern California where all the tech giants have set up shop.
Related: Actress Reese Witherspoon Reminds That No Matter How Many Times You Fall, 'Pick Yourself Up Again'
"I had been rejected, but I was still in love. And so I decided to start over," he said, and expressed that getting fired was one of the best things that had happened to him.
He said that "getting fired from Apple was the best thing that could have ever happened" to him.
"During the next five years, I started a company named NeXT, another company named Pixar, and fell in love with an amazing woman who would become my wife. Pixar went on to create the world's first computer animated feature film, Toy Story, and is now the most successful animation studio in the world." Apple wound up buying NeXT, and he returned to Apple. "And Laurene and I have a wonderful family together."
3. "Don't settle."
"As with all matters of the heart, you'll know when you find it," Jobs said of his wife. "And, like any great relationship, it just gets better and better as the years roll on. So keep looking until you find it. Don't settle."
When dealing with cancer and living as a survivor, many patients adapt the "life is short" mentality, and will realize that certain friendships or relationships are mediocre. You may find that you're not into time-wasting, and you will save your energy for those who make you feel good. And that's when you can meet your true love who is more on the same page with you.
Related: 'Dog Will Never Remarry After Beth Chapman!': Their Loving Daughter Bonnie Says Dog Has One True Love
Jobs' long lost sister, Mona Simpson, 63, spoke of her brother's romantic side in an essay after he died.
On the day he met his wife, he called his sis and said "'There's this beautiful woman and she's really smart and she has this dog and I'm going to marry her.' His abiding love for Laurene sustained him," Simpson wrote. "He believed that love happened all the time, everywhere. In that most important way, Steve was never ironic, never cynical, never pessimistic. I try to learn from that, still."
4. "If you live each day as if it was your last, someday you'll most certainly be right."
Jobs looked in the mirror every morning and asked himself "'If today were the last day of my life, would I want to do what I am about to do today?" Whenever the answer was "No," he knew he needed to change something.
"Remembering that I'll be dead soon is the most important tool I've ever encountered to help me make the big choices in life," he said. "Because almost everything — all external expectations, all pride, all fear of embarrassment or failure — these things just fall away in the face of death, leaving only what is truly important."
Related: A Near-Death Experience With Melanoma was the 'Light Switch Moment' That Changed Actor/Model Jay Klay's Life
Remembering that he was going to die was the best way he knew to "avoid the trap" of thinking he had something to lose.
"There is no reason not to follow your heart."
He talked about the tumor that was found on his pancreas a year prior. The doctor had told him to get his affairs in order; they didn't expect him to live more than 3-6 months.
Related: Given 18 Months to Live, This Lung Cancer Survivor Is Still Alive 6 Years Later Thanks to Clinical Trials
He had a very rare form of pancreatic cancer that was curable with surgery. "I had the surgery and I'm fine now," he said. "This was the closest I've been to facing death, and I hope it's the closest I get for a few more decades." Unfortunately the cancer would come back sooner than that, but living with this mentality helped ease him.
"No one wants to die … And yet death is the destination we all share. No one has ever escaped it." He described death as life's "change agent," the single best invention of life. "It clears out the old to make way for the new. Right now the new is you, but someday not too long from now, you will gradually become the old and be cleared away. Sorry to be so dramatic, but it is quite true."
Related: 'Awareness of Dying Led Them To Focus On Living Well': What It's Like To Live Well With Terminal Cancer
Coming to terms with the fact that death is a part of life, and no one is safe from it can help prepare you when going through cancer. Never stop fighting, but we can't pretend it does not exist.
5. "Stay hungry. Stay foolish."
Jobs concluded his speech with the phrase, "Stay hungry. Stay foolish," which he always remembered growing up. He saw it in the mid-'70s in a publication called The Whole Earth Catalog, which was "one of the bibles" of his generation. In its final issue, that phrase was on the back cover along with a photo of an "early morning country road, the kind you might find yourself hitchhiking on if you were so adventurous," he said, noting that it was their farewell message as they signed off.
"And I have always wished that for myself. And now, as you graduate to begin anew, I wish that for you."
Don't let cancer take your drive, or your humor.
Understanding Neuroendocrine Tumors in the Pancreas
When Jobs was diagnosed with cancer around eight years before his death, it was found after a CT scan of his kidneys (the pancreas is near the left kidney). Jobs said in his biography that his urologist wanted him to get the scan due to a prior issue with kidney stones.
Jobs didn't have a typical form of pancreatic cancer. His was called a neuroendocrine tumor, a rare form of the disease. These tumors occur in the pancreas but can also occur elsewhere in the body. Neuroendocrine tumors and typical pancreatic cancers come from different types of cells, are treated differently and have different symptoms.
Related: Singer Aretha Franklin's Legacy—So Much Soul & Now a Serious Gift To Support Pancreatic Cancer Research
With pancreatic neuroendocrine tumors, even if they've spread outside the pancreas, people can live somewhat longer than the clinical form of pancreatic cancer, which is why Jobs survived for a reasonably long time at eight years.
Dr. Renuka Iyer of Roswell Park Comprehensive Cancer Center says NETs are brain and hormone-related cancers.
"That's one thing that's different about this disease, is the fact that it can produce hormones," Dr. Iyer said. "Some [NETs] produce hormones like insulin." Because they produce hormones, NETs can be found anywhere in the body, but most commonly in the GI tract.
Related: Steve Jobs Died 10 Years Ago From Pancreatic Neuroendocrine Tumors (pNETs); Treatment Advances Since Have Been Significant
Within the past ten years, a new tool has been developed to detect these cancers – a NET spot scan. This specialized scan has advanced the ability to detect NETs. "With better ways to find them and measure them, it is helping to move the field along," Dr. Iyer said.
Related: 'The Ghost of Steve Jobs Is Taking Over My Pancreas!': Ashton Kutcher on His Cancer Scare
After his diagnosis, Jobs initially decided to forgo conventional treatments (i.e. surgery, radiation, chemotherapy), and use complementary and alternative medical (CAM) therapies. These included the use of plants, acupuncture, and making dietary changes. However, nine months after the diagnosis, and after the use of CAM therapies, Jobs eventually opted for a liver transplant. Following the surgery, he lived for seven years with cancer.
When Jobs was nearing death, he sketched device designs on a notepad. He was thankful for his life and worked to the end.
His last words, according to his sister, as he gazed off past his wife and children were: "Oh wow. Oh wow. Oh wow."
Challenges to Screening For Pancreatic Cancer
Through the Darkest Time of Your Life, a Beautiful Gift Can be Revealed
Learn more about SurvivorNet's rigorous medical review process.