Happy Birthday, Chet!
Rita Wilson, 65, exemplifies thriving as a mother after beating cancer and posts a beaming birthday shoutout for son Chet Hanks, 32.
Wilson was diagnosed with breast cancer in 2015. She underwent a mastectomy, followed by reconstructive surgery, to treat her cancer.
The actress and singer's specific diagnosis was invasive lobular carcinoma.
"Your rivers run deep," says mother and artist Rita Wilson wishing her son Chet, long a source of controversy, a happy birthday.
View this post on Instagram
Read More
The 65-year-old also wrote in her Instagram post to her son: "…you seek truth, you make us laugh, make Larry David laugh and share a birthday with @barackobama you are and always have been special. You have brought so much joy to our family. We love you so much!!!"
Chet Hanks, son of Rita Wilson and Tom Hanks, turned 32 on August 4th. Rita's been a strong family figure for both husband Tom and son Chet, even during her battle with cancer.
Chet, an actor and rapper, has described himself as the "black sheep" of the otherwise wholesome Hanks family and has been embroiled in various controversies over the years. Most recently, he's been criticized for declaring the summer of 2021 to be "White Boy Summer" and for controversial remarks he made on Instagram about COVID-19 vaccinations.
After going through treatment for breast cancer, Rita has stated she believes getting a second opinion saved her life – and we agree. A second opinion led to her diagnosis, which she ended up defeating.
Wilson reflected on the importance of a second opinion in an interview with The New York Times, saying,  "For me, this is about telling people, 'You can get a second opinion—your insurance will pay for it, even Obamacare, God bless it, will pay for it."
She continues, "It's so easy to say, 'I'm just being paranoid,' but you should trust your gut."
Wilson says, "A friend who had had breast cancer suggested I get a second opinion on my pathology and my gut told me that was the thing to do. I share this to educate others that a second opinion is critical to your health. You have nothing to lose if both opinions match up for the good, and everything to gain if something that was missed is found, which does happen. Early diagnosis is key," she explained.
Rita's Breast Cancer Journey
Wilson was diagnosed with breast cancer in 2015. She underwent a mastectomy, followed by reconstructive surgery, to treat her cancer. The actress and singer's specific diagnosis was invasive lobular carcinoma.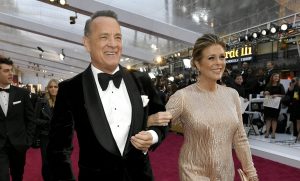 This type of breast cancer is named for its point of origin: the lobules.  Invasive lobular carcinoma begins in the milk-producing glands, called lobules, of the breast. For this kind of cancer that's invasive, cancer cells have "broken out" of the lobule where they began and they may spread to other areas of the body.
Invasive lobular carcinoma only represents a small portion of breast cancers. The most common type of breast cancer starts in the breast ducts.
Treatment options for breast cancer include surgery (via a mastectomy or lumpectomy), chemotherapy, and radiation therapy. Some people also get preventative mastectomies if there's a history of breast cancer in the family and thus an elevated risk of developing the disease.
When Should You Consider a Mastectomy?
Advocating for Your Health
We love how Rita Wilson supports people taking charge of their health and asking for second opinions. It's so important to advocate for your health. You are your best healthcare advocate.
When working with your medical team, tell them precisely what you feel and raise anything that may feel off to you. Every symptom should have a plan to address it, and if you feel like you are not being heard, continue to push and seek a second opinion if your concerns are not being addressed.
The only way to know this is to continue to push for answers, telling your medical team exactly what you are experiencing and demanding that you receive the best treatment for your specific situation.
"Every appointment you leave as a patient, there should be a plan for what the doc is going to do for you, and if that doesn't work, what the next plan is," Dr. Zuri Murell, director of the Cedars-Sinai Colorectal Cancer Center, told SurvivorNet in a previous interview. "And I think that that's totally fair. And me as a health professional– that's what I do for all of my patients."
Be Pushy, Be Your Own Advocate… Don't Settle
Getting a Second Opinion
If you're experiencing symptoms that might be caused by cancer, it's critical to know for sure whether or not you have the disease. To do that, you should always get multiple opinions on your diagnosis.
Related: Second Opinions on Your Cancer Diagnosis or Treatment: Do You Need One?
Doctors are not always in agreement about whether your symptoms might merit further testing and whether specific treatment methods might work best for you. Sometimes, what your first doctor says might fall short of fact, and a second or third medical professional might be able to catch cancer before it grows and spreads.
Dr. Steven Rosenberg, chief of surgery at the National Cancer Institute and one of America's most renowned cancer doctors, agrees.
"If I had any advice for you following a cancer diagnosis, it would be, first, to seek out multiple opinions as to the best care, because finding a doctor who is up to the latest of information is important," Rosenberg previously told SurvivorNet. "And it's always important to get other opinions so that you can make the best decisions for yourself in consultation with your care providers."
Cancer Research Legend Urges Patients to Get Multiple Opinions
Learn more about SurvivorNet's rigorous medical review process.