Battling Breast Cancer Together
Good Morning America's Robin Roberts, 62, is preparing to marry her partner of 18 years, Amber Laign.
Roberts and Laign both battled breast cancer. Amber treated her breast cancer with radiation after complications from chemotherapy. The GMA host also had to have a bone marrow transplant to treat her MDS, which is a rare type of blood cancer.
As they get ready to tie the knot, Roberts opened up about her partner's cancer battle and described Amber's prognosis as "excellent."
Despite the "complications" Laign had throughout chemotherapy, Laign has since finished up her radiation treatments and is ready for the next chapter of her life.
Good Morning America host and breast cancer survivor Robin Roberts, 62, is preparing to marry her beloved partner Amber Laign, 48, after being in a relationship for 18 years. But amidst the wonder of wedding planning, Roberts is making sure she's giving Laign the support she needs through her own cancer battle.
As they square away the details for their upcoming celebration, Roberts told ET Online's Rachel Smith, "It was a rough year; her journey with breast cancer took some unexpected twists and turns but she is doing really really well."
Read More
"Doctors said when it comes to treatment, it's like women and shoes, they don't always fit, and so they had to find the right fit for her with treatment," Roberts explained, referring to Laign's chemotherapy struggles. Now, Roberts has described Laign's prognosis as "excellent," noting she is now "ready to start a new chapter as well."
RELATED: ABC's Robin Roberts, 62, Takes Leap Of Faith In New Zealand With Her Partner, 48, Ready To Support Her After Bungy Jump: 'A Hug From Sweet Amber Never Felt So Good!!'
As their big day nears and Roberts' new season of the Emmy Award-winning talk show Turning the Tables is set to premiere today, the pair is 'excited' for their new life chapter.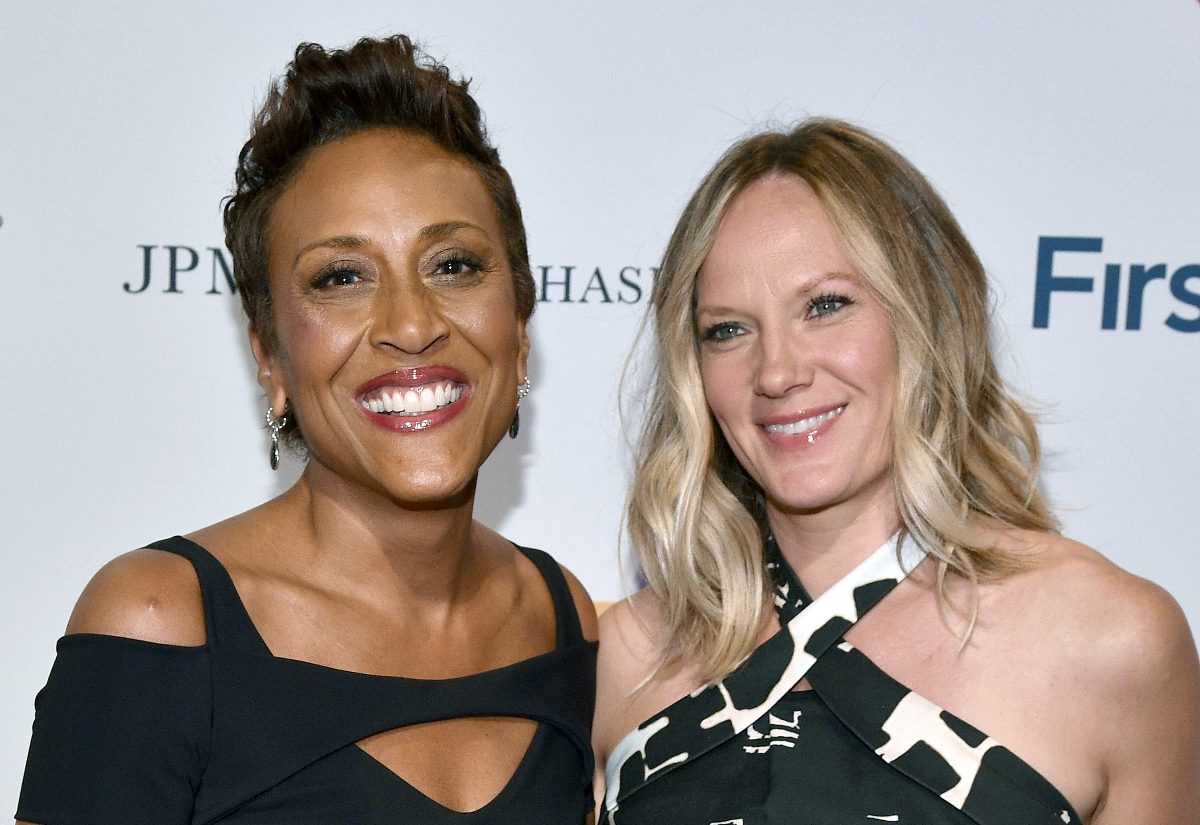 Speaking to Extra's Tommy DiDario about tying the knot with her fiancé, Roberts admitted, "I'm saying yes to marriage."
"There's some things you just want to keep to yourself, but we are so excited. This is saying something to be with someone for 18 years and to be so excited," she told DiDario in a recent video interview. It's like a brand-new chapter, a fresh start… Couldn't be happier."
In regards to how the wedding planning is going, Roberts explained, "It's a daily discussion, Tommy. I'm not going to say she's a bridezilla, but she has some definitive ideas about the wedding.
"I never thought I'd be planning not just the wedding but a honeymoon. When you grow up and you know that you're gay, especially older, you think that's never going to happen," she said. "You're not going to have the wedding. You're not going to have the honeymoon."
Roberts continued, "And so now to be talking about it and for it to be embraced by folks, it's quite special. The save-the-dates are going out soon."
Referring to both her and Laign's breast cancer battles, Roberts added, "It took us a while to get here because we've both been through so much healthwise. Loss of her father, loss of my mother, my father had already passed before we met, we have some things that are very special that are going to honor our folks that are not with us."
And predicting how she and her soon-to-be wife will feel following their big celebration, Roberts said, "And at the end of the day, a very long day, a very good day, with family and friends, we're going to exhale and I think we'll look at each other and say… 'This was worth the wait.' That's how I am going to feel. It was totally worth the wait with the right person."
Roberts is also equally thrilled about her four-episode series "Turning the Tables with Robin Roberts" which is airing on Wednesday, March 15.
"I never know what the guests are going to ask of me, we are just having a conversation," Roberts told ExtraTV about her show. "My mother, she loved community, she loved women helping other women and lifting up… I could just see her when we were taping… I could honestly see her from her heavenly balcony going, 'Yeah, this is what it is about.'"
"I think people who watch these four episodes… They're going to have takeaways from these iconic women and just understand we all have more in common than not," she added, referring the roundtable conversations she has on the show.
Robin Roberts and Her Partner's Battle Cancer
Robin Roberts and Amber Laign, who revealed they would be getting married in 2023 earlier this year, have supported each other through their separate breast cancer battles.
When Should I Get a Mammogram?
The TV broadcaster learned of her breast cancer diagnosis in 2007—after discovering a lump in her breast while preparing for a news segment on how to do self-breast exams.
Luckily, Roberts was declared cancer-free after undergoing surgery. Following her successful battle, Roberts revealed that Laign had also been battling Breast cancer since her 2021 diagnosis, and she has since done everything she can do to support her partner.
In a past interview with Ellen Degeneres, Roberts said, "I didn't realize how much I had blocked out during my journey, and it was because of sweet Amber—because she protected me and navigated for me. So, I'm doing the same thing for her."
Despite the "complications" Laign had throughout chemotherapy and "challenging" weeks to overcome, Laign has since finished up her radiation treatments.
How to Be a Better Caregiver for Your Loved One
"Sweet Amber completing radiation, a very important phase of her treatment!" Roberts revealed in a July 2022 Instagram post of Laign ringing a bell as her radiation treatment concluded. "We both thank you for all your well wishes and prayers. Proud of her and all fellow Thrivers for your grit and grace during a challenging time. This is indeed my #mondaymotivation."
Decision-Making with Your Partner During Cancer & Being a Caregiver
Having a partner, friend, or family member by your side to help care for and support you through a health struggle can be advantageous.
And when you take on a caregiving role, it's necessary to understand your loved one's diagnosis and assist them when following cancer-care instructions.
Dr. Jayanthi Lea, a gynecologic oncologist at UT Southwestern Medical Center, previously told SurvivorNet, "I encourage caregivers to come into visits with my patients because in that way, the caregiver is also listening to the recommendations — what should be done in between these visits, any changes in treatment plans, any toxicities [side effects] that we need to look out for, changes in dietary habits, exercise, etc."
Tom Evans, a pastor of the Brick Presbyterian Church located in the Carnegie Hill neighborhood of New York City, previously discussed the complexity of caregiving with SurvivorNet.
"When you find yourself suddenly having to care for somebody, to be the primary lifeline for them, you very well could have mixed emotions," he explained. "Maybe it's anger. Maybe this person never cared for you in the past, and now you have to do it for them. And maybe you're gonna feel like you're selfish when you need a break."
Supportive Partners Through Cancer
It's evident that Amber and Roberts' relationship is a loving one and we love how highly they speak of and celebrate each other throughout the years.
On their 15th anniversary a few years ago, Amber praised Roberts in a social media post, writing, "Having you by my side is a gift as we continue to navigate this thing called life…"
"You have the kindest heart and most beautiful soul than anyone I know. You have shown me time and time again to stay humble and to always treat others with the utmost respect as you never know what one might be going through," she continued, "Beautiful…..absolutely beautiful. I love you with all my heart."
Having a supportive partner or spouse through battling cancer can be an enormous help. Actress and melanoma survivor Jill Kargman candidly expresses in a previous interview with SurvivorNet how she believes that cancer can be an ultimate test of the strength of a relationship.
"I think cancer is a great way to find out if you're with the love of your life or a shithead," Kargmann said. "I think it presses the fast forward button on getting to the bottom of that answer, because a lot of people in middle age are kind of at a crossroads, waiting for their kids to fly the coop."
Kargman continued, "And I think if you're with someone who is not supportive and kind of emotionally checked out or doesn't tell you you're still beautiful with that, this might not be your person."
Jill Kargman on Relationships and Cancer
Contributing: SurvivorNet Staff
Learn more about SurvivorNet's rigorous medical review process.
---