Remembering Limbaugh
One year ago today, radio personality Rush Limbaugh passed from advanced lung cancer at age 70.
Stage 4 lung cancer is typically treated with chemotherapy, radiation therapy, targeted drug therapy, and immunotherapy.
Radiation as a treatment for advanced lung cancer is used to shrink tumors, which can alleviate some cancer symptoms, like pain.
One year ago today, radio host Rush Limbaugh passed after a nearly year-long battle with advanced lung cancer. Limbaugh openly shared his cancer journey with listeners and fans, and now, those who were closest to him are thinking about Limbaugh and what he might say about the state of the world today.
Fox News' Ainsley Earhardt spoke with late Limbaugh's wife, Kathyrn, at their home in Palm Beach, Florida. Reflecting on his storied career, Kathryn tells Earhardt, "He would like to say [his big career break was] when he was eight and he was broadcasting from his bedroom down to his mother and brother. But the big break probably was New York."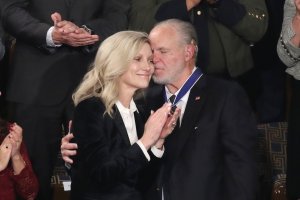 Read More
Kathryn also reflected on how intellectually engaged and curious Limbaugh was, saying, "
He was always mentally engaged
, whether it was watching a television program or reading his iPad."
Earhardt spoke with Kathryn about her late husband's faith and spirituality, and how the radio host would say, "every day I wake up and the first thing I do it thank God that I did." Kathryn added, "He knew there was a much higher plan and much higher purpose. He believes strongly in his relationship with God."
Kathryn also noted how she thinks her late husband would be displeased by the state of affairs in the U.S. today. She even said he'd be "rather furious" with the state of the country. "He would be upset with the United States not being as strong as it has been and should be. I know he would say it's not time to panic," says Kathryn.
Limbaugh may be gone, but he's not forgotten. Today, his fans are remembering him online. One Twitter user writes, "One year ago today a conservative voice fell silent." Another Twitter user called Bonnie says, "A year ago today we lost #RushLimbaugh There will never be another Rush….we were blessed to have him …. "Talent on loan from God" #RIPRushLimbaugh"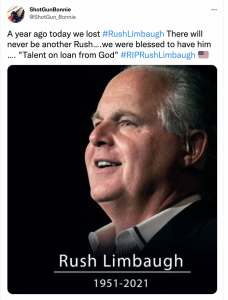 Limbaugh was regarded by many as a controversial figure, and not everyone online is remembering him positively. We are grateful, though, that Limbaugh shared his cancer battle with the world, and in doing so, created more awareness around the disease of lung cancer and its treatment options.
Rush's Cancer Battle
Limbaugh shared his lung cancer diagnosis publicly in early 2020, and in October 2020 , he told listeners that, "Stage 4 is, as they say, terminal…it's tough to realize that the days where I do not think I'm under a death sentence are over. We all know that we're going to die at some point. But when you have a terminal disease diagnosis that has a time frame to it, then that puts a different psychological and even physical awareness to it."
Related: What Late Stage Lung Cancer Patients Should Know About Immunotherapy During Coronavirus
When he was diagnosed in February 2020, Limbaugh's lung cancer had already spread to other parts of his body. Stage 4 lung cancer is typically treated with chemotherapy, radiation therapy, targeted drug therapy, and immunotherapy. Despite the pandemic, Limbaugh was able to travel to receive treatment for his disease.
Related: Thanking God For Waking Up Each Day– Support For Radio Host Rush Limbaugh During Late-Stage Lung Cancer Battle
While traveling for treatment, it's important to practice caution in order to protect yourself during the ongoing Covid-19 pandemic. Some cancer treatments, like chemotherapy, can weaken the body's immune system, making a person more susceptible to Covid-19. Be sure to wear your mask and get vaccinated.
Overview of Stage Four Lung Cancer
Radiation for Advanced Cancer
Late-stage lung cancer, also called stage 4 or metastatic cancer, has spread to other parts of the body, beyond the lungs. "The goal of therapy," says Dr. Geoffrey Oxnard of Boston Medical Center in a previous interview, "is to treat the entire body in order to destroy every last remnant of the cancer. In the past, chemotherapy–which kills all fast-growing cells in the body–was considered the treatment standard for stage four lung cancer, but times have changed."
Related: Stereotactic Radiotherapy Can Be a Great Option for Early-Stage Lung Cancer
Radiation is one treatment option for stage 4 lung cancer. Dr. Billy Loo from Stanford Medicine says in a previous interview that radiation "has been used as part of palliative treatment to shrink tumors, which ideally will help alleviate some of the cancer symptoms such as trouble swallowing, coughing and pain."
Related: Radiation Boom–The Increasingly Popular Choice For Later Stage Cancer
"Radiation can also be used in special cases where the spread to other parts of the body may be very limited," says Dr. Loo. He explains that in cases of metastatic lung cancer, like Limbaugh's, intense radiation can be used in an attempt to mitigate the cancer's effects.
Radiation May Help In Certain Cases of Stage Four Lung Cancer
Learn more about SurvivorNet's rigorous medical review process.