Powerful Voices on Vaccines
Many celebrity moms are using their platforms to be a voice for vaccine advocacy.
Some vaccines, like the HPV vaccine, prevent cancer. This vaccine protects against human papillomavirus (HPV), which is the leading cause of cervical cancer in the United States.
People with cancer should get the Covid-19 vaccine, as some cancer treatments weaken the immune system, making you more susceptible to contracting Covid-19.
Tennis champion Serena Williams and actress Salma Hayek are among the chorus of voices who are pro-vaccine celebrity moms.
Seeing prominent figures speak out in support of vaccines – from cancer to the coronavirus – is heartening. Vaccines save lives.
Selma & Serena Speak Out!
Read More
Salma Hayek is a proponent of global immunizations, and she's also a UNICEF ambassador, and the
recipient of UNICEF's Danny Kaye Humanitarian Award
in 2018 for leading on UNICEF's campaign to end maternal and neonatal tetanus, reports
Global Citizen
.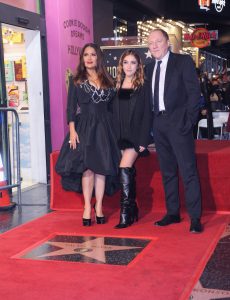 "The thought of losing a child to a disease which can be easily prevented seems unbearable, especially when it is within our power to prevent it," the Mexican actress has said. "If you knew how to help save a child's life, what could stop you?"
Related: Sobbing Serena Williams Struggles to Share Story of Best Friend's Pancreatic Cancer Battle Ahead of Fundraising Event
Meanwhile, Serena Williams, who's a mom to Alexis Olympia Ohanian Jr., 4, is also an advocate of vaccines. Williams shares her daughter with her husband (and Reddit founder) Alexis Ohanian.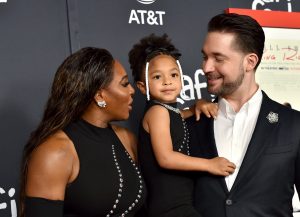 Williams, like Hayek, is a UNICEF ambassador. For her work as an official UNICEF Goodwill Ambassador, Williams has visited Ghana and, along with healthcare workers, delivered vaccines to Ghanaian children.
Related: Actress Rachel Griffiths, 53, Wants Cancer Patients Prioritized During the Covid-19 Pandemic; Urges People to Get the Vaccine
Of her vaccine-delivering trip, Williams said, "I have always dreamed of coming…into a village like this, and just interacting with everyone. I just want to make sure that everyone is educated about these vaccines that are so important, and it is awesome that everyone is here."
Other celebrity moms such as Kristen Bell and Marissa Jaret Winokur are also cheerleaders for vaccines.
Related: Actress Kristen Bell Reminds Us What Makes a Healthy Relationship, and We Should Settle For Nothing Less
Hairspray actress Winokur, a cervical cancer survivor, knows the impact vaccines can have, like preventing cancer. Global Citizen reports how "When Hairspray star Marissa Jaret Winokur found out about the connection between the human papillomavirus (HPV) and cervical cancer, she was immediately on board with the vaccine — having survived cervical cancer herself."
The actress once said, "I learned about a year ago that HPV, a common virus, causes cervical cancer. Now there is an HPV test that might have caught my precancerous cells earlier. There's a vaccine, which can be given to women before they're sexually active. It makes sense to take these precautions. I'll encourage my friends' teenage daughters to get vaccinated," she told People magazine.
Understanding the HPV Vaccine
Winokur has been, thankfully, outspoken about the life-saving, cancer-preventing vaccine – the HPV vaccine.
Related: Cervical Cancer Survivor Marissa Jaret Winokur, 48, Used the Pandemic as a Reason to Get Healthy; How Lifestyle Can Help Prevent Cancer
The Gardasil-9 vaccine is approved for children and adults ages 9 to 45; it's an HPV vaccine that protects against human papillomavirus (HPV). HPV is the leading cause of cervical cancer in the United States, and the vaccine may prevent 90% of all cervical cancers.
Experts recommend that children get the HPV vaccine when they're able, as it drastically lowers a person's chances of getting cervical cancer.
Should I Give My Kids the HPV Vaccine? A Leading Doctor On Why She Says "Yes!"
The Covid-19 Vaccine for Cancer Patients
Vaccines are so important, and it's really important to get the vaccine for Covid-19 – as well as an accompanying booster.
Some treatments for cancer, such as chemotherapy, weaken the immune system, meaning a person with cancer could be more likely to contract Covid-19.
Related: Two-Thirds of U.S. States Didn't Prioritize Cancer Patients Getting the Covid-19 Vaccine During the National Rollout, New Research Shows
Dr. Vincent Rajkumar, a doctor from the Mayo Clinic, spoke in an earlier interview about the importance of getting vaccinated if you have cancer. He also assures people of vaccine safety, saying, "It is very safe and there is no increased risk to you just because you have cancer."
"As long as you are feeling well, just go ahead with the vaccine whenever it's offered to you. Sometimes even on the same day if you are going to the clinic to get a small dose of chemotherapy and they're giving the vaccine, just get it, there's really no major problem," Dr. Rajkumar says. "The only people for whom we are saying to delay by a month or two are patients who have had a stem cell transplant because we have wiped out (the patients' immune system). And so you want to wait until some of the recovery happens so when you give the vaccine, they have an immune response."
5 COVID-19 Vaccine Questions Answered by Expert Physician
Learn more about SurvivorNet's rigorous medical review process.