Putting His Health First
Sports broadcaster Duane Kuiper just announced that he will be taking time off from some San Francisco Giants games due to having to start chemotherapy treatment.
The former infielder, 70, has been broadcasting for the Giants for nearly four decades. Kuiper did not mention what he is battling.
Chemotherapy is not just used for cancer patients and can be used to treat other diseases like lupus and rheumatoid arthritis, which are auto-immune diseases where the body's immune system attacks healthy cells.
Sports broadcaster Duane Kuiper just announced that he will be taking time off from some San Francisco Giants games because he's starting chemotherapy treatment.
"I wanted to let you know that I may be missing a few more Giants broadcasts than usual and I wanted to share what's going on with me," Kuiper said in a recent statement.
Read More
The former infielder, 70, has been broadcasting for the Giants for nearly four decades.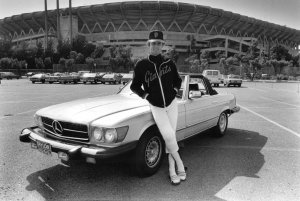 "I want to thank my broadcast partners for their unconditional support and willingness to step in and cover for me. Thank you for your prayers and for giving me the space and privacy to focus on my health at this time. While this was not the adventure I anticipated, I'm staying positive for a quick and full recovery."
Related: What You Think You Know about Chemotherapy Side Effects May Be Wrong
Kuiper did mention the illness he has that requires chemotherapy treatment. Chemotherapy is known for treating cancer, but there are other diseases that also require chemo.
Statement from #SFGiants Broadcaster, Duane Kuiper: pic.twitter.com/VUoOQVNT7R

— SFGiants (@SFGiants) June 7, 2021
The Giants released a statement of support for the veteran announcer.
"The entire Giants Family sends our love and support to Duane and his family during this challenging time," the team said. "We know we speak for Giants fans everywhere in offering our prayers for a safe, speedy and full recovery."
Related: Former Met and Beloved Baseball Broadcaster Ron Darling is Hopeful and Optimistic as he Faces Thyroid Cancer
Although many patients choose to work through chemotherapy, certain jobs can be more intense to juggle while undergoing treatment, so we're glad Kuiper is putting his health first. Every person dealing with an illness is different, and you have to do what is best for you mentally and physically.
What Other Conditions Does Chemotherapy Treat?
Aside from cancer, chemotherapy treats other conditions like bone marrow diseases. Chemo is frequently used for patients to prepare for a bone marrow transplant also known as a stem cell transplant.
Related: Why Is Actress Selma Blair Getting Chemotherapy For Multiple Sclerosis?
There are also some immune system disorders such as lupus and rheumatoid arthritis that are treated with lower doses of chemo that can help control an overactive immune system.
How to Deal with Chemotherapy Symptoms
Chemotherapy treatment can be tough, but there are certain ways to combat chemo-induced fatigue and other symptoms by getting plenty of rest, eating healthy and drinking a lot of water.
"What I typically tell patients is that [chemotherapy] is a bit of a roller coaster ride," says Dr. Zachary Reese, medical oncologist at Intermountain Healthcare in St. George, Utah, near Salt Lake City. "You're going to feel tired about a week into treatment, and that's when you'll hit bottom. And then you'll start to come back up again just in time to do it all over."
Related: Not Your Parents' Chemotherapy: New Solutions for Nausea, Hair Loss, and Other Chemo Side Effects During Treatment
It also typically gets a little bit worse as you go from one treatment to the next. "You'll get a little bit more tired the second go-round than you did the first. So that's going to last a day longer," he explains. "The third time, it's going to last a day longer than that."
Dr. Reese says that the best way to counteract fatigue from chemotherapy is by staying active.
"Again, that doesn't mean that anybody expects chemotherapy patients to get out and run a 5K or run a marathon," he says. "But getting out and doing 30 minutes a day of activity, on average, can go a long way to help minimize the fatigue that the chemotherapy is going to cause."
How to Fight Chemotherapy Fatigue
Chemotherapy Fatigue: Think of it as 'Running a Marathon'
Learn more about SurvivorNet's rigorous medical review process.