Learning About Inflammatory Breast Cancer
Sarah Diemer was diagnosed at age 36 with stage 4 triple-positive inflammatory breast cancer (IBC) after being initially treated for a breast infection.
Now, she's sharing her story to raise awareness of this type of breast cancer, finding joy in helping others face their health challenge.
Inflammatory breast cancer (IBC) is a rare and aggressive form of breast cancer. Signs and symptoms can include swelling (edema) of the skin of the breast, redness involving more than one-third of the breast, pitting or thickening of the skin of the breast, and more.
Metastatic breast cancer – also known as stage 4 breast cancer – means that the cancer has spread, or metastasized, beyond the breasts to other parts of the body. There is technically no cure, but advancements in treatments can dramatically improve outcomes and that is something to be hopeful for.
At age 36, Sarah Diemer was pregnant with her second child when she began noticing a difference in the appearance of her breasts — something she dismissed as mastitis, inflammation of breast tissue that at times involves an infection. But it was something much more serious: breast cancer.
She later learned the changes in her breasts had nothing to do with mastitis, but instead, a stage 4 triple-positive inflammatory breast cancer (IBC) diagnosis, a rare and aggressive form of the disease.
Read More
"During my pregnancy, my breasts began to change. But my left breast changed more than my right breast – it was bigger, a different shape, red and inflamed," Diemer recounted to the
Susan G. Komen
breast cancer organization.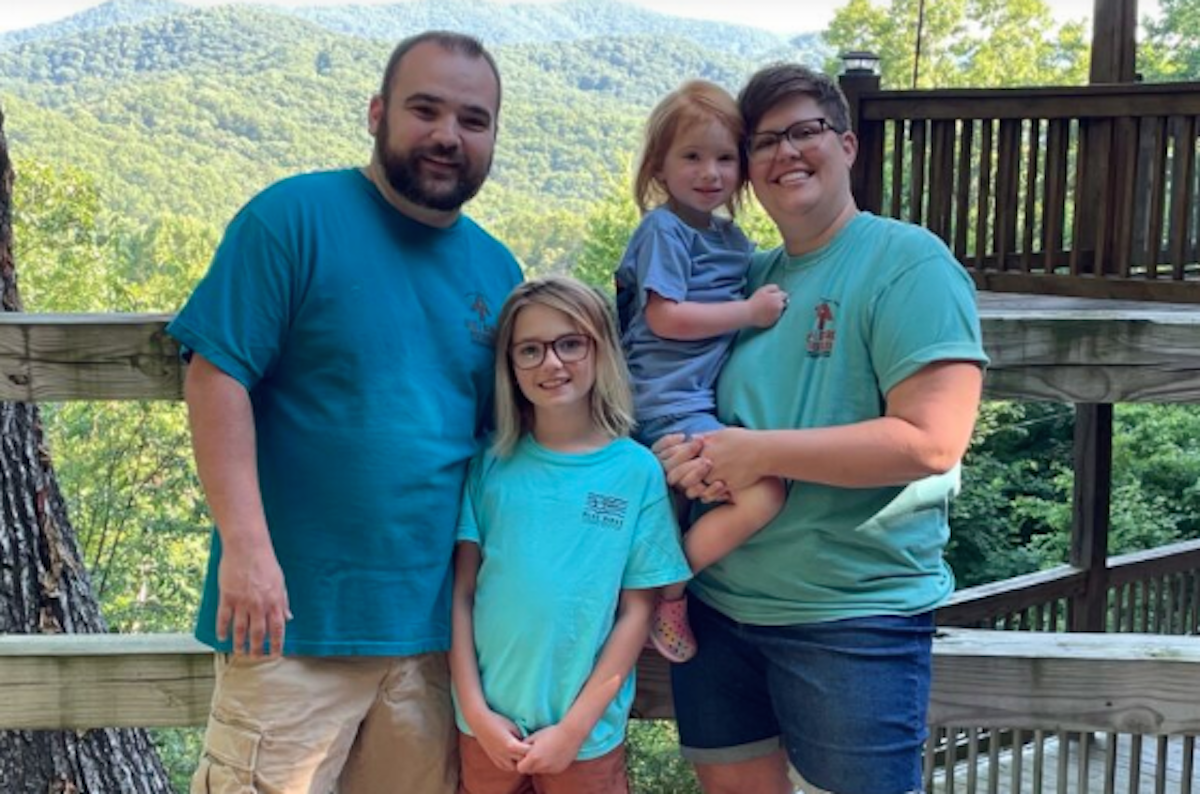 "My OBGYN and multiple specialists all thought the same, that I had an odd case of mastitis. Multiple antibiotics later, nothing changed. It wasn't until my condition sent me to the hospital that we finally got some answers about what was going on," Diemer continued. "A breast surgeon walked into my hospital room, spent 4 seconds looking at my left breast, and told me she was pretty sure I had inflammatory breast cancer." Diemer had to start chemotherapy treatment immediately due to the cancer having spread by the time she was diagnosed.
She explained, "The doctors acted aggressively to control the spread of my cancer as quickly as possible."
Diemer, who will likely never stop cancer treatment, sadly miscarried her second daughter at the time.
She then underwent more rounds of chemo, a radical mastectomy on her left side, 30 rounds of radiation, and a hysterectomy, leading her to have "no evidence" of the disease about two years ago.
As her battle with inflammatory breast cancer continues, Diemer hopes her story can inspire others to stay on top of doctors' visits, leading to early detection.
"I didn't even know inflammatory breast cancer existed," Diemer said. "I want to get the word out about IBC so we can catch it early, get people into treatment and lengthen, or even save, their lives."
She added, "While I am learning to live with cancer, I can share my experiences with others. I find joy in helping others carry the burden. It's hard to even adequately express my thankfulness to the donors who give to Komen. Lives will be saved."
Understanding Inflammatory Breast Cancer
Inflammatory breast cancer (IBC) is an aggressive form of breast cancer. The rare and invasive cancer only accounts for 1-5% of all breast cancers, according to the American Cancer Society.
Additionally, IBC causes various signs and symptoms, most of which develop quickly (within 3-6 months). IBC causes symptoms of breast inflammation, which is caused by cancer cells blocking lymph vessels in the skin, leading to the breast looking "inflamed." The signs and symptoms of IBC include:
Swelling (edema) of the skin of the breast
Redness involving more than one-third of the breast
Pitting or thickening of the skin of the breast so that it may look and feel like an orange peel
A retracted or inverted nipple
One breast looking larger than the other because of swelling
One breast feeling warmer and heavier than the other
A breast that may be tender, painful or itchy
Swelling of the lymph nodes under the arms or near the collarbone
RELATED: You Should Be Aware of These Signs of Breast Cancer
In addition to other signs and symptoms you may experience, it's important to remember that having these symptoms does not necessarily mean that you have IBC. You should visit your doctor promptly since IBC grows and spreads quickly.
All IBCs start as stage 3 since they involve the skin. If the cancer has spread outside the breast to distant areas, it is considered stage 4.
IBC treatment typically involves chemotherapy to try to shrink the tumor, followed by surgery to remove the cancer. But radiation and other treatments like more chemotherapy or a targeted drug may also be given after surgery.
If the IBC is stage 4, treatment will likely include chemotherapy, hormone therapy, and/or targeted drugs.
Mom Breast Issues Vs. Breast Cancer Symptoms
Sometimes the effects of pregnancy and symptoms of breast cancer can look similar, so it's important to be aware of the changes your breasts may be going through, and what's normal or not for your body.
According to Breast Cancer Now, "Your breasts change during pregnancy to prepare them for feeding your baby. These changes are caused by an increase in hormones." Pregnancy symptoms related to the breasts may include:
Tenderness or a change in sensation of the nipple and breast
An increase in breast size
Changes in the color and size of nipples and areola
Bigger and more noticeable Montgomery glands
Fluid (Colostrum) leaking from the nipples after the 16th week
Additionally, women may also notice breast lumps during pregnancy. The most common ones are:
Cysts (fluid-filled sacs)
Galactoceles (milk-filled cysts)
Fibroadenomas (which develop in the lobules of the breast)
All three of these lump types are benign (not cancerous) breast conditions, but deciphering whether they are cancerous or not could be something a soon-to-be mom has to deal with.
Although it isn't common for younger women to get breast cancer during pregnancy, it's important to get any major changes in your breasts checked by a doctor.
Breast cancer symptoms that should be brought to your doctor's attention are:
A new breast lump
New swelling in one breast
Changes in the nipple (such as puckering)
Redness or flaking in the breast or nipple
Discharge (including blood) from the nipple
Pain in the breast
Living With Metastatic Breast Cancer
When a person has stage four, or metastatic, breast cancer, it means the cancer has spread, or metastasized, past the breasts to other areas of the body. It most often spreads to the bones, liver and lungs, but it may also spread to the brain or other organs.
RELATED: Metastatic Breast Cancer: You Are Not a Statistic
And while there is technically no cure for metastatic breast cancer, there's a significant number of treatment options used to battle the disease including hormone therapy, chemotherapy, targeted drugs, immunotherapy and a combination of various treatments.
RELATED: Are You A Metastatic Breast Cancer Patient Curious About The Drug Enhertu? Here's What You Need To Know
Dr. Elizabeth Comen, a SurvivorNet advisor and an oncologist with Memorial Sloan Kettering Cancer Center, says previously told SurvivorNet about the hope she has for metastatic breast cancer and how it can be treated.
"I treat women day in and day out who have metastatic breast cancer," Dr. Comen said. "And I see the fear in their eyes, and I also see the hope in their eyes.
"And I share in that hope. Why do I share in that hope? Because I have so many patients who are living with their cancer… It isn't just about living, but living well," she continued.
RELATED: How To Treat Metastatic Breast Cancer: The Drug Trodelvy Shows A Promising Boost In Survival Rates
Aggressive Breast Cancer in Young Women
Unfortunately, Diemer's experience with aggressive cancer is not uncommon. Since women under 40 are technically not in the age range where U.S. guidelines say they should be getting regular mammograms, getting a diagnosis can be difficult. Breast cancer diagnosed in women under 40 also often tends to be a more aggressive disease.
Dr. Ann Partridge On Why Breast Cancer Tends To Be More Aggressive In Younger Women
"Young women are more likely to be diagnosed with breast cancer that is more aggressive," Dr. Ann Partridge, an oncologist at Dana-Farber Cancer Institute, told SurvivorNet in an earlier interview. "Their disease is more likely to be the subtypes of breast cancer, because breast cancer isn't one disease. The ones that are more aggressive and tend to be what we call a greater stage … they're more likely to have bigger tumors and more likely to have lymph node involvement at diagnosis than older women — and part of that is because young women aren't typically being screened."
RELATED: How to Perform a Self Breast-Exam
Since it's not recommended for women of average risk for breast cancer to be screened before age 40, doctors recommend women be familiar with their bodies and perform regular breast exams. Therefore, if something strange does appear, you will be able to identify it and seek help quickly.
Breast Cancer Survivor Tiffany Dyba Discusses The Importance Of Speaking Up About Health Concerns
Trust Your Body
The take-home message from Dr. Linda Moy, a radiologist that specializes in breast imaging at NYU Langone's Perlmutter Cancer Center, is that women should bring a lump or any concern to their doctor's attention immediately.
"I would say for any woman that has a lump in a late stage [pregnancy], they should go ahead and see their doctor. But for those in particular who are a late maternal age or any family history of breast cancer, those are the ones that really need to see the doctor and I would recommend additional imaging with a breast ultrasound to begin with," said Dr. Moy, in a conversation with SurvivorNet.
RELATED: 'My Heart Was Jumping Off My Chest!' Mom, 31, Eight Months Pregnant With Her Third Child, Is Shocked To Be Diagnosed With Breast Cancer
Dr. Klar advises women to be aware of any signs that seem abnormal during pregnancy and while you're breastfeeding, as their body is going through changes.
"I think it's always important for young women because typically the mammogram screenings start at 40. So young women aren't used to necessarily screening tests on their breasts, but I think they know their body," said Dr. Klar.
She added, it's important to advocate for yourself and to tell your doctor you're worried if the doctor doesn't seem as concerned. Additionally, with the rise in pregnancy-associated breast cancer primary care physicians and obstetricians/gynecologists (OBGYNs) should become more educated on this diagnosis.
Contributing: SurvivorNet Staff
Learn more about SurvivorNet's rigorous medical review process.
---