Shannen Doherty's Divorce Amid Breast Cancer Fight
Actress Shannen Doherty, 52, who has been battling breast cancer for years, has been described as a "tough cookie" after filing for divorce from her husband of 11 years, Kurt Iswarienko.
Doherty was first diagnosed with breast cancer in 2015 after finding a lump in her breast that turned out to be cancerous.
In February 2020, her breast cancer returned and spread to other parts of her body.
Divorcing or separating from a partner while facing cancer is not that uncommon, and it's important for people to know they are not alone.
Having support while going through a difficult time of your life is crucial. Luckily, Doherty has support from her beloved friends and family during this difficult time.
It's been less than two weeks since actress Shannen Doherty, known for acting in the popular shows "Beverly Hills, 90210" and "Charmed," revealed she's divorcing her husband of 11 years, Kurt Iswarienko. Facing this devastating life event while battling stage 4 breast cancer, she's being called "one tough cookie."
The 52-year-old actress' publicist Leslie Sloane revealed in a statement that Doherty had filed for divorce, which was "the last thing" she wanted. "Unfortunately, she felt she was left with no other option," Sloane explained.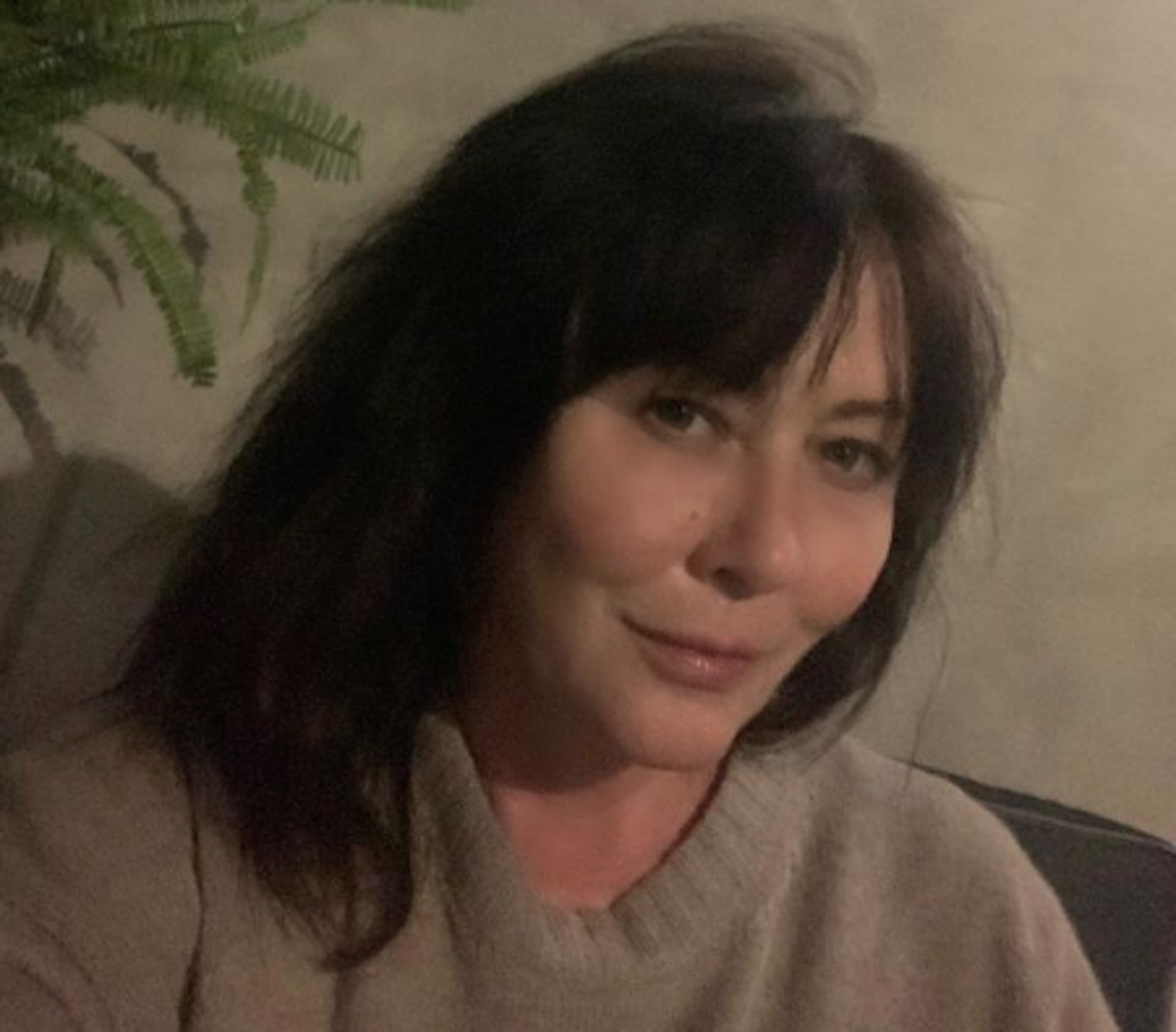 Read More
Doherty's divorce is underway as the "Heathers" star is living with stage 4, or metastatic, breast cancer. It appears Doherty is going to have to be stronger than ever as she fights cancer and supports herself through this major life adjustment of divorce. However, an unidentified source has claimed she is handling it all well. "This has all blown up very quickly and brutally," an anonymous insider told
RadarOnline
.  "Shannen is digging in for one hell of a fight even though she's under doctors' orders to avoid stress."
"They're both lawyering up and getting ready for the long haul, which will mean endless pain and legal bills," The source said, according to the news outlet. "Shannen is one tough cookie, but surely there's only so much she can take!"
As Doherty leans on loved ones and friends for support, it appears she's staying optimistic despite the challenges that have been thrown her way.
Just yesterday, Doherty took to her Instagram story to share an uplifting post by @motivatingvirgo.
The video message states, "She has a quiet confidence but screams loud. She's humble but strong. She's stable but rebellious. She's giving by not naive. She chooses her battles wisely."
"She'll stay silent until it's time to fight and when that time comes, she will fight and she will win," the positive reminder concluded.
Additionally, at the time her divorce went public, Doherty shared a sentiment on Instagram that also could relate to her life.
"The only people who deserve to be in your life are the ones who treat you with love, kindness and total respect," read the word image she posted.
Shannen Doherty's Cancer Journey
Doherty's battle with breast cancer began in 2015 when she received her diagnosis after finding a lump in her breast.
"For the last year and a half, cancer has been my teacher," Doherty explained in a 2016 speech. "It's taught me what love, strength, friendship and support truly looks like."
She continued, "It's opened my eyes to myself and it's allowed me to not only share my journey with people, but it's actually allowed me to share my inner self with anybody who actually wanted to know what it was like… And the end result is that I am nothing but vulnerability and, to me, vulnerability is courage."
Doherty was reportedly treated through hormone therapy, a single mastectomy (the removal of all breast tissue from one breast), chemotherapy and radiation. Her cancer ultimately went into remission in 2017.
However, Doherty's remission didn't last forever. In February 2019, her oncologist revealed that her disease had returned less than two years after completing her initial treatments and her cancer was stage four.
Doherty went public in 2020 with her recurrence news during an interview for "Good Morning America," saying, "I definitely have days where I say why me. And then I go, well, why not me? Who else? Who else besides me deserves this? None of us do."
Although there's technically no cure for metastatic breast cancer, there are various of treatment options for the disease including hormone therapy, chemotherapy, targeted drugs, immunotherapy and a combination of various treatments.
It's unclear where Doherty is at with her continued treatments at this time, but from her recent social media, the actress appears to be pushing forward with hope.
Dealing With Cancer & Divorce, Like Shannen Doherty
Divorcing or separating from a partner while facing cancer, like Shannen Doherty, is not that uncommon. Whil egoing through a difficult time of your life with a partner can be incredibly beneficial, it's also important to know your limits with relationships during a health battle.
Licensed clinical psychologist Dr. Marianna Strongin previously wrote in column for SurvivorNet, "Going through [cancer] treatment is a very vulnerable and emotionally exhausting experience. Noticing what you have strength for and what is feeling like too much … [is] extremely important to pay attention to as you navigate treatment."
Just know that if you do find yourself separating from a partner amid a cancer fight, you're not alone.
In an earlier conversation with SurvivorNet, Amanda Crowell Itliong talked about going through her divorce during an ovarian cancer battle.
Divorces During Cancer Happen — Ovarian Cancer Survivor Amanda Crowell Itliong Talks Moving On
"Women do sometimes get divorces during this time," she explained. "It happened to me and I thought it was the worst thing that could ever happen — and it wasn't. It wasn't even a little bit the worst thing that could ever happen."
"It turned out pretty great in the end. Sometimes, things like cancer can show you that a relationship isn't the right relationship," she added.
Coping With a Partner's Cancer Diagnosis
If you do stay together when your spouse or partner is diagnosed with cancer, it's completely normal to experience the many emotions that may follow, like grief, anxiety, depression, and even anger.
This news can be heartbreaking, but there are ways to deal with the new reality of a loved one's cancer diagnosis.
SurvivorNet recommends the following for anyone coping with their other half's cancer diagnosis:
Talk to a therapist and share the feelings you're going through.
Have an open conversation with your spouse about the diagnosis.
Research the disease and learn about available treatment options.
Join a support group or connect with others who have gone through, or are going through, the same experience.
Spend time with your spouse and always have conversations about both of your feelings.
How a Cancer Diagnosis Can Clarify Relationships
A cancer diagnosis may also be able to determine the strength or weakness of a relationship. Actress and writer Jill Kargman previously spoke with SurviviorNet about how a cancer diagnosis can reveal a person's true colors.
"I think cancer is a great way to find out if you're with the love of your life or a shithead. I think it presses the fast forward button on getting to the bottom of that answer, because a lot of people in middle age are kind of at a crossroads, waiting for their kids to fly the coop," Kargman, who battled melanoma, said.
"And I think if you're with someone who is not supportive and kind of emotionally checked out or doesn't tell you you're still beautiful with that, this might not be your person."
Jill Kargman on Relationships and Cancer
Contributing: SurvivorNet Staff
Learn more about SurvivorNet's rigorous medical review process.
---