The Importance of a Strong Support System
Sharon Osbourne, the loving wife of rockstar Ozzy Osbourne, 74, recently took to social medial to share a sweet photo standing alongside her husband and their adorable husky Elvis.
Sharon and Ozzy have stayed by each others side through major health challenges over the years, which included Sharon's colon cancer fight a few years back and Ozzy's struggle with faces Parkinson's disease.
Licensed clinical psychologist Dr. Marianna Strongin says people faced with cancer should "surround [themselves] with individuals who care and support [them]" throughout treatment while also acknowledging their limits on what they can handle.
"Going through [cancer] treatment is a very vulnerable and emotionally exhausting experience," Dr. Strongin wrote in a column for SurvivorNet. "Noticing what you have strength for and what is feeling like too much [is] extremely important to pay attention to as you navigate treatment."
Just days after colon cancer survivor and TV personality Sharon Osbourne celebrated her 71st birthday, the loving wife of rockstar Ozzy Osbourne, 74, took to social medial to share a sweet photo standing alongside her husband and their adorable husky Elvis.
We're delighted to see the Osbournes, who have bene married for 41 years, enjoying life by each others side. It's especially great to see the two smiling despite the challenges they've both been through, and continue to go through, as Ozzy has been struggling with Parkinson's, a chronic and progressive neurological disease.
View this post on Instagram
Read More
In Sharon's
heartwarming Instagram post
, shared Thursday, she is seen wearing a long-sleeved rose print dress while looking up at her cheery husband. Ozzy, wearing a dark-green suit, sunglasses, and a cross chain necklace, is seen standing and smiling with one arm around his wife's neck and his other hand holding onto his cane.
Sharon, who captioned the post with two rose emojis and one heart emoji, was also seen holding the leash of her dog, a husky named Elvis who also seemed to be enjoying the beautiful surroundings.
Fans took to the post's comments section praising the duo as "the best" and "beautiful" couple.
"You guys look great! Love that Ozzy's wearing the necklace you made for him and I'm loving your new hairstyle Sharon," one fan commented.
Another wrote, "Such a beautiful couple. Everyone looks so happy and even the fur baby is smiling.
It appears Sharon and Ozzy's love for each other has stayed strong through the major health challenges they've experienced over the years, including Sharon's colon cancer fight a few years ago and Ozzy's fight with Parkinson's disease.
View this post on Instagram
In fact, on one of their wedding anniversaries, Sharon thanked her husband for the "most incredible life together."
She captioned another Instagram post, "The crazy, wonderful and insane times. Yes, pain and sorrow too, but we got through it. We worked so hard for years professionally and personally. We succeed together.
"You are my soul, my life. What a fantastic life we have lived so far, the best thing is there's more to come.
"Every day is an adventure, every day I love you more and respect you more. My soulmate, my love and my friend here's to our next adventure! Love you always."
View this post on Instagram
Sharon and Ozzy Osbourne's Health Battles
Earlier this year, Ozzy announced he had to cancel tour dates while he continued to battle Parkinson's disease.
According to the National Institutes of Health, Parkinson's disease is "a chronic and progressive neurological disease that is marked by tremors in the resting muscles, rigidity, slowness of movement, impaired balance and a shuffling gait."
Last summer, the English singer had surgery to remove and realign pins in his neck and back, Page Six reported.
"It's been terribly challenging for us all. I did my last show New Year's Eve [2019] at the Forum. Then I had a bad fall. I had to have surgery on my neck, which screwed all my nerves,"Ozzy Osbourne told "Good Morning America" and fellow cancer warrior Robin Roberts in a 2020 interview.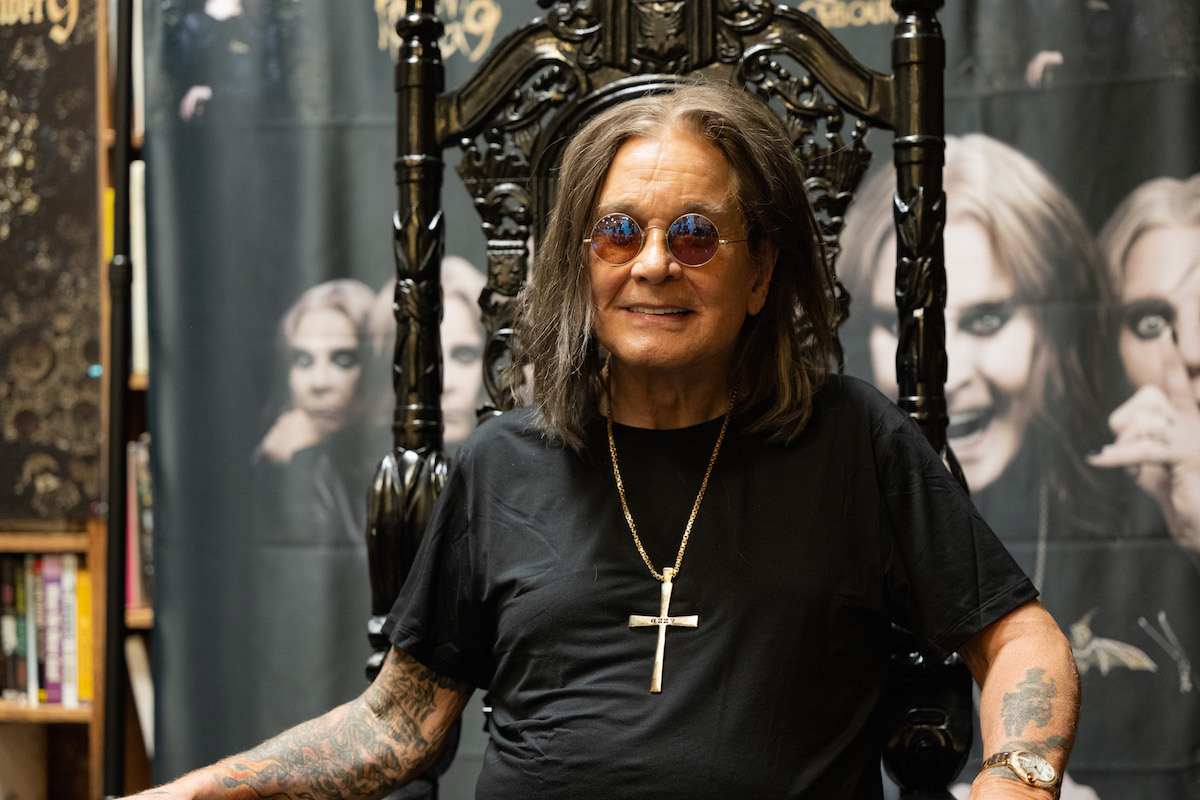 Prior to surgery, Ozzy dealt with nerve pain, blood clots, depression, and staph infections.
As for Sharon, she is a stage 3 colon cancer survivor who was first diagnosed in 2002. She had surgery to remove a foot of large intestine and some surrounding lymph nodes. She needed chemotherapy to kill any cancerous cells left behind.
With a powerful support group full of loved ones, she was able to beat the disease.
Sharon also underwent a preventable double mastectomy, a procedure in which breast tissue is removed to prevent cancer from developing in the future. She opted for the procedure after learning she had a genetic mutation that increased her chances of developing breast cancer.
Colon Cancer Basics
Sharon Osbourne's colon cancer, or colorectal cancer, is a type of cancer that affects your large intestine (colon) or the end of your intestine (rectum).
The cancer starts when abnormal lumps called polyps grow in the colon or rectum. If you don't have these polyps removed, they can sometimes change into cancer. It takes up to 10 years for a colon polyp to become a full-blown cancer, according to SurvivorNet experts.
Most colon cancers can be prevented if people are regularly screened. The screening usually involves a colonoscopy, in which a long thin tube attached to a camera is used to examine the colon and rectum. If no polyps are discovered, the next screening won't be needed for about 10 years.
WATCH: Stage Three Means Cancer Has Spread Outside the Colon Wall
"We know that colon cancers can be prevented when polyps are found early," Dr. Heather Yeo previously told SurvivorNet. "Lowering the screening age helps somewhat with this, but access to care is a real problem.'
The American Gastrointestinal Association lowered the recommended initial age for a colorectal screening from 50 to 45.
Colon cancer symptoms and warning signs include:
Change in bowel movement
Bloody stool
Diarrhea, constipation or feeling the bowel does not empty completely
Unexplained weight loss
Constant abdominal pain or cramps
If you notice concerning symptoms or changes to your body, it's important to discuss them with your doctor promptly.
Treatment options for colon cancer may include surgery, radiation, chemotherapy, targeted therapy and/or immunotherapy.
What Is Parkinson's?
As for Parkinson's, which Ozzy is battling, it's a chronic illness that affects the nervous system. As time passes, more symptoms start to show up in the body. Although there is currently no cure for this degenerative disease, researchers like those at The Michael J. Fox Foundation are trying to change that.
RELATED: Michael J. Fox, Who's Lived a Decades-Long Parkinson's Journey, Focuses on Gratitude & Joy
Medications can be taken to reduce and control some symptoms of Parkinson's. Some of these medications include dopamine promoters, antidepressants, cognition-enhancing medication, and anti-tremor medication.
For those dealing with a disease like Parkinson's on a daily basis, actor Michael J. Fox who was diagnosed with early-onset Parkinson's in 1991 when he was just 29 years old previously shared some advice during an interview with AARP, saying, "Have an active life and do not let yourself get isolated and marginalized. You can live with it.
"People sometimes say that a relative or a parent or a friend died of Parkinson's. You don't die of Parkinson's. You die with Parkinson's, because once you have it, you have it for life until we can remedy that, and we're working hard at it."
"So, to live with it, you need to exercise and be in shape and to eat well," Fox says. "If you can't drive, find a way to get around. Maintain friendships. Don't say, 'Oh, I don't have anything to say to Bob.' Bob might have something to say to you. Just make the call."
Signs and symptoms of Parkinson's Disease can often seem innocuous and go unnoticed as they could potentially be attributed to other things. According to the National Institute on Aging (NIA), the four main symptoms of Parkinson's are:
A tremor in hands, arms, legs, jaw, or head
Muscle stiffness, where muscle remains contracted for a long time
Slowness of movement
Impaired balance and coordination, sometimes leading to falls
Other symptoms can include:
Depression and other emotional changes
Difficulty swallowing, chewing, and speaking
Urinary problems or constipation
Skin problems
Symptoms of Parkinson's can vary from person to person, as well as the rate of the disease's progression.
Having a Supportive Partner during a Cancer Battle
Licensed clinical psychologist Dr. Marianna Strongin says people faced with cancer should "surround [themselves] with individuals who care and support [them]" throughout treatment while also acknowledging their limits on what they can handle.
"Going through [cancer] treatment is a very vulnerable and emotionally exhausting experience," Dr. Strongin wrote in a column for SurvivorNet. "Noticing what you have strength for and what is feeling like too much [is] extremely important to pay attention to as you navigate treatment."
If you're ever in a relationship where you feel overwhelmed by how your partner is trying to support you, Dr. Strongin says you should try to communicate your feelings. This may help you decide if your partner is the person you want beside you "during this arduous chapter" of life.
Receiving a cancer diagnosis is undeniably something patients and their supporters have to learn how to cope with.
According to MacMillan Cancer Support, communication is a vital tool in helping support a partner with cancer and it could help a couple understand each other better.
"Try to be yourself and live as normally as possible. Behaving differently may make your partner feel more aware of the cancer," the charity explains. "It can help to ask your partner what support they would like and find useful. This makes sure you help where it is most wanted and needed. It can also help you avoid misunderstandings."
The charity also advises partners to allow a loved one who is dealing with a disease to feel as if they are "still in control." So it's important to allow someone who's battling cancer to have some control of things like family issues, their own care, and finances.
Dealing With Grief Related to Health Problems
How Pets Can Help People Amid Health Challenges
Elvis isn't the only dog The Osbournes own, in fact, the couple has been reported to have nine dogs total, some Sharon occasional shares photos of on her social media accounts. It turns out, finding joy in family pets as a means to cope with grief, or even to cope with your own cancer battle is a fairly common practice. It's possible The Osbournes' dogs also offer support for them when times get tough.
SurvivorNet gathered some resources on pet therapy, and how it can be beneficial for people grieving, people going through treatment, and the pets themselves!
8-Year-Old Cancer Survivor Trained Dog Best Friend in Treatment 
Richard Marks, who has bone marrow cancer and was getting chemotherapy at Mount Sinai five days a week at the time, said spending time with some dogs can really relieve your mind of struggles.
"When I'm doing chemotherapy, I'm waiting and times going by. Maybe I'm worrying about my numbers or how treatment is going. And all of the sudden a cute little dog goes by, then I'm not thinking about those things," Marks told SurvivorNet. "Im only thinking about that dog."
PET THERAPY: How A Pooch Helped During Chemo
Marks underwent pet therapy with the help of The Good Dog Foundation, an organization that promotes recovery from trauma and stress using animal-assisted therapy services.
In Marks' case, he spent his chemotherapy days with a rescue dog named Bowie. Sarah Conroy, Bowie's owner, became certified to visit hospitals with her pooch through the Good Dog Foundations. She told SurvivorNet that Bowie loves visiting his friends in the hospital, but for him, "It's more about getting pet messages."
Meanwhile, Alison Snow, who worked with cancer support services at Mount Sinai, told SurvivorNet that there is research to show that animal visits to hospitals can be extremely beneficial to people battling cancer, as well as other ailments.
"You can hear the excitement in the air when the dog is around and there is research to show that having animal-assisted visits is helpful to patients going through cancer in terms of lowering blood pressure, reducing anxiety, decreasing depression, and overall, helping patients feel less isolated," Snow said.
Prioritizing Mental Health & Acceptance After a Diagnosis
Contributing: SurvivorNet Staff
Learn more about SurvivorNet's rigorous medical review process.
---