To some, moving forward after losing a loved one to cancer can seem an impossible feat — especially for parents mourning the death of a child. So it takes a special kind of resilience for a mother to turn that loss into a way to help others. For Denise Rich, the renowned songwriter and philanthropist whose beloved daughter, Gabrielle, passed away from cancer over two decades ago, that strength came from none other than Gabrielle herself.
"Gabrielle made me promise that I would start [a] charity, and said that she would help me from the other side," Rich, who founded Gabrielle's Angel Foundation for Cancer Research in her daughter's honor, tells SurvivorNet in an exclusive interview.
Read More
"She was a mountain climber. She believed that you climb any mountain, you get to the top. She was very, very positive," Rich says, noting that Gabrielle, the second of her three daughters, remained this way throughout two cancer battles.
A Budding Actor
Gabrielle, who graduated with honors from Oxford University in England and was fluent in five languages, according to the foundation's website, was diagnosed with non-Hodgkins lymphoma at age 23 in 1992. She had recently moved to New York to pursue an acting career at an intensive film program at New York University.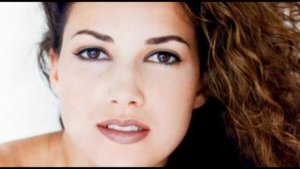 By 1993, Gabrielle was in remission, and it seemed nothing could slow her down. She married fiancée Philip Aouad and pursued her acting career, landing small roles in movies including "The Chase" and "Savage Hearts" under the name Gabriella Lamiel.
But in 1996, the raven-haired beauty received terrible news: She once again had cancer, this time acute myelogenous (myeloid) leukemia (AML), a cancer that begins in the bone marrow, and often quickly progresses into the blood.
RELATED: What Are Blood Cancers?
Despite her daughter's great spirit and energy, Rich says, she understandably "was also very scared."
Rich was there for Gabrielle every step of the way, even donating her own bone marrow for a transplant.
Focusing on What's Important
But the diseased progressed rapidly, and Rich desperately explored everything and anything that might help her daughter — including gurus.
"At one point when she was in the hospital — this was when the [second] cancer came and I saw that it wasn't going well, that the bone marrow hadn't taken well, and there wasn't a lot left to be done — I started getting gurus, I had everybody lined up from all different religions," says Rich.
It was Aouad who finally focused the distraught Rich on what was important during Gabrielle's final days. "I remember my son-in-law saying, 'Denise, we just need to be with her. Forget about all these other people,'" Rich recalls.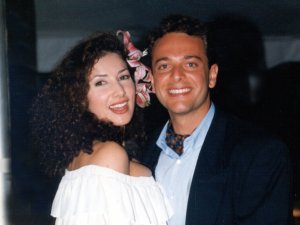 "He was so supportive" of Gabrielle through her cancer journey, says Rich. And her sisters, Ilona and Daniella, rallied around her as well.
"She had a lot of love and support," says Rich. "And she really thought she'd beaten it."
Gabrielle died in 1996 within two months of the second diagnosis.
Zeroing in on Research
While she was in treatment, Rich says, Gabrielle's main interest became research. "She believed that through research, one day cancer will be something people will live with, but not what they will die from."
So in 1996, Rich launched Gabrielle's Angel Foundation for Cancer Research, which seeks to encourage the development of more effective therapies for patients with leukemia, lymphoma and related cancers. In recent years, it has expanded to include the funding of select pediatric oncology initiatives, music therapy programs and international projects.
Medical Research Awards each total about $225,000, and are given over a three-year period. It has awarded grants totaling almost $35 million. And according to the foundation, 92% of every donation goes directly to research programs.
The organization's "Angel Ambassadors," who help spread the word about the importance of funding blood cancer research, include celebrities such as Alan Cumming, Brittany Daniel and Ethan Zohn.
The foundation's signature event is its annual Angel Ball, a glittery, star-studded black-tie benefit hosted by Rich and her daughters, Daniella Rich Kilstock and Ilona Rich Schachter. It honors those who have made significant humanitarian and philanthropic contributions in support of cancer research.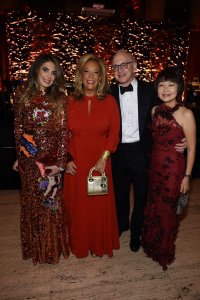 Of course, given Rich's life in music — she has worked on several Grammy-nominated projects, and her songs have been recorded by such superstars as Celine Dion and Natalie Cole — the entertainment is a high point. The 2019 Angel Ball featured Patti LaBelle, Boy George and Flo Rida.
Information about Acute Myeloid Leukemia (AML)
Leukemias are cancers that start in the blood-forming cells of the bone marrow. When these cells become leukemic, they stop maturing properly and grow out of control. Eventually, they spill into the bloodstream. Because they are essentially abnormal white blood cells, they prevent your blood from doing normal things like fighting infections, keeping your energy up and preventing excessive bleeding.
Acute myeloid leukemia (AML) is a cancer that begins in the bone marrow, and often quickly progresses into the blood. Symptoms of the disease are often those that come about because of bone marrow failure, such as fatigue, infections and bleeding.
Dr. Richard Stone on advancements in treating Acute Myeloid Leukemia: "There's a lot of hope on the horizon for AML patients."
When it comes to treating AML, there have been a handful of developments in the past year alone. In 2017, four new drugs were approved to treat the disease. Two of those drugs, Midostaurin and Enasidenib, are what Dr. Richard Stone, clinical director of the Adult Leukemia Program at Dana-Farber Cancer Institute, calls "true targeted therapies."
"There's a lot of hope on the horizon for AML patients," Dr. Stone says.
Learn more about SurvivorNet's rigorous medical review process.
---