The concerned parents of a newborn baby spent weeks trying to determine what caused the boy to snore and squeal in his sleep before learning it was a stage IV neuroblastoma.
Huon "Huey" May came home from the hospital without any issues and, much to the delight of parents Lindsay and Jill started sleeping through the night.
Read More
Things were going great for the family, and Huey's big brother Leo, for the first six weeks.
Then, almost overnight, Huey became "clingy, unsettled and a very noisy sleeper." He stopped gaining weight, he was cranky, and it became "hard to get any happy time out of him during the day."
Jill finally decided to see a doctor after things got even worse.
Related: Gutsy Girl, 5, Insists Her Aches, Fatigue, And Struggle To Walk Are Not 'Growing Pains,' Gets Stage IV Neuroblastoma Diagnosis Days Before Christmas
"I put him down to sleep, and then within like five minutes, you could just see him startle awake and just screaming, like high-pitched squeals," recalls Jill in an interview with the Children's Cancer Institute. "We knew something was wrong."
The first doctor to examine Huey diagnosed him with reflux, but Jill was not convinced. And so she went and sought out second, third, and fourth opinions. She eventually got the referral she needed and learned that 10-week old Huey had stage IV neuroblastoma.
The situation was already dire by then as the primary 5cm tumor was impeding Huey's ability to breathe, and the cancer had spread to his liver, which by then was five times its standard size.
In addition to the intense pain and discomfort that Huey felt, there was also a severe risk of liver failure.
Huey started chemotherapy immediately, with doctors determining the best course of action would be eight rounds administered every three weeks. The infant received blood transfusions as well during that time.
In the end, the treatment managed to shrink the tumor and return the boy's liver to its standard size. Unfortunately, there were still cancer cells around his carotid artery and spots of neuroblastoma on his liver,  both in areas that were far too delicate for a surgical operation.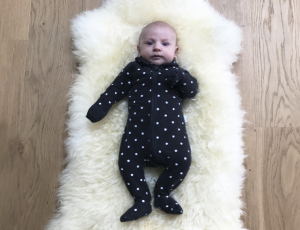 Doctors decided that the best course of action would be to monitor Huey, and the family has been doing just that ever since. Every three months, he gets a scan to ensure the cancer doesn't re-spread, and his parents carefully monitor his catecholamine levels.
Heightened catecholamine levels would suggest that the tumor in Huey's throat is growing.
Huey's parents are now helping raise money for the Cancer Research Institute for all they did for their son.
"When you go in, you're totally oblivious to what you're getting into. You put full faith in the research. People count on it," United Lindsay.
Mom Jill added: "The money, the research is vital because we want to try and minimize the impact that cancer treatment has."
Related: How NFL Star Devon Still Went From Gridiron Glory to Cancer Crusader After Daughter Leah's Stage IV Neuroblastoma Battle
What Is Neuroblastoma?
Neuroblastoma is a type of cancer that develops in neuroblasts, the immature nerve cells around the body. It can be found in the adrenal glands, abdomen, spine, chest, and neck.
Neuroblastoma almost exclusively occurs in children under the age of five. As a child grows, neuroblasts mature into nerves and fibers.
In some instances, neuroblastoma goes away on its own, while those like Huey with stage IV neuroblastoma face more of an uphill battle.
Metastasization is the most significant risk for most who are diagnosed with the disease. The cancer traveled to his liver in Huey's case and is still there in trace amounts that the family monitors.
There are no known causes of the disease, and there is limited proof that family history makes one more or less likely to develop this form of cancer.
Signs & Symptoms Of Neuroblastoma
Before his stage IV neuroblastoma diagnosis, Huey showed several concerning symptoms of the disease.
The symptoms will vary based on where the affected neuroblasts are in the body, but generally include:
Lumps of tissue under the skin
Eyeballs that protrude from the sockets (proptosis)
Dark circles around the eyes
Back pain
Fever
Unexplained weight loss
Pain in the bones
Learn more about SurvivorNet's rigorous medical review process.
---