Social media is abuzz with many a user proudly sharing their Spotify Wrapped data. But as you reflect on your top songs and artists of the year, consider checking out some of our favorite cancer-surviving artists who, like many cancer warriors, have shown great resilience and continued to pursue their passions after battling the disease.
Melissa Etheridge
First off, we have Melissa Etheridge. Now, this Grammy-winner may need no introduction for her ongoing prominence in the rock world, but you might not know she is also a cancer survivor. She was on tour in the summer of 2004 when she discovered a lump in her left breast. After a biopsy she received her breast cancer diagnosis, but, thankfully, her treatment was successful and she's still commanding stages everywhere and keeping rock and rock alive today.
Read More
RELATED: 'The Wait Is Over!': Rockstar and Breast Cancer Survivor Melissa Etheridge Celebrates the Release of Her New Album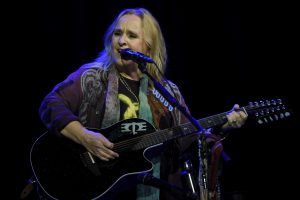 As far as her music goes, Etheridge has many classics like I'm the Only One and Come To My Window. But the 60-year-old is still determined to crank out more tunes – some of which include songs from her vault of unreleased music. In her newest album, One Way Out, the rockstar celebrates a trip down memory lane and exults in the person she's become since the songs were written in the late 1980s and early 1990s.
Tina Turner
Living legend Tina Tuner is another artist we like to celebrate at SurvivorNet. She was diagnosed with kidney failure and intestinal cancer in 2016, and the iconic What's Love Got To Do With It and The Proud Mary singer underwent surgery to remove part of her intestines for treatment. In 2017, she also had a kidney transplant with her husband as the kidney donor.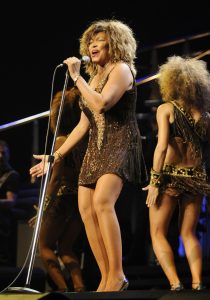 "I know that my medical adventure is far from over. There's always another test, another doctor's appointment or biopsy to get through," Turner wrote in her 2018 memoir, Tina Turner: My Love Story. "We're both still here, closer than we ever imagined and that's cause for ­celebration."
RELATED: Tina Turner Releases 'What's Love Got To Do With It?' Remix — Rock Legend Thriving After Intestinal Cancer
Most recently in her career, the 81-year-old superstar finally earned a solo spot in the Rock & Roll Hall of Fame in Cleveland, Ohio.
"If they're still giving me awards at 81," Turner said in a video message. "I must have done something right."
Elton John
Elton John is another artist you'd be remiss to exclude from your playlists. The 74-year-old performer is known far and wide for both his singing and piano-playing abilities, but did you know he also survived prostate cancer?
John was diagnosed with prostate cancer in 2017 and subsequently had surgery to remove his prostate. And despite an overall successful operation, it led to some scary complications post-procedure. He later revealed he spent 11 days in the hospital fighting for his life.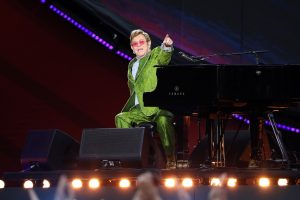 "I didn't really know how close to death I was," John wrote in his autobiography Me. "I was ill because I kept saying, 'Please let me get well. I want to see my kids.' But I had tubes coming out of every part of my body, and it took me seven weeks to recover from that when I went home."
But despite a harrowing cancer journey, the Bennie and the Jets singer didn't let the disease slow him down.  He continued on with his touring and even admitted to wearing a diaper while on stage after his procedure.
And in recent news, his latest album, The Lockdown Sessions, reached the number one spot in the UK. His 32nd studio album features a star-studded list of collaborators, including Dua Lipa, Young Thug, Nicki Minaj, Miley Cyrus, Yo-Yo Ma, Lil Nas X, Eddie Vedder, Stevie Wonder, Stevie Nicks, Glen Campbell and more. The songs were all recorded over the course of the pandemic after John had to pause his farewell tour.
So, whether you're exclusively into a more 'classic' Elton John sound and wanting to stick with Rocket Man or Tiny Dancer, or you're looking to dive into some of his recent collaborations with today's hottest stars via the likes of Cold Heart or Learn to Fly, there's truly something for everyone.
Sheryl Crow
Sheryl Crow, 59, is another singing icon who's been open about her previous cancer journey. In 2006, She was diagnosed with ductal carcinoma in situ (DCIS) – also known as stage zero breast cancer – at the age of 44. A DCIS, or stage zero cancer, diagnosis means abnormal cells are found in the breast milk duct and have become cancerous but have not yet metastasized – or spread – to other parts of the body.
RELATED: 'I Came Out of that Relationship & Also Had Breast Cancer,' Says Superstar Sheryl Crow Reflecting on Grieving Cancer & a Breakup on Hoda Kotb's Podcast 'Making Space'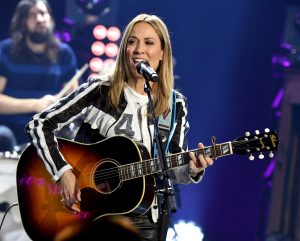 Crow's cancer diagnosis came after a routine mammogram, but it was an appointment she almost skipped. Thankfully, her gut instinct told her not to put off the mammogram, she says.
"It never occurred to me that the mammogram would find anything because I have no family history and I had no signs of it, no lumps or anything like that," Crow once told People magazine. "And I was extremely, and still am, very healthy, very athletic and fit. I just didn't think I would be a candidate at all."
For treatment, Crow underwent a lumpectomy followed by 33 radiation treatments over 7 weeks. Today, her cancer is in remission, and she's become a proud advocate for breast cancer screenings while also continuing to perform for cheering fans.
Her latest album, Live From The Ryman And More, was just released this past summer. And for people wanting a refresh on classics like All I Wanna Do and If It Makes You Happy, they need not look farther than the 27-song live album recorded in 2019.
Mark Hoppus
For those of you more interested in a bit of pop punk, check out Mark Hoppus – one of the founding members of the cult-favorite band blink-182.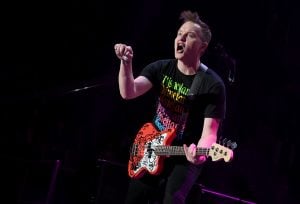 Hoppus was diagnosed with stage 4 diffuse large B-cell lymphoma, a type of blood cancer, in June but recently entered remission after chemotherapy treatments. In his cancer-free announcement, he shared that he would "still have to get screened every six months" and would not fully recover from the chemo until the end of the year. Part of that recovery, unfortunately, has included chemo brain, or brain fog – a sense of mental cloudiness experienced by people treated with chemotherapy.
RELATED: Blink-182's Mark Hoppus Says He Accidentally Told the World About His Cancer Diagnosis Because of Brain Fog; What to Know About This Common Chemo Side Effect
"The chemo brain is just heartbreaking to me because I can feel myself diminished mentally right now," he said in a recent interview with GQ.
But despite his health battle, Hoppus has remained positive and relished in the support he's received from friends and fans alike. So, add I Miss You, All the Small Things, What's My Age Again? or other blink-182 classics to the queue if you're looking to support a resilient cancer warrior just on the other side of the disease.
Patty Griffin
Singer-songwriter Patty Griffin, 57, is known for her soulful voice and beautiful storytelling capabilities, but the Heavenly Day singer is also a breast cancer survivor who, like many warriors, took a break from work after her diagnosis.
RELATED: Patty Griffin Says Her Breast Cancer Was a Struggle, But a Passing Phase Like Anything Else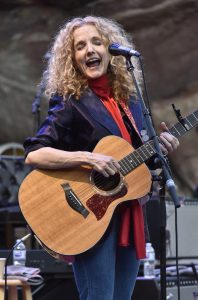 The Grammy-award-winning singer was diagnosed with breast cancer in 2016 and underwent surgery and radiation before being cancer-free. But, understandably so, it took Griffin about two years to be ready to return to music because the treatment even took her voice for a period of time.
"[The toughest part] was having to reset the way I thought about everything and even my identity about myself," she told People. "I always thought of myself as somebody who could sing really well, and to lose all of that is quite something. When you're a singer, you're an athlete and that just stays true for as long as you decide to be a singer. Your body is your instrument, so there was a lot of work to do there."
Thankfully, Griffin is back to doing what she does best. And if you want to join her in celebrating the 25th anniversary of her debut album, check out Living With Ghosts.
Elvis Costello
Declan Patrick McManus, more commonly known by his stage name Elvis Costello, is another must-add artist to your music library known for showcasing his wide range of style capabilities particularly during the punk and new-wave movements. But the 67-year-old Alison singer has also battled cancer.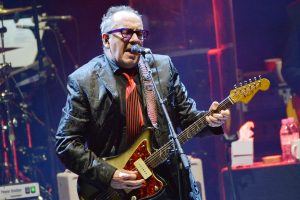 Costello learned of his prostate cancer in 2018 which, at the time, he referred to as "a small but very aggressive cancerous malignancy that could be defeated by a single surgery." Thankfully, he was able to undergo the surgery and received a clean bill of health in time to return to his tour – though he would later reschedule some tour dates that summer after discovering that the recommended recovery time is a bit different for a touring musician. Now, he encourages his male friends to get screenings.
RELATED: Singer Elvis Costello, 66, Quietly Beat Prostate Cancer 2 Years Ago; New Album Shows Pure Resilience
"Take very good care of your loved ones, but Gentleman, do talk to your friends – you'll find you are not alone – seek your doctor's advice if you are in doubt or when it is timely and act as swiftly as you may in these matters," Costello said. "It may save your life. Believe me; it is better than playing roulette."
In a recent interview with USA TODAY, Costello discussed his battle with prostate cancer but assured readers he was doing just fine.
"I'm tickety boo, as they say in England. I'm fine; I'm very fortunate," he said. "I couldn't even presume to place myself in the class of people who had an illness (whereas) I had a misfortune. I'm good, and thank you for asking."
And if you're looking for new music from the Grammy award winner, you won't have to wait long. His newest album, The Boy Named If, will be released nest year, but you can check out one of the album's songs, Magnificent Hurt, right now.
Dave Mustaine
And for all the heavy metal fans, we have an inspiring music recommendation just for you too: Megadeath. This suggestion comes as result of Dave Mustaine, the band's co-founder, and his inspiring cancer journey.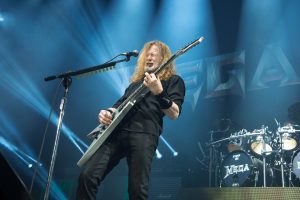 Mustaine was diagnosed with throat cancer in 2019 and declared "cancer free" in February 2020. The 60-year-old singer-songwriter and guitarist said he had "51 radiation treatments and nine chemo treatments."
"When it was all said and done, every day I would think, 'I can't face not playing again,' so I would pray," he said.
But caner was not the only challenge Mustaine has had to overcome. He has also had to overcome drug addiction  – something that he believes prepared him for his throat cancer diagnosis.
RELATED: Megadeth's Dave Mustaine Says Drug Addiction Struggle Prepared Him For Throat Cancer Fight: "I Already Had a Life or Death Battle Once"
"I already had a life or death battle once before back in 1992 [substance abuse], and with my arm shutting down [injury] back in 2001. I've had a lot of these challenges, but this, by far, was one of the gnarliest ones," Mustaine previously told Forbes. "Not to try and be glib about what was going on, because it certainly was serious stuff, but I stayed focused. I listened to the doctors, prayed a lot, took care of myself and had a great support group."
And that resilience paid off because crowds everywhere still get to hear his signature vocals. If you're looking to experience them too, check out Megadeath's classics like Symphony of Destruction or Holy Wars… The Punishment Due.
Learn more about SurvivorNet's rigorous medical review process.