Beloved actor René Auberjonois has died of metastatic lung cancer.
Auberjonois, 79, is perhaps best known for playing Colonel West in the 1991 Star Trek film "Star Trek VI: The Undiscovered Country," and Odo in the series "Star Trek: Deep Space Nine."
Read More
But the accomplished actor also won a Tony for his role in "Coco" opposite Audrey Hepburn. He frequently collaborated with Robert Altman, playing Father Mulcaly in the movie "M*A*S*H*." He also voiced Chef Louis in "The Little Mermaid," and Paul Lewiston on the TV series "Boston Legal."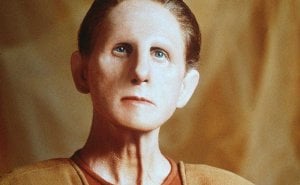 The Star Trek community has taken to Twitter to remember their friend with kind words, including William Shatner.
I have just heard about the death of my friend and fellow actor @reneauberjonois. To sum up his life in a tweet is nearly impossible. To Judith, Tessa & Remy I send you my love & strength. I will keep you in my thoughts and remember a wonderful friendship with René.

— William Shatner (@WilliamShatner) December 8, 2019
Nana Visitor, who played Kira Nerys in "Star Trek: Deep Space Nine," posted in his honor as well.
I love and respect Rene more than I can say right now. This beautiful soul. My heart. Oh pic.twitter.com/ohNOq0c0Si

— Nana Visitor (@NanaVisitor) December 8, 2019
And actor Kitty Ann Swink posted a photo of Auberjonois.
Probably 25 years or more ago. A happier day. René lived everyday grabbing it with both hands. I hope I never lose the lessons that he taught, the laughs that he gave or the friendship that he shared. pic.twitter.com/ZNIN0JeN7C

— Kitty Ann Swink (@KitSwink) December 8, 2019
Information about Lung Cancer Diagnoses
Annual lung cancer screening is recommended for people between ages 50 and 80 who have smoked or are otherwise at high risk.
It's often a pulmonologist or lung specialist who makes the initial lung cancer diagnosis by evaluating symptoms, such as coughing and shortness of breath, and analyzing a subsequent lung biopsy.
The next step is typically a meeting with a medical oncologist and/or several other specialists — including a thoracic surgeon and a radiation oncologist — to determine the stage and extent of the cancer. This important process may include scans of the chest, abdomen, pelvis and brain to see if the cancer has started to spread outside of the lung. The results will guide treatment decisions.
Dr. Leena Gandhi, who most recently served as Director of Thoracic Medical Oncology at NYU Perlmutter Cancer Center, on diagnosing and determining treatment for lung cancer.
If the cancer is local, meaning just in the lungs, surgery might be an option. But if it has spread to the lymph nodes, medical therapy such as chemotherapy, targeted drugs and/or radiation can be as effective as surgery. However, if the cancer has spread outside of the lungs, chemotherapy and/or targeted drugs are used to control the cancer's growth as much as possible.
Stage 4 Lung Cancer Treatment
Stage 4 lung cancer means that your cancer has spread to other organs that may include your brain, liver and/or bones. The goal of therapy is to treat the entire body in order to destroy every last remnant of the cancer. In the past, chemotherapy, which kills all fast-growing cells in the body, was considered the treatment standard for stage 4 lung cancer, but times have changed.
Dr. Geoffrey Oxnard, Thoracic Oncologist at Dana-Farber Cancer Institute, gives an overview of stage four lung cancer treatment
Precision medicine, or matching the treatment to your tumor's individual biology and characteristics, is the way forward. For example, if your cancer is over-expressing epidermal growth factor receptor (EGFR) — a protein that makes cells grow and divide — drugs blocking EGFR may be used. Targeted therapy seeks out very specific cancer cells and leaves the healthy cells alone. Chemotherapy tends to cause a lot of collateral damage because it kills all fast-growing cells–both healthy and cancerous.
Today, many researchers are looking at combining chemotherapy with some of the newer precision lung cancer drugs for even better tumor control.
Learn more about SurvivorNet's rigorous medical review process.
---