Battling Metastatic Breast Cancer
As "Street Outlaws" reality TV star Lizzy Musi undergoes treatment for triple-negative stage 4 breast cancer, the race car driver has received an incredible amount of support from fans and loved ones.
Musi, whose cancer has already spread to her lymph nodes and liver, took to Instagram this week to offer fans some insight into her treatment process.
Stage 4, also known as metastatic, breast cancer means that your cancer has now spread to distant areas of the body. Even though there is currently no cure for metastatic breast cancer, doctors have many options to treat this stage advanced stage of breast cancer.
For more info on advanced breast cancer treatments, visit SurvivorNet's "Breast Cancer: Later Stage "page.
Fan-favorite "Street Outlaws" star Lizzy Musi, 32, is receiving an outpouring of prayers and support as she begins treatment for stage 4 breast cancer — otherwise known as metastatic breast cancer (meaning the cancer has spread beyond the breast to other areas of the body. And it's undoubtedly giving her much-needed support as she starts this new chapter in her journey.
Musi, known as a regular race car driver on the Discovery Channel reality TV show "Street Outlaws: No Prep Kings," took to Instagram this week to offer fans some insight into her treatment process.
Read More
Footage taken from what appears to be
the inside of a hospital room
shows a two-way communication board on the wall of Musi's room explaining her "daily plan of care goals."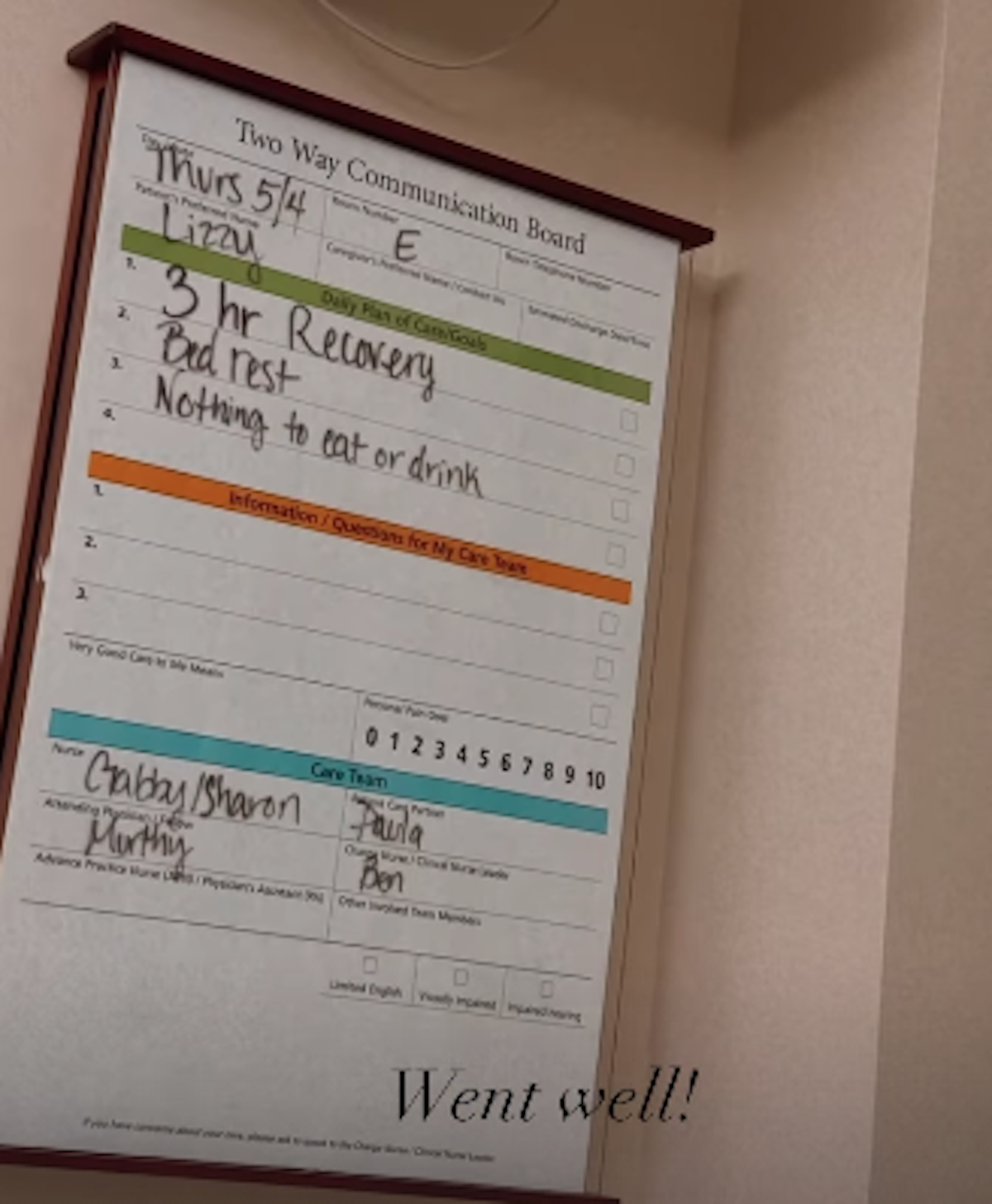 The three tasks listed for the day were a three-hour recovery, bed rest, and nothing to eat or drink. The first names of her care team staffers were also listed on the board, revealing she had a nurse, charge nurse, patient care partner, and attending physician/fellow on hand. In overlay text, Musi wrote, "Went well" — offering a sense of ease for her followers.
Musi also took to her Instagram story to share a screenshot of sweet words shared by Ashley Barado — owner and graphic designer of InvitoBella, a Louisiana-based wedding stationer.
"If I can't tell you about the power of prayer first hand for my family, than I don't think anyone can," Barado wrote on her InvitoBella Instagram story. "Please keep my sweet bride, @lizzymusi in your prayers! Lizzy was recently diagnosed with breast cancer. She's the sweetest, most gracious bride I've ever had the pleasure to work with."
Barado continued, "Prayers for healing & understanding and guidance for her entire family & friends. Lizzy posts regularly on her YouTube channel as well about her journey as well as her kickass career so feel free to follow along with her and @therealkylekelley!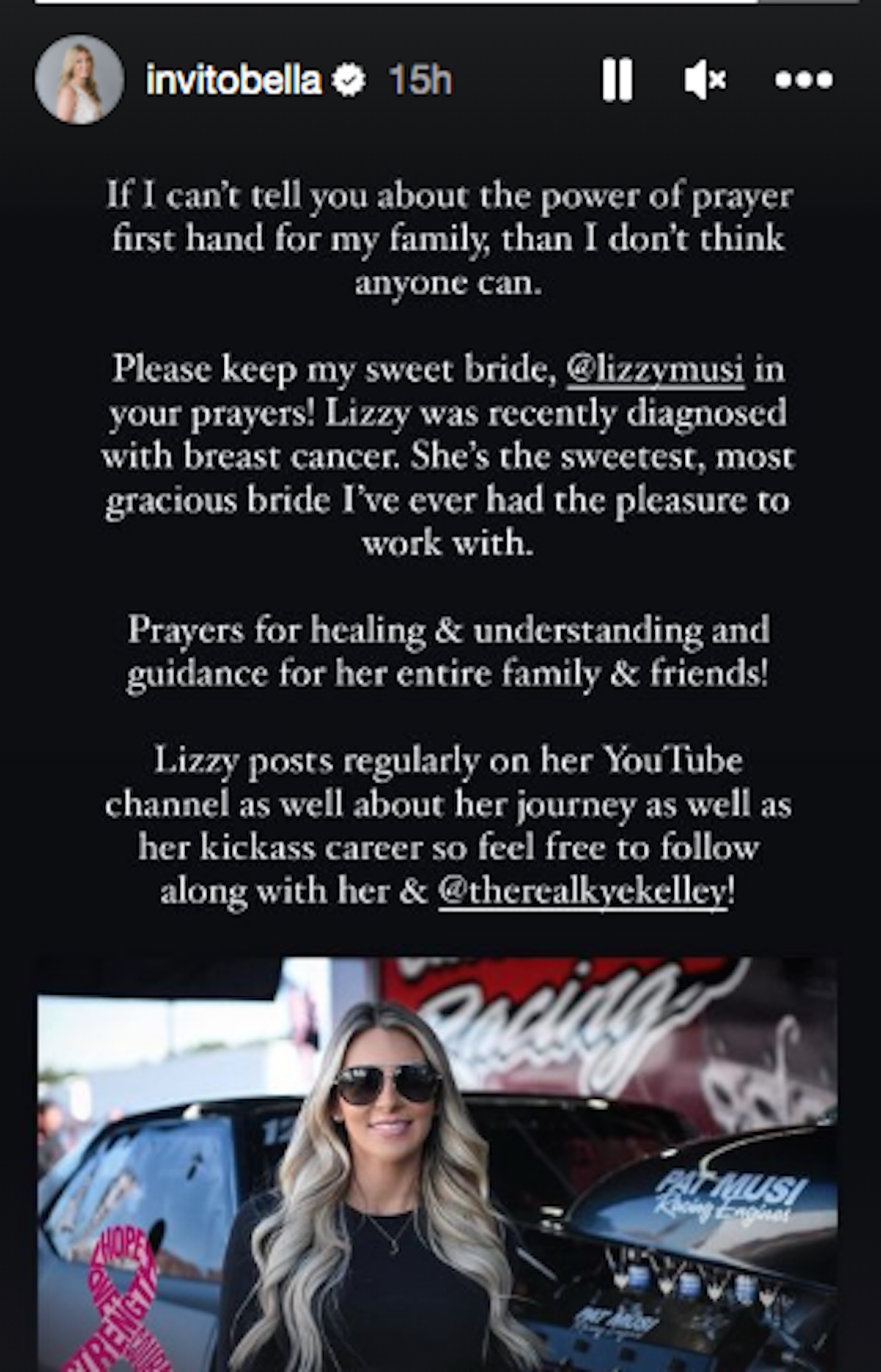 Musi, who has been preparing for the next racing season, with the 2023 season kicking off on June 2-3 at National Trail Raceway in Hebron, Ohio, was diagnosed with metastatic breast cancer after doctors had dismissed a lump in her breast while undergoing breast augmentation surgery (a procedure to increase the size of the breasts, Mayo Clinic explains).
On April 21, she wrote on Instagram, "Hey Everyone, I haven't been able to have much time to post due to an unexpected life change. A few days ago I have been diagnosed with Triple Negative Stage 4 Breast Cancer that has moved to my lymph nodes to my liver. I have a rough journey ahead of me. I appreciate everyone's messages and calls."
Musi began chemotherapy treatments in the latter part of April, and she may need radiation therapy next, but she is taking this cancer battle day by day with the utmost amount of hope.
RELATED: 'Street Outlaws' Star Lizzy Musi 'Not Ready' to Cut Long Blonde Hair Ahead of Stage 4 Breast Cancer Treatment
In her most recent YouTube video, Musi and her husband revealed that she was accepted for treatment at a top U.S. cancer facility: MD Anderson Cancer Center in Houston, Texas.
Musi's cancer journey comes as she's in the running for People's Choice Captain for Discovery Channel's upcoming "Street Outlaws: No Prep Kings," which is set to begin filming in June.
She previously took to Instagram to inform her fans she's running for team captain, writing, "Hey guys! There will be a people's choice for the last spot of a team captain. Going to give it my all for the upcoming treatments! If I do become one I know I will have a team of warriors! You can vote by clicking my link in the bio."
View this post on Instagram
Understanding Stage 4 Breast Cancer
Stage 4, also known as metastatic breast cancer, means that your cancer has now spread to distant areas of the body. Even though there is currently no cure for metastatic breast cancer, doctors have many options to treat this advanced stage of breast cancer.
Hormone therapy, chemotherapy and targeted drugs are all treatment options to discuss with your doctor, depending on your individual needs. At times, surgery and/or radiation is considered as part of the treatment. However, focusing on improving your quality of life is the most important.
A Leading Expert Discusses Metastatic Breast Cancer
The course of treatment for metastatic breast cancer patients largely depends on the specific needs of the woman, whether they need an aggressive chemotherapy or depending on the doctor's assessment, they may benefit from another medication.
For hormone-receptive positive cancer breast cancer patients, doctors try to see how long they can keep patients on oral therapies. Very often, newly diagnosed metastatic hormone receptive-positive breast cancers (where cells have either estrogen (ER) or progesterone (PR) receptors or both) respond best with different hormonal medications, and sometimes for many many years.
Dr. Erica Mayer, a medical oncologist at Dana-Farber Cancer Institute, says clinical trials have shown that hormone medicines are more effective when paired with targeted therapies. At some point, chemotherapy will be introduced, which according to Dr. Mayer, is delivered at a dose and schedule that's as well-tolerated as possible.
The First Immunotherapy Approved For Breast Cancer
"We are so lucky in breast cancer that we have so many effective and well-tolerated treatments," Dr. Mayer told SurvivorNet in an earlier interview. "I'm so gratified to see that patients are doing better and living longer today with metastatic breast cancer than they have ever done before."
Overall, there is no one-size-fits-all type of breast cancer treatment, so options may include:
Bottom line, there are more and more options becoming available for patients to manage symptoms of advanced-stage disease, and it's best to talk about specific treatment plans and what is best for you with your own doctor.
Treating Metastatic Breast Cancer
Expanded Use Of Enhertu For Metastatic Patients
A major advancement in the treatment of metastatic breast cancer came with a new classification of some advanced breast cancers called "HER2-low." This means that women previously classified as HER2-negative could qualify for certain treatments like Enhertu (generic name trastuzumab deruxtecan), which is a Food and Drug Administration (FDA) approved drug used for certain stage 4 breast cancer patients.
Breast cancer cells with higher than normal levels of HER2 are called HER2-positive, found in 15-20% or all breast tumors. While they tend to grow faster, they are much more likely to respond to treatment with drugs that target the HER2 protein.
HER2-low cancers do not meet the threshold for HER2-positive tumors, but they still have a minimal amount of HER2 expression. So with the new grouping, HER2-low patients that may have previously been classified as HER2-negative may have the ability to take advantage of life-changing treatments like Enhertu, which can extend overall survival rates.
Earlier therapies targeting cancer tumors with HER2 (Human Epidermal Growth Factor 2)-low proteins, such as trastuzumab (brand name: Herceptin), have largely failed to benefit the HER2-low population, representing a large fraction of the diagnosed breast cancers.
The benefit of Enhertu for this population, which has been demonstrated in the DESTINY-Breast04 trial, is so significant that it has already been incorporated into the National Comprehensive Cancer Network (NCCN) Guidelines for the treatment of HER2-low tumors, which have failed at least one prior line of chemotherapy, or HER2-positive tumors which have become immune to the traditional hormone therapies.
RELATED: Alert for Women With Breast Cancer: What The Amazing New Findings About The Drug Enhertu Mean For You & What To Ask Your Doctor 
Enhertu "has been around for a few years, and it's very effective in the HER2-positive population," Dr. Julie Gralow, MD, FACP, FASCO, the chief medical office and the executive vice president of the American Society of Clinical Oncology, previously told SurvivorNet.
RELATED: Is Your Breast Cancer HER2 Negative? How To Get Tested For A New Drug That Prolongs Life
"Now, however, we have a whole, huge group [HER2-low] of patients who have the potential for benefit, who we never even thought of giving HER2 targeted therapy to." Dr. Gralow explained, noting this represents yet another leap in using tumor characteristics to inform an individualized, targeted treatment for each patient, which usually begets improved patient outcomes.
Do You Have HER2-Positive Metastatic Breast Cancer? Here's A Breakdown Of Some Of Your Treatment Options
Enhertu is a targeted therapy approach called an antibody-drug conjugate, or ADC. That means that Enhertu is made up of a monoclonal antibody chemically linked to a drug.
The monoclonal antibody portion of an antibody-drug conjugate binds to specific proteins or receptors found on certain types of cells (including cancer cells) and then the linked drug enters the cells and kills them without harming other cells.
RELATED: FDA Approves Diagnostic Test to Identify Patients with Metastatic Breast Cancer Expressing Low Levels of HER2
Trastuzumab is the antibody for Enhertu and durexecan is the payload, or chemo. So trastuzumab binds onto whatever HER2 proteins it can find on cancer cells and then durexecan prevents the cells' DNA from replicating.
Right now, Enhertu can be used in certain patients with HER2-positive and HER2-low metastatic breast cancer (having metastatic cancer means it has spread beyond its place of origin).
Having a Strong Support System
We love how Musi is keeping an attitude of gratitude and keeping positive during this difficult time, stating in her recent YouTube video post that she's "confident after talking to doctors" that's she'll be able to race again soon.
It also appears that the racer has a strong support network through cancer, something that is extremely important.
'Faith, Family, and Friends' Helped Beverly Reeves Get Through Cancer Treatment
Ovarian cancer fighter Beverly Reeves previously spoke with SurvivorNet about how she thinks having a strong community during cancer is critical.
She told SurvivorNet, "If I had one piece of advice for someone who had just been diagnosed with ovarian cancer, it would be to get a strong support group together. Get your close friends. If you're connected to a faith community, get your faith community."
"Get your family. Let them know what's going on and let them help you. And sometimes that's the most difficult thing to do, but just know that they are there. If they love you, they're there to help you," she continued.
Contributing: SurvivorNet Staff
Learn more about SurvivorNet's rigorous medical review process.
---