For a lot of people, one of the most difficult parts of recovering from cancer treatments is when family dynamics continue, and in some cases intensify, even though cancer takes up so much energy. For Ami Brown, matriarch of the Alaskan Bush People reality TV family, dynamics have not stopped changing within the family, and drama hasn't ceased at all, even though she's recovering from treatment for stage three lung cancer.
RELATED: Alaskan Bush People's Ami Brown "Really Wants" Troubled Son Back in Her Life As She Recovers From Cancer– is it Safe?
Read More
Ami's son Bear Brown, 32, and his fiancé Raiven Adams, just called off their wedding, leading to a huge amount of fan speculation and drama about why their relationship didn't work out. "After recently announcing their engagement, Bear and Raiven have decided to remain friends. Click the link in bio for more info," the official Alaskan Bush People Instagram posted alongside a photo of Bear, deep in thought, after his relationship fell apart.
Supporters of Bear and the family quickly jumped in to support Bear, saying that it's for the best, "Maybe for the best, better you find out before wedding!"
RELATED: Ridiculed For Moving To Seek Cancer Treatment — "Alaskan Bush People" Matriarch Ami Brown Bravely Fights On
Some said that Bear will get through the hard times, "Bear is a bad ass he will find the right girl she has to be very special and his match for sure I have no doubt there is a perfect girl out there for Bear"
And other wrote about how to stay respectful during times of conflict and turmoil, "The best thing is too make no assumptions on other people's lives and wish them both well. No judgements, just too be respectfully kind. I hope that they are both okay."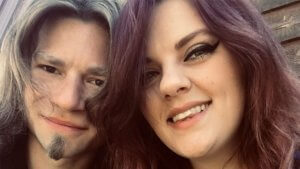 One even supported Raiven, who has taken a lot of the heat over their separation, and been blamed for a lot of the problems in their relationship, "Its so horrible that Raiven was hounded with awful untruths about her and about Bear. If she can not be her sweet, amazing self and enjoy her life with Bear then they had to part. Bear can handle it but he has spent a lot of years in front of the camera, enduring haters. All of the Browns deserve to be praised not belittled. [heart]"
For Raiven's part, she seems to be trying to give the family their space to grow, while saying that their lifestyle just wasn't working for her.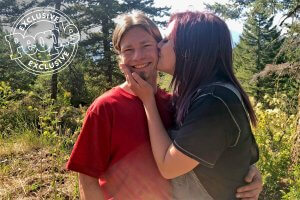 "It's been a long battle for me to decide what I should do. What I should say… I think this life is to much for me. The drama, the articles the harassment. The mean people who have nothing better to do," she wrote in an online statement. "And due to that, and Several other reasons me and bear have decided to stay friends. Sometimes two people are meant to be in each other's life…. but not the way they thought. Wishing the wolf pack all of the best luck on every adventure."
And Bear posted a contemplative photo of a night sky, with one simple caption: "Sometimes people are better off as just friends."
Amis's cancer journey
Ami Brown was first diagnosed with stage 3 lung cancer in 2017.
Because of Ami's cancer, the family moved from their house on the Alaskan frontier in "Browntown," to a 435-acre property in the North Cascade Mountains of Washington State, where they'd be closer to civilization and to the medical care Ami would need.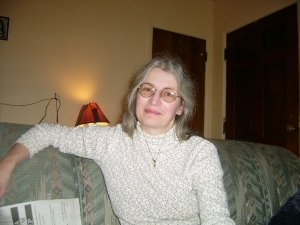 After some trolls inconsiderately called into question the veracity of Ami's claim that she had cancer, doctors from UCLA Medical center came forward to confirm the diagnosis.
"Amora Brown was diagnosed with Stage III non-small cell lung cancer in April 2017," read the doctor statement in People magazine. "Treatment for her cancer included a four-month course of chemotherapy with radiation. Her disease responded well to the treatment, and, according to her UCLA oncologist Dr. Deborah Wong, she is now in remission.  Although her most recent scans show no evidence of cancer, "Amora will continue to be monitored closely by her medical team over the next several months," UCLA said.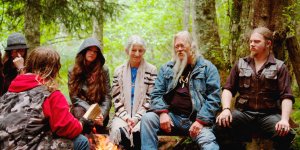 Brown has not been declared cancer free. "It was very scary," Ami told People magazine about her cancer journey. "But I never gave up hope."
How is Lung Cancer Treated?
We don't know everything about Ami's case, but her treatment with chemotherapy and radiation is consistent with standard practices for stage three lung cancer. There are few types of stage three lung cancer, but the disease can be treatable.
Patients diagnosed with Stage 3 lung cancer have tumors that are not only in the lungs but have also spread to nearby lymph nodes. Depending on how advanced this spread is and the patient's health, doctors will choose some combination of radiation therapy, chemotherapy, or possibly surgery.
Dr. Keith Cengel, Radiation Oncologist at University of Pennsylvania on treatment for stage 3 lung cancer
Bone , PET, CT and MRI scans help doctors get an idea of how much the cancer has spread, and then make treatment decisions. If radiation is the treatment of choice, high energy beams are aimed at the cancer. This basically damages the DNA inside cancer cells, preventing them from growing or creating more cancerous tissue.
"There's the opportunity with aggressive therapy to try to cure the cancer," says Dr. Billy Loo, Jr., a radiation oncologist and bioengineer who leads the Thoracic Radiation Oncology Program at Stanford.
Information about dealing with fear and negative emotions during cancer
Anxiety and fear are totally normal reactions to the news of cancer, and acknowledging these emotions can be therapeutic and important to the healing process.
"I think the most important advice I would give to someone who has just received a cancer diagnosis is to find people whom they find as a source of support. To allow themselves to go through all of the different emotional reactions to that news," said Dr. Susan Parsons, Director of the Center for Health Solutions/Center on Child and Family Outcomes at Tufts Medical Center, in a prior interview with SurvivorNet. Dr. Parsons did not comment on this case specifically.
"The anger, the frustration, the fear. The disappointment. Whatever those emotions are, figure out what's important to you and find those people that can help you realize that."
Dr. Susan Parons, Director of the Center for Health Solutions/Center on Child and Family Outcomes at Tufts Medical Center on dealing with fear and anxiety after a cancer diagnosis.
In times of frustration, it can be useful to a little bit of direction on specific ways to deal with it. A few of the most common ways to deal with fear and anxiety after a cancer diagnosis, that have helped people in the SurvivorNet community in the past, include:
1. Let your family and close friends know – and let them help. So many cancer survivors tell us they want and need support but are often too preoccupied to make specific requests. Urge those close to you to jump in with whatever practical help they can offer.
2. Keep a journal. It can be extremely cathartic to let those feelings loose on paper. Grab a pen and a nice journal and chronicle your different thoughts throughout the day.
3. Join a cancer support group. There are groups in nearly every community offering opportunities to connect with others going through a similar journey. You'll learn incredibly helpful insight from others who can tell you about what to expect and how to stay strong on tough days.
4. Consider seeing a therapist. Ask your doctor to refer you to a therapist so you can discuss your fears and concerns in a safe space. Often, vocalizing your thoughts and feelings rather than internalizing them can provide relief.
Learn more about SurvivorNet's rigorous medical review process.