A Famous 'Survivor' Hits the Pavement
Former Survivor winner and two-time cancer survivor Ethan Zohn is celebrating ten years of remission by running the Boston Marathon.
Blood cancers can affect the bone marrow, blood cells, lymph nodes and other parts of the lymphatic system. The Leukemia & Lymphoma Society reports that every 3 minutes, one person in the U.S. is diagnosed with a blood cancer.
Cancer will change your life, but we've seen survivors thrive time and time again. Ovarian cancer survivor Marecya Burton, for example, found her new passion after beating the disease. And breast cancer survivor Fernanda Savino says that cancer brought her a new appreciation for her relationships and her body.
Reality star Ethan Zohn won season three of the hit
CBS
show
Survivor
, and then went on to beat cancer twice. And, now, the Lexington, Massachusetts, native is celebrating ten years of remission in a big way – by running the Boston Marathon.
Zohn, 48, has run the Boston Marathon before, but this time should go much differently. When he ran in 2013 to celebrate one year out from his second stem cell transplant, he was stopped just short of the finish line. He
Read More
"They pulled me off the course at Mile 24 because of the terrorist bombings, so to be back, able to actually finish the race, it's like my whole life is kind of coming to here,"
he said
.
This time the former professional soccer player will be running the marathon for AKTIV Against Cancer, an organization that works to ensure that exercise is an integral part of cancer treatment. He'll also be running as an official ambassador of Momenta, a brand within the Trulieve Cannabis Corp. This is a brand near and dear to Zohn's heart because he turned to cannabis (also called marijuana) to "mitigate some of the side effects of cancer treatments" and, now, will use it to help him through his marathon on April 18.
"I'd much rather use this than crush like three Advil, take a caffeine gel at Mile 13 — all this stuff people are taking anyway," he said.
A Survivor Winner's Cancer Story
Zohn was diagnosed with CD20-positive Hodgkin's lymphoma when he was just 35-years-old. He then underwent chemotherapy, radiation and two stem cell transplants for treatment.
RELATED: "Survivor" Champion Ethan Zohn Says Meditation & Mindfulness Helped Him Battle Lymphoma
But for this survivor in more ways than one, the most difficult part of his cancer journey was not receiving his diagnosis or learning that his disease had returned – first after chemotherapy and later following a failed stem cell transplant – but rather adjusting to life after he beat the disease.
"You know, when a doctor tells you to do something, or you'll die, you pretty much do it," Zohn previously told SurvivorNet. "There's no choice, and so it was kind of easy for me to go through cancer."
RELATED: 'Cancer Twice, Don't Have a Job, Can't Have Kids': 'Survivor' Winner Ethan Zohn Reveals Post-Cancer Struggles With Dating and Confidence and How His Now-Wife Got Him Back on Track
With so much on his mind as a young cancer survivor, Zohn really struggled. That's why he eventually teamed up with the Lymphoma Research Foundation to spread awareness about all stages of the cancer journey in the hopes that others wouldn't feel as lost after conquering cancer.
"As a young adult facing a cancer diagnosis and then living in remission, there's so many, you know, aspects of our journey that differ from pediatrics and older adults," Zohn said. "It's fertility; it's insurance, it's getting your job, it's dating, marriage. All this stuff is going through your mind, and they're just weren't that many resources for me to look into."
Thankfully, he's been cancer-free since 2012, and still has a desire to champion for other cancer survivors. All of us at SurvivorNet are wishing him the best as he takes on the Boston Marathon.
SPOLER ALERT: News about a Current Survivor Contestant
In more recent Survivor news, we have a sad update to share about Daniel Strunk – a 30-year-old contestant on the current season of the show who battled leukemia as a child.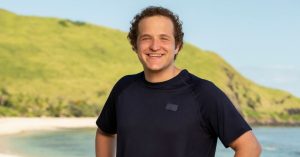 RELATED: 'It's A Lifelong Dream!' Ohio Man Competes On 'Survivor' After 'Surviving' Brave Cancer Battle
Unfortunately, he was just voted off of his tribe on last night's episode. But even though you could feel his disappointment, Strunk still had a good attitude when the iconic host Jeff Probst snuffed out his torch.
"Only once in a lifetime, I'm gonna enjoy this," he said as Jeff extinguished his fire.
The episode ended with a recap from Strunk about how he felt about his exit from the show.
"I got totally blindsided," he said. "I would have preferred to execute the blind side, but at least I got a form of blindside – that's part of the Survivor experience."
He ended his closing remarks with a heartwarming sentiment that reflects his resilient attitude as a childhood cancer survivor.
"If I could've scripted my life, I probably wouldn't have given myself leukemia right?" he said. "And if I could've scripted survivor, I probably would've had myself winning. But the beauty of life is that it's unscripted – that's how we find meaning in it."
What Are Blood Cancers?
Both Zohn and Strunk battled different types of blood cancers – Hodgkin lymphoma and leukemia respectively. Other types of blood cancers can include myeloma, myelodysplastic syndromes (MDS) and non-Hodgkin lymphoma, among others.
Blood cancers can affect the bone marrow, blood cells, lymph nodes and other parts of the lymphatic system. The Leukemia & Lymphoma Society reports that every 3 minutes, one person in the U.S. is diagnosed with a blood cancer.
What Is a Blood Cancer – How Is It Different?
University of California at San Francisco hematologist-oncologist Dr. Nina Shah has previously told SurvivorNet that having a blood cancer generally means your bone marrow is not functioning correctly which can lead to conditions like anemia – a deficiency of healthy red blood cells.
"Or you can have low platelets, which makes it possible for you to bleed easily. Or your immune system is not functioning correctly. And you can have infections that most people won't have," Dr. Shah said. "One cell got really selfish, and decided that it needed to take up all the resources of everybody else. And, in doing so, took up space and energy from the rest of the body."
Thriving as a Cancer Survivor
A cancer diagnosis will change your life. But as we've seen in the case of Zohn and Strunk, it is more than possible to thrive on the other side of your cancer journey.
Take Marecya Burton, for example. She was diagnosed with ovarian cancer at just 20 years old. Burton was a college student-athlete looking forward to graduation at the time, but all that had to change when she was forced to move home to start treatment.
Former College Cheerleader Reinvents Herself After Surviving Ovarian Cancer
"That was definitely challenging for me," Burton said in a previous interview with SurvivorNet. "I was looking forward to graduating."
She also had planned on pursuing a law degree after graduation – another dream she had to give up.
RELATED: 'Up in the Clouds': Model and Ovarian Cancer Survivor Ash Foo, 24, Is Seeing Her Dreams Come True as a Billboard of Her Now Stands in NYC
"I really had to, in a sense, put my life on hold," she said. "Sometimes I look at where I am, and I can't help but wonder, would I be further had I not had my diagnosis?"
But instead of law school, Burton found a new passion: teaching. She became a high school teacher in Baltimore, Maryland, and she's since made peace with her new direction in life.
"I wouldn't change my career for the world," she says. "It's so fulfilling."
Other survivors, like Fernanda Savino, have said that cancer gave them a whole new perspective on life – one that has allowed her to appreciate both her body and her relationships more than ever.
'Cancer Brought Me So Many Lessons' Says Survivor Fernanda Savino; It Can Change Your Perspective On Life
"I'm a lawyer, and I used to be such a workaholic," Fernanda previously told SurvivorNet. "I would work for long hours, and I would never make room for doctor appointments or anything like that.
"I started to take care of my health and be more respectful to my body, to me. I started to exercise more."
Like so many others, Fernanda also said she relied on a lot of support from her loved ones – something she'll always be grateful for.
"I had all the support … my family, my friends, even the ones that weren't so close, they always were present," she said. "I don't know how I would have gotten through all of this without them."
Learn more about SurvivorNet's rigorous medical review process.