An incredible high school swimmer named Lydia Cole found out she had cancer when she started feeling a pain in her side — but even after the diagnosis, she hasn't stopped swimming.
Cole has been a swimmer for the past eleven years and currently swims for the Thornapple Kellog High School outside of Grand Rapids, Michigan. This spring, after she told doctors about the pain she was feeling,  doctors diagnosed her with neuroendocrine cancer, a type of cancer that can occur in many different places in the body — in her case, it occurred on her pancreas. She also had tumors on her liver.
Read More
"I'm just really happy that I made it through the entire season," Cole told
Fox17 in West Michigan
. She initially wasn't sure whether chemotherapy would make it harder for to swim.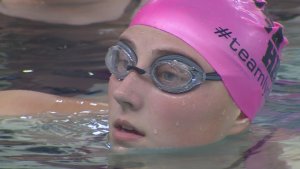 "I'm strong enough to do it right now, so I think knowing I can do it and not knowing what I'll be able to do in the future, makes me want to do it more," she said. "It's very helpful. It's a distraction to keep my mind off of it."
Information about staying active during cancer
Research has found people with cancer who do moderate exercise have no negative side effects, and has demonstrated that those who exercised regularly had 40% to 50% less fatigue, the primary complaint during treatment, according to the National Comprehensive Cancer Network.
"Lack of exercise actually begets fatigue," Dr. Marleen Meyers, a medical oncologist and Director of the Cancer Survivorship Program at NYU Perlmutter Cancer Center, told SurvivorNet in a previous conversation about how to deal with some of chemo's most difficult side effects. "So the best treatment for fatigue is exercise. And what we have to do is get people over the hump, to get initial exercise going." Dr. Meyers treats patients with breast cancer, but she said her advice applies to many other cancers as well.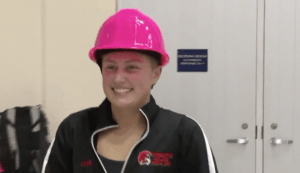 A lot of people are tempted to throw in the towel when it comes to exercising after a cancer diagnosis. With all the other things going on in your life, it can be hard to find the motivation to stay active.
For survivor Heather Maloney, the drive to keep moving came from the fact that she knew exercising regularly would put her in better shape to fight the disease. "With cancer you never know," Heather says. "But I want to do everything I can to make my chances of a long life better."
Cancer survivor Heather Maloney on staying active after a cancer diagnosis
Survivors tell us about all sorts of activities they've taken up to stay active, and in fighting shape. Heather got into dragon boating – a rowing sport that a lot of cancer survivors are getting into across the U.S. and beyond. "When we come together, it's about the boat and it's about all the things around the boat," Heather says. "It's about competing, it's about practicing, it's about eating, it's about getting in better shape … people aren't talking about cancer, and if you are, you're talking to the people that you know on the boat if something starts to pop up."
Information about neuroendocrine cancer
The type of cancer that Cole has, though it is rare, typically has a better prognosis than other forms of pancreatic cancer — which are notoriously difficult to treat.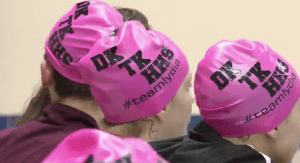 A neroendrocrine tumor is tumor that forms from cells that release hormones into the blood in response to a signal from the nervous system. They may make higher-than-normal amounts of hormones, which can cause many different symptoms.
Swimmer Lydia Cole's cancer journey
"She smiles all the time," said her former swimming coach, Mike Schipper. "I don't think I could be that way. I wouldn't be as strong or as optimistic as she is. She just is, it's her personality."
This week's swim meet, in which Thornapple Kellogg and Hastings competed against nearby Wayland, was dedicated to cancer awareness, and the proceeds went both to Cole's family for her medical bills and to a charity not yet determined to help others with cancer.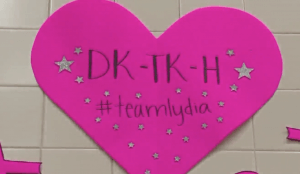 "It's been comforting actually," said Ryan Cole, Lydia's father. "She is not really having the pains that she was before. She is able to go through life normally."
Her parents time every meet from the sidelines when Lydia competes.
In a fundraising page about their daughter's cancer, her parents wrote about Lydia's diagnosis, "This past spring a member of our swim family was diagnosed with pancreatic neuroendocrine tumors."
And talked about her personality and resilience, "She is an amazing teammate, swimmer, and person. While she is undergoing treatment for her illness, she continues to practice every day and is a fierce competitor during meets. She is an inspiration to all of us!"
Learn more about SurvivorNet's rigorous medical review process.