A second-grade teacher with cancer known for random acts of kindness received the best Christmas surprise ever: Nearly 30 choir students from her school, York Elementary in Vancouver, Wash., sang Christmas carols outside of her house ahead of the holidays.
RELATED: Every Experience Has Good and Bad Sides – Survivor Jessica Melore's Holiday Message
Read More
The teacher, Lauren Burpee, has been home on medical leave since October.
"I thought, 'There are kids out there,'" Burpee told Good Morning America about the moment she first spotted the students in her yard. "And then I thought, 'There are a lot of kids out there.' When I went to the door and saw they were kids from school, the tears started to flow."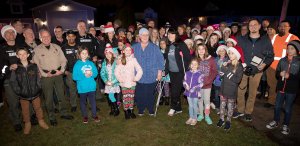 Burpee was diagnosed with breast cancer in May, GMA reported, but after a double mastectomy she learned she also had salivary gland cancer in one of her breasts, a rare type of cancer that originates in the glands that make saliva and release it into the mouth. The cancer had metastasized to her lungs. She has undergone six rounds of radiation and three rounds of chemotherapy.
"It was just overwhelming, but what a wonderful, wonderful, surprise," Burpee told GMA.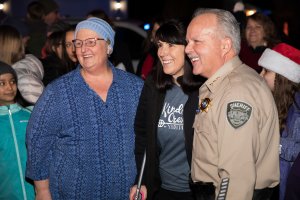 In her absence, the report also said, her yearly birthday wish for random acts of kindness inspired a kindness project that included a Facebook page and "signs where teachers and students can get ideas for and keep tally of their random acts."
The police, in partnership with an organization called "Kindness 911" presented Burpee with a kindness award, as well as VIP tickets to the Seattle Mariners baseball game and concert tickets to boot.
When to Consider a Mastectomy
Mastectomy is the removal of the entire breast during surgery. There are a number of factors to weigh when considering a mastectomy, chief among them is whether breast-conserving surgery (or lumpectomy) is possible.
Dr. Ann Partridge on when to consider getting a mastectomy during cancer
Your doctor will look at the size and features of your tumor as well as your family history in order to make a recommendation.
Information about Salivary Gland Cancer
Salivary gland cancer is a rare form of cancer that forms in the glands that make saliva and release it into the mouth, according to the National Cancer Institute.
Signs of salivary gland cancer include a lump or trouble swallowing, and to catch it, doctors can use tests that examine the head, neck and inside of the mouth. Other signs include fluid draining from the ear, trouble swallowing or opening the mouth widely, numbness or weakness in the face, and pain in the face that does not go away.
When it comes to diagnosis and treatment, salivary gland cancer falls under the category of "head and neck cancers."
Exposure to certain types of radiation may increase risk of salivary gland cancer. Other risk factors for the disease include older age, and exposure to certain substances at work.
Learn more about SurvivorNet's rigorous medical review process.
---