This nine-year old boy named Matthew Willet from Louisville, Kentucky found out he had Ewing sarcoma after his doctors mistook a lump on his head for a harmless cyst. After the diagnosis, he had one special request — to get birthday cards from everyone who loved him. Now, he's received over a hundred cards, all to show just how much love and support he has during his cancer battle.
Information about Ewing sarcoma
Read More
Ewing sarcoma is a type of tumor that forms from a certain kind of cell in bone or soft tissue. Ewing sarcoma may be found in the bones of the legs, arms, feet, hands, chest, pelvis, spine, or skull, and it's most prevalent in children and young adults. It's the second most common type of bone cancer in children — about 200 children and young adults are found to have Ewing sarcoma per year, according to cancer.gov.
About 70% of children with Ewing sarcoma are cured, while teens who get Ewing sarcoma between 15 and 19 have a survival rate of 56%. Children whose diagnosis is found after the cancer has spread have a 30% survival rate, and larger tumors or tumors located in the pelvis, ribs or spine are less likely to be cured, according to St. Jude's Hospital.
While some cancers have "stages," Ewing sarcoma is described as localized, metastatic or recurrent.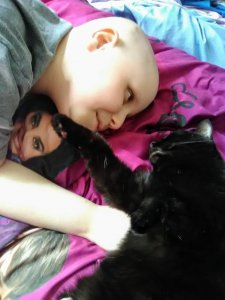 Localized Ewing sarcoma is found in the bone or soft tissue where it began and may have spread to nearby tissue, including nearby lymph nodes. Metastatic Ewing sarcoma has spread from the bone or soft tissue where it began to other parts of the body. For this illness, the cancer most often spreads to the lung, other bones, and bone marrow. In recurrent Ewing sarcoma, the cancer has recurred (come back) after it has been treated. The cancer may come back in the bone or soft tissue where it began or in another part of the body.
There are different types of treatment for children with Ewing sarcoma. Four standard treatment practices used to for this disease are chemotherapy, radiation therapy, surgery, and high-dose chemotherapy with stem cell rescue. But new types of treatment are also currently in clinical trials, including targeted therapy and immunotherapy.
Carter's journey with Ewing Sarcoma and his love of birthday cards
Carter's parents first noticed the bump on his head when he was still a baby, but about a year ago the bump began to hurt. They went to Norton's Children's Hospital in Louisville, where they were told it was probably a cyst, and could have it removed. It wasn't until after the removal surgery that Carter and his parents found out the surgeon didn't find a cyst in his head, but a cancerous tumor — Carter had Ewing Sarcoma. Now, Carter has 4 weeks left of chemotherapy.
Carter has a lot of interests, which he shared with a Kentucky news outlet. He loves "Goosebumps," "Scooby Doo," "Five Nights at Freddy's," "Steven Universe" and "Stranger Things."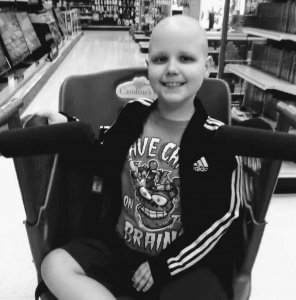 He also likes to read the "Diary of a Wimpy Kid" books and to play "Fortnite" and "Super Smash Brothers" on his Nintendo Switch. His favorite candies are Skittles, Starbursts, Sour Gummies, Jolly Ranchers and Dum-Dum's and for food he loves Chick fil-A, Arby's and pizza.
But for his upcoming birthday, his wish is a little bit out of the ordinary for kids his age. All Carter wants is as many birthday cards as he can get from people who love and support him.
In an initial Facebook post, Carter's dad explained his son's desire for birthday cards, "This is my son Carter. He also goes by Courageous Carter. For the past year he has been battling Ewing's Sarcoma, a rare cancer. His birthday is October 17th and he'll be 10 and all he wants this year is birthday cards. We told him we'd try to get him as many as we could. Our address is 2825 Elam Drive, Louisville KY 40213. Thank you."
Since that post, Carter has received over a hundred birthday cards from people who love him, according to another Facebook post reading "Birthday Cards for Carter right now we have received 102 cards [heart eyes emoji]."
Learn more about SurvivorNet's rigorous medical review process.