Actor Val Kilmer Continues To Finds Joy In Artwork After Throat Cancer
"Top Gun" star and throat cancer survivor Val Kilmer h is getting lots of love from fans after sharing special new artwork for moms.
"Seeing people connect with my work on such a personal level brings me joy," the 63-year-old dad of two wrote on Instagram.
Kilmer was diagnosed with throat cancer in 2015; he had a tracheotomy and also underwent chemotherapy to treat his disease.
The actor lost his voice to the disease and turned to artwork as a way to express himself.
Throat cancer is a type of head and neck cancer where cancerous cells begin in the throat, voice box or tonsils.
"Top Gun" star and throat cancer survivor Val Kilmer, 63, is getting lots of love from his fans as he shows off special new artwork he made, an example of how art can be an incredibly useful tool for anyone who has battled cancer or is currently fighting disease.
Kilmer, who discovered fame after appearing in comedy films like "Top Secret!" and "Real Genius," took to social media to give his fans some insight into what he's been up to on his creative journey.
Read More
"Seeing people connect with my work on such a personal level brings me joy," Kilmer wrote alongside his Instagram post
featuring a pink and white mug
with the words "Love" on it. Kilmer's own mom passed away in 2019.
View this post on Instagram
Kilmer's post appeared to spark happiness among fans with one commenting, "It is priceless, you inspire us, and bring joy to our lives."
Others wrote, "Well my mom is no longer here but in memory of her and to celebrate love, this makes the perfect gift," and "Love the cup and the artistry behind it. Definitely will be getting this for my mother. Love."
The lovely Mother's Day gift idea, created by Kilmer, was shared just days after the actor — also known for his roles in "Batman Forever," "The Prince of Egypt," and "Déjà Vu" — first shared his artsy "LOVE" print.
"There's a new limited edition print specially made for twenty-five special mothers for Mother's day," he wrote alongside his post. "LOVE is what it's all about. Cherish your time together and if you miss out on this print don't forget to call your mom! Val."
Anyone interested in purchased some of Kilmer's artwork can do so by visiting his Val Kilmer website, where his new "Love" products are features.
He is selling a unisex hoodie, T-shirt, and two different type of mugs, all with his new artwork reading "Love."
The mugs cost $24.95 each, the T-shirt is listed for $34.99, and the hooded-sweatshirt is being sold for $65.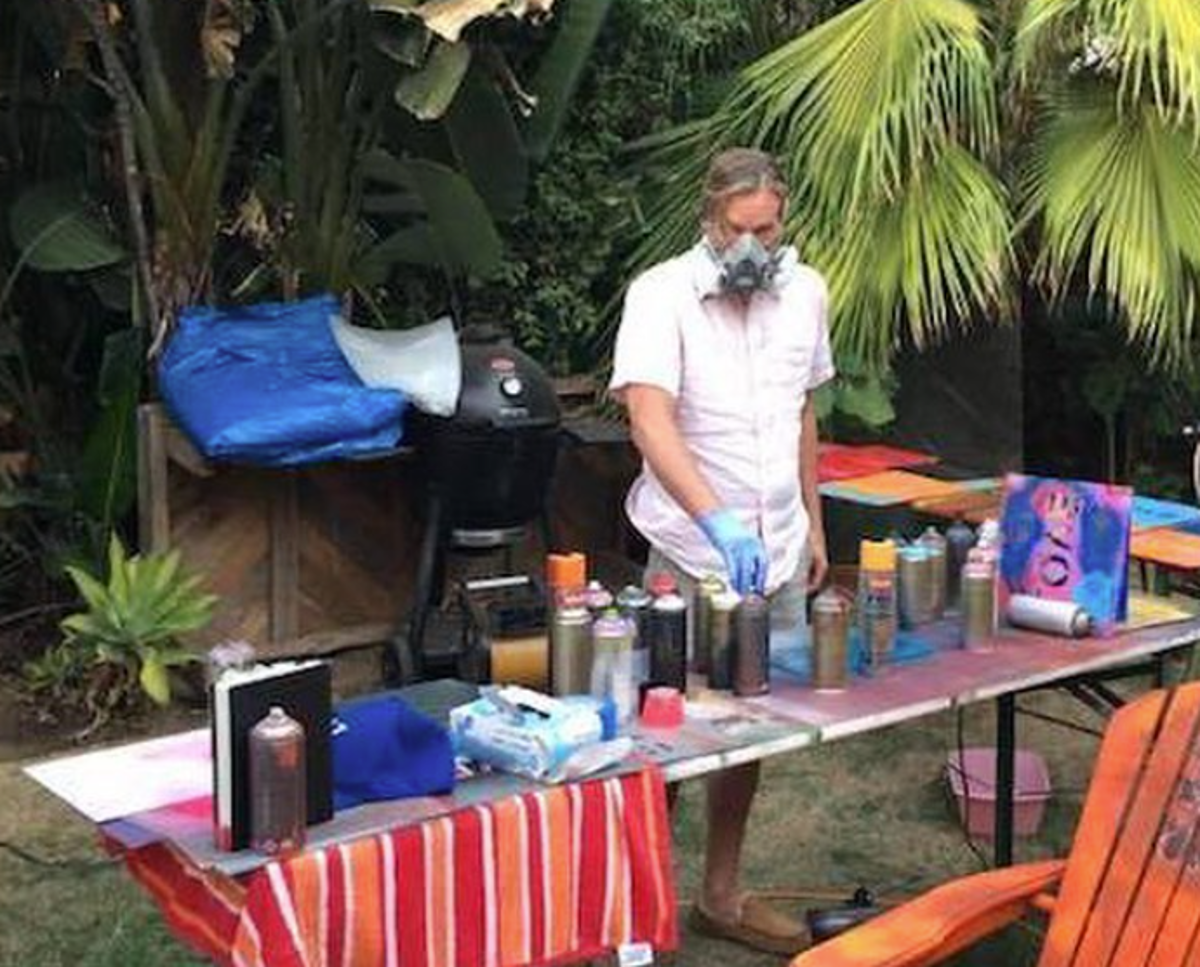 Val Kilmer's Battle With Throat Cancer
Val Kilmer discovered he had throat cancer in 2015 but chose not to speak publicly about his diagnosis until 2017.
He wasn't considering conventional treatment at first, thinking his Christian Science faith would heal the tumors. But he ultimately agreed to undergo chemotherapy for the sake of his children – Mercedes, 31, and Jack, 27, whom he had with his ex-wife, English actress Joanne Whalley, 61.
Kilmer also underwent a tracheotomy – a surgical procedure that connects the windpipe to a hole in the front of the neck – which greatly impacted his speaking voice.
Thankfully, Kilmer continued acting as "Top Gun: Maverick" filmmakers were able to help give Iceman a voice again thanks to artificial intelligence technology that used samples of him speaking to recreate his signature speech patterns.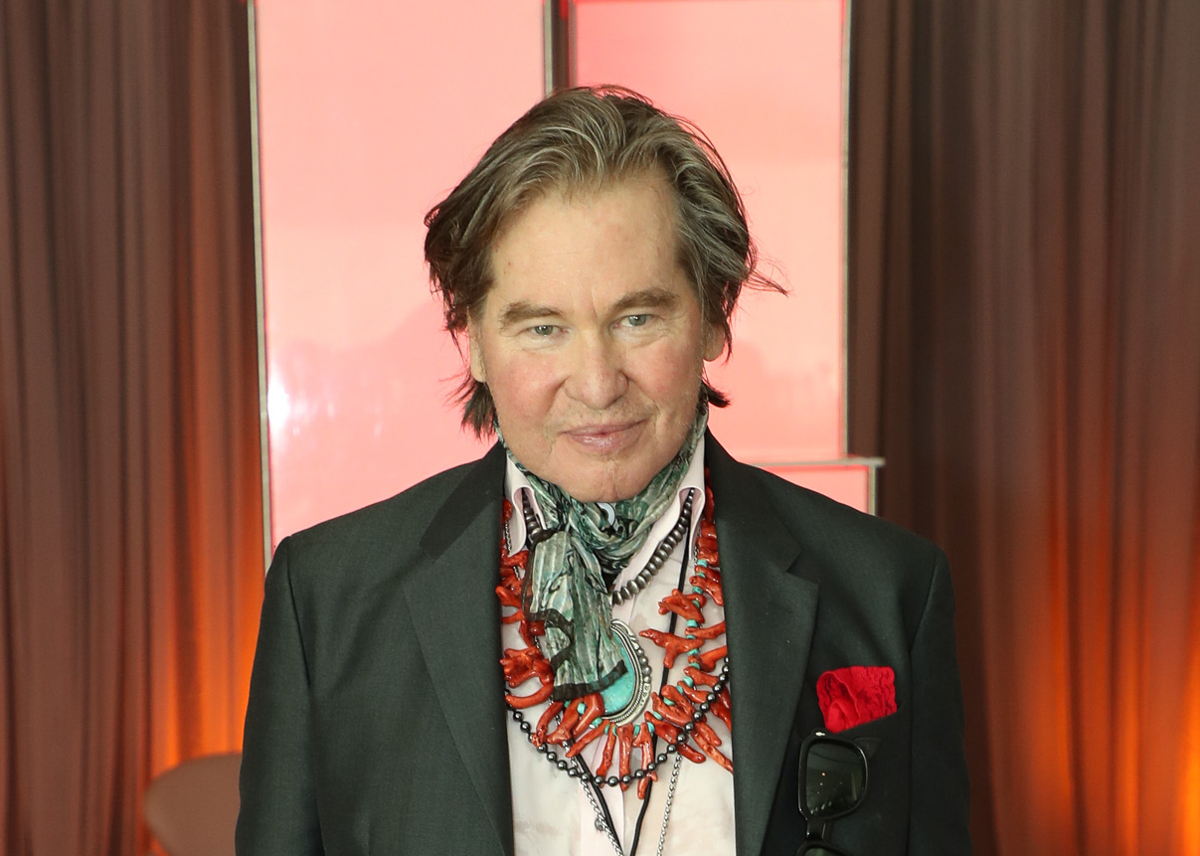 And though he originally kept his cancer battle out of the public eye, Kilmer eventually shared more about his journey through interviews, his autobiography "I'm Your Huckleberry," and his documentary, "Val," which is currently streaming on Amazon Prime.
RELATED: 7 Signs of Throat Cancer That Aren't As Obvious as You'd Think; Knowing What to Look for Is Key 
"I have been healed of cancer for over four years now, and there has never been any recurrence," he wrote. "I am so grateful."
Val Kilmer on Expressing His 'Creative Spirit' After Cancer
Writing in one of his website's blog posts, Val Kilmer explained, "I'm an artist. I've lived a magical life. For more than half a century, I have been honing my art, no matter the medium. Be it literature, movies, poetry, painting, music, or tracking exotic and beautiful wildlife in the most remote African bush, to capture ephemeral moments with a camera, I yearn to express my creative spirit."
After explaining how his voice changed, he opened up about why he turned to creativity to heal.
"With little voice, my creative juices were boiling over and pouring out of me. I started creating again, painting, writing anything I could. I felt the art healing me," Kilmer explained. "I wanted to share this with others, and I started looking for a place to do so. I found a large studio in Hollywood. A fun sacred space where artists, musicians, muses, collectors, and friends could gather to celebrate creativity – and then the unthinkable, a global pandemic that pushed us all into our homes."
Kilmer even created a Twitter account in January 2022 under the name "Kamp Kilmer" for the sole purpose of his art and collaboration with artists, musicians, and friends.
Art Through Cancer
As a seasoned actor, Val Kilmer knows the healing power of art intimately. Alongside treatment – or after beating cancer – some people may turn to various artistic outlets (i.e. singing, dancing, painting, crafting) to help them cope with their cancer journey.
RELATED: How I Made It Through Cancer: Painting & Dreaming 
Some people also use art to handle feelings of grief after suffering a cancer-related loss. Whenever and however you turn to art, its healing benefits–in terms of mental health–are well-documented and substantiated.
In fact, Very Well Mind reports that a 2016 study published in the Journal of the American Art Therapy Association says that less than an hour of creative activity can reduce stress and have a positive effect on your mental health. And that's true regardless of artistic experience or talent, the author notes.
RELATED: Watch this Inspiring Film About the Impact Art & Music Can Have on the Cancer Journey
Dealing With Grief After a Cancer Diagnosis
Understanding Throat Cancer
Throat cancer is a type of head and neck cancer where cancerous cells begin in the throat, voice box or tonsils. Some of the main risk factors for this disease include smoking, drinking alcohol, a diet lacking in fruits or vegetables, acid reflux disease and the human papillomavirus (HPV).
So, one way to decrease the chances of developing the disease is to get the HPV vaccine.
Adding His Voice to the Chorus – Artist and Throat Cancer Survivor Michael Rees Gets Behind HPV Vaccine Awareness
The American Cancer Society recommends that boys and girls get the HPV vaccine between ages 9 and 12. The organization also stresses that teens and young adults through age 26 who are not already vaccinated should get the HPV vaccine as soon as possible.
Dr. Jessica Geiger, a medical oncologist at Cleveland Clinic Cancer Center, explains the link between throat cancer and HPV in a previous interview with SurvivorNet.
Get the Facts: HPV Can Cause Cancer In Men Too
"There are no screening guidelines to screen for throat cancer, unlike cervical cancer with pap smears. And there are no standard tests to determine if you harbor the (HPV) virus," Dr. Geiger said.
"However, there is no concern that you're going to spread this cancer to your partner or to anyone else, because at this point your partner has already been exposed to the virus and likely cleared it."
There's no yearly screening for throat cancer, so doctors often discover the disease when a patient sees them with symptoms that may point to it. Some symptoms include:
A cough
Changes in your voice
Difficulty swallowing
Ear pain
A lump or sore that doesn't heal
A sore throat
Weight loss
It's important to note, however, that these symptoms are not exclusive to throat cancer. Still, you should always see a doctor if you have any changes to your health.
HPV and Cancer Risk The Basics
Contributing: SurvivorNet Staff
Learn more about SurvivorNet's rigorous medical review process.
---