Kilmer Remembers His Childhood
In a recent Instagram post, actor and throat cancer survivor Val Kilmer shared a childhood photo from Halloween from decades ago.
Kilmer was diagnosed with throat cancer in 2014; he had a tracheotomy and also underwent chemotherapy to treat his disease.
Looking back on happy memories and maintaining support after battling cancer can help make life a little easier.
We love seeing cancer survivors sharing happy memories. And right now, we're admiring a childhood photo that throat cancer survivor Val Kilmer shared on social media.
Kilmer, a 62-year-old actor who has been thriving after the hit movie "Top Gun: Maverick" grossed more than $1.4 billion worldwide this summer, has been staying positive after beating cancer with the healing power of art and as it appears, most recently, looking back on his youth.
Read More
"Acting is much more than just memorizing your lines. You really need to live, breathe, and inhabit your character," The Batman Forever star wrote alongside a photo of two young children, seemingly his family or friends as he tagged two other people in the image, dressed as
Batman and Robin
. "Halloween offers everyone the magical opportunity to step into the shoes of someone new and experience their life for the day." Before asking his fans what characters they will represent on the annual holiday, he urged them not to "underestimate the power and the necessity of your imagination in the acting process."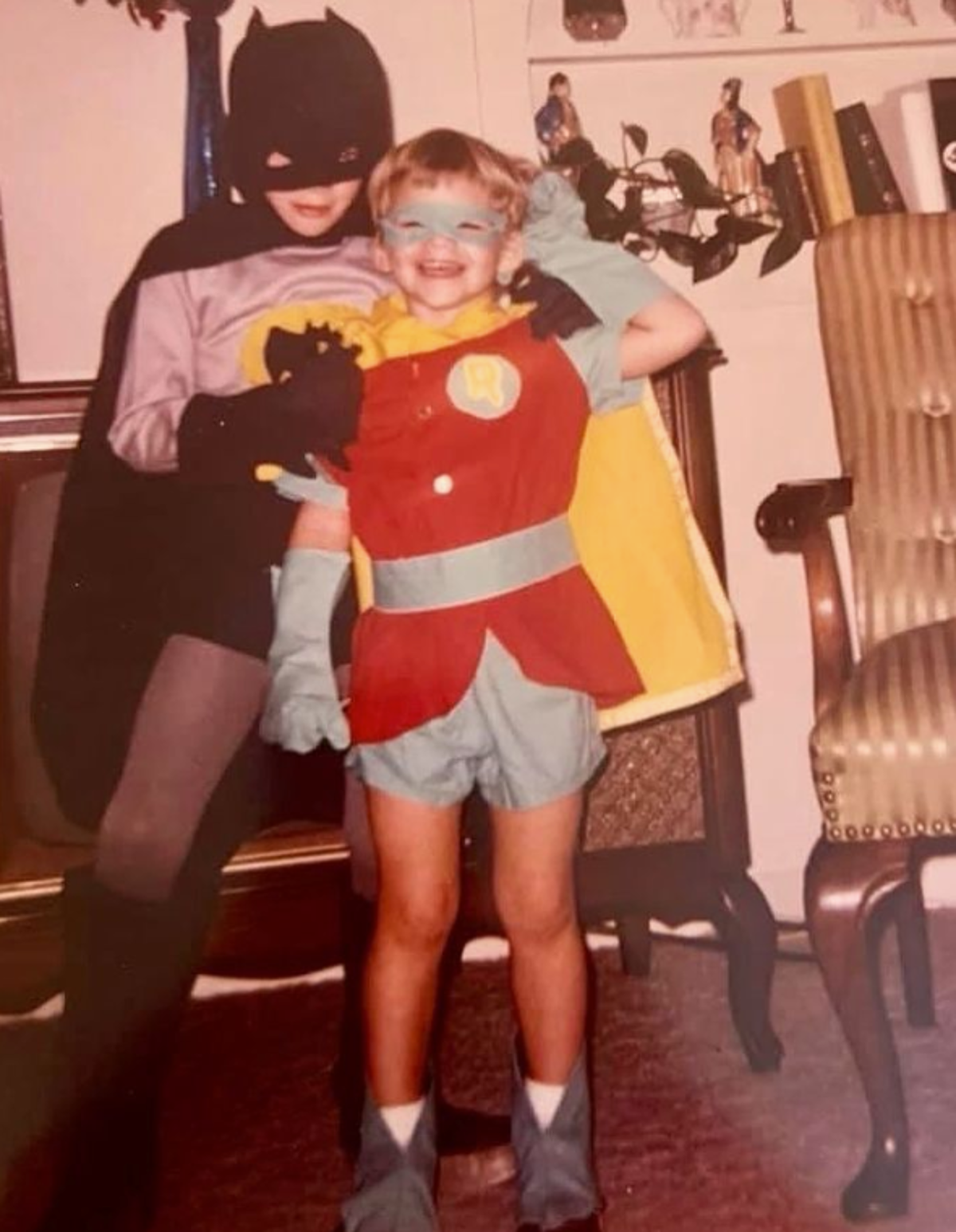 Val Kilmer's Cancer Journey
Kilmer was diagnosed with throat cancer in 2015 but didn't speak publicly about the disease until 2017. He wasn't considering conventional treatment at first, thinking his Christian Science faith would heal the tumors, but he eventually agreed to undergo chemotherapy for the sake of his children – Mercedes, 30, and Jack, 27, whom he had with his ex-wife, English actress Joanne Whalley, 61.
Kilmer also underwent a tracheotomy – a surgical procedure that connects the windpipe to a hole in the front of the neck – which greatly impacted his speaking voice. However, Kilmer continued acting as filmmakers were able to help give Iceman a voice again thanks to artificial intelligence technology that used samples of him speaking to recreate his signature speech patterns.
And though he originally kept his cancer battle out of the public eye, Kilmer eventually shared more about his journey through interviews, his autobiography, I'm Your Huckleberry, and his documentary, Val, which is currently streaming on Amazon Prime.
"I have been healed of cancer for over four years now, and there has never been any recurrence," he wrote in I'm Your Huckleberry. "I am so grateful."
Being Playful After Surviving Cancer
We love Kilmer's playful attitude, like when he shared a photo of himself as a child during Halloween or a video in his Batman mask video last year. Keeping a light, positive, and optimistic attitude through cancer can help make the process easier.
Cedars-Sinai colorectal surgeon, Dr. Zuri Murrell, says in an earlier interview, "My patients who thrive, even with stage 4 cancer, from the time that they, about a month after they're diagnosed, I kind of am pretty good at seeing who is going to be OK."
"Now doesn't that mean I'm good at saying that the cancer won't grow," says Dr. Murrell. "But I'm pretty good at telling what kind of patient are going to still have this attitude and probably going to live the longest, even with bad, bad disease. And those are patients who, they have gratitude in life."
Art Through Cancer
Kilmer previously wrote on Twitter how, as a result of the damage to his voice, he found much solace in art. He said, "When one thing is taken, though, another is given. With little voice, my creative juices were boiling over and pouring out of me. I started creating again, painting, writing anything I could. I felt the art healing me…"
As a seasoned actor, Kilmer knows the healing power of art intimately. Alongside treatment – or after beating cancer – some people may turn to various artistic outlets (i.e. singing, dancing, painting, crafting) to help them cope with their cancer journey.
Dealing With Grief After a Cancer Diagnosis
Some people also use art to handle feelings of grief after suffering a cancer-related loss. Whenever and however you turn to art, its healing benefits – in terms of mental health – are well-documented and substantiated. In fact, Very Well Mind reports that a 2016 study published in the Journal of the American Art Therapy Association says that less than an hour of creative activity can reduce stress and have a positive effect on your mental health. And that's true regardless of artistic experience or talent, the author notes.
Causes of Throat Cancer
Although it is often difficult to pinpoint exactly how or why we get certain types of cancer, it is important to stay educated. Throat cancer can be caused by alcohol and tobacco use, and also by the human papilloma virus, or HPV, which is usually associated with women and can be a cause of cervical cancer. However, men can also be affected by this sexually transmitted infection, and it has been proven to cause throat cancer,
Dr. Jessica Geiger of the Cleveland Clinic Cancer Center told SurvivorNet in a previous interview that both men and women can get cancer from HPV.  "The strains of HPV that cause cervical cancer are the same strains of HPV that cause throat cancer. The average patient with HPV-related throat cancer tends to be males in their 40s or 50s, who were never a smoker, or just a very light tobacco user."
Get the Facts: HPV Can Cause Cancer in Men Too
Contributing: SurvivorNet Staff
Learn more about SurvivorNet's rigorous medical review process.
---