Woman's Dog Helps Her Discover Her Breast Cancer
A 46-year-old woman in the UK believes her dog detected her breast cancer in 2018. The only scientifically-proven way to detect breast cancer is via a mammogram.
Women aged 45 to 54 with a regular risk of breast cancer should get mammograms annually.
For people going through cancer treatment, cancer therapy dogs can have a calming effect and help reduce anxiety.
Anna Neary, a 46-year-old woman living in the UK, credits her labrador dog with detecting her breast cancer; her furry friend nudged at her breast for six weeks in 2018, and it was later revealed she had cancer.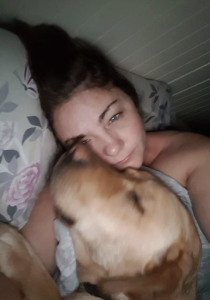 Related: Woman Says Her Chihuahua Helped Her Detect A Lump In Her Stomach, She Was Later Diagnosed With Ovarian Cancer: Can Dogs Detect The Disease?
Read More
Neary believes her dog Harvey "sensed" she had cancer, reports
The Sun.
Stories of dogs detecting their owner's cancer
abound, and given the intuitiveness of many dogs, it's not out of the question that a dog could sense a problem. But the only scientifically-proven way to detect breast cancer is with a mammogram.
"I love him so much," Neary says of her life-saving dog.
Neary, a mother of two, tells The Sun how she found a lump in the same area Harvey was focused on when nudging her breasts. She was diagnosed with stage three breast cancer, which had metastasized – or, spread – to her lymph nodes. Neary is now in remission and credits Harvey with saving her life.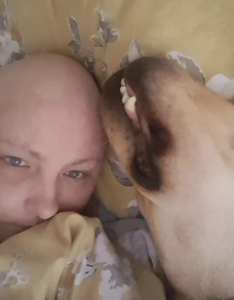 Remembering Harvey sensing her cancer, she says, "He nudged and sniffed me like he'd lost something. I thought nothing of it. He was just lying on my right breast, very persistently. But six weeks later, I checked and found I had a lump. I went to my GP and was referred to the cancer pathway…I'm still here thanks to Harvey…I love him so much."
Related: National Dog Day 2021: How Do Our Furry Friends Help Cancer Patients?
Neary says that she still undergoes annual mammograms, too.
Screening for Breast Cancer
For those without our own pet like Harvey – and even for people with pets – it's important to undergo regular screenings for breast cancer. The current guidelines from the American Cancer Society (ACS) say that women aged 45 to 54 with a regular risk of breast cancer should get mammograms annually.
Related: When Should I Get a Mammogram?
For women with an elevated risk of breast cancer (who have a family history of the disease or carry the BRCA1 or BRCA2 gene mutation), you should begin screening before age 45. Speak with family members about your family cancer history – it could save your life. Performing self-exams in the shower or at home is another good way to stay on top of breast cancer screenings; these should be done in addition to – not in place of – mammograms.
Related: Getting to Know Your Breasts with Self-Exams
Breast cancer is screened for via mammogram, which looks for lumps in the breast tissue and other signs of existing cancer, or cancer in its earliest stages. If a worrisome lump is detected, your radiologist or doctor will advise you on the next steps, which typically include a breast biopsy.
What to Expect from a Breast Biopsy
How Can Dogs Help Cancer Patients?
While there's no proof dogs can sniff out cancer, man's best friend can certainly help comfort cancer patients.
For some celebrities and well-known names, like Andrea Swift (Taylor Swift's mom) and actress Shannen Doherty, dogs have been hugely impactful for them as they go through cancer treatment. Doherty, who has metastatic breast cancer, loves her dog Bowie and often shares adorable pictures of him on social media.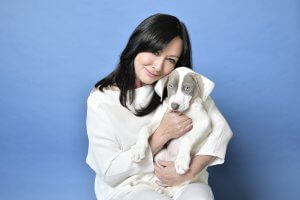 Jane Kopelman is the head of Memorial Sloan Kettering's Caring Canines Program. And, in an earlier interview, she explains the benefits of pet therapy. She says, "What most patients say, and studies have proven, is that the dogs reduce anxiety, reduce depression."
Related: 'Our Adventure': Breast Cancer Fighter Shannen Doherty Goes on a Road Trip with Her Beloved Dog Bowie; Focusing on the Good Through Cancer
"And they give people a sense of hope–they often motivate people," Kopelman says. "Patients have said that they were so eager to have the dogs come that it motivated them to get up."
Related: MS Fighter Selma Blair, 49, Introduces Her Service Dog, Scout, to the World: 'We Are Now a Service Dog Team'
Kopelman says, "The biggest benefit is [the patients] feel less anxious, they feel calmer, and they're able to go through what is a very stressful experience."
What Are the Benefits of Pet Therapy?
Learn more about SurvivorNet's rigorous medical review process.