Some cancer survivors find themselves the grateful recipients of unexpected acts of kindness. Jack Hoffman, an eighth-grader from Nebraska diagnosed with brain cancer at age 5, can count himself among them.
Thanks to a football coach touched by Hoffman's journey, the football fan — who has endured his share of challenges, from high-risk surgeries to radiation and chemo — was presented this week with a full-tuition football scholarship to Midland University in Fremont, Neb.
Read More
"When we asked Jack how he felt about being offered the scholarship he said 'dizzy' and 'shocked,'" Jack's mom, Brianna Hoffman, tells SurvivorNet. "As a family, we were definitely overwhelmed by the gesture of Coach Jamrog and Midland University to provide such a generous offer to Jack."
As first reported by 1011Now in Lincoln, Neb., Hoffman was diagnosed with brain cancer in 2011 after a life-threatening seizure. He's endured a tremendous amount in the years since, and while he still has a residual tumor, Brianna tells SurvivorNet, he is now receiving treatment as part of a clinical trial has that has fortunately kept the tumor from growing.

A stalwart football fan at a young age, Hoffman has always been especially enamored of the University of Nebraska-Lincoln Cornhuskers. A year or so after his diagnosis, when Hoffman, then 7 years old, was scheduled to undergo his second major brain surgery, his family reached out to the university to ask if he could meet his favorite player, Rex Burkhead (who now plays for the New England Patriots).
But he was offered more than that, thanks to Jeff Jamrog, then-assistant athletic director of Football Operations at the school — and now the football coach at Midland — who came up with the idea to actually put Hoffman in that game. During the fourth quarter, Hoffman "took a handoff and with a team escort, went 69 yards, setting off a wild celebration among players, coaches, and the 60,000 people in attendance," according to a Midlands University blog post about the scholarship.
The touchdown was named "Best Moment of the Year" at the 2013 ESPY Awards.
And one act of kindness begot another: The Hoffman family harnessed the attention and enthusiasm of that game to raise awareness for the Team Jack Foundation, which supports pediatric brain cancer research. To date, the Team Jack Foundation has raised $6.5 million and has committed $8.5 million to eight research projects nationally.
Hoffman, according to the blog, played his first competitive, contact football game this past fall as a center on his West Holt Huskies Junior High School squad, according to the blog. "It was a little nerve-wracking at first," Hoffman was quoted as saying. "But once you snap the ball a few times, you get used to it."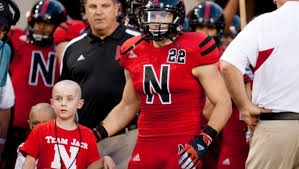 The story came full-circle when Jamrog, now the coach at Midland University, decided he wanted to ensure that Hoffman could continue to play the game he loves after high school. So during Hoffman's visit to the Midland campus this week, Jamrog presented him with the full-tuition, four-year scholarship.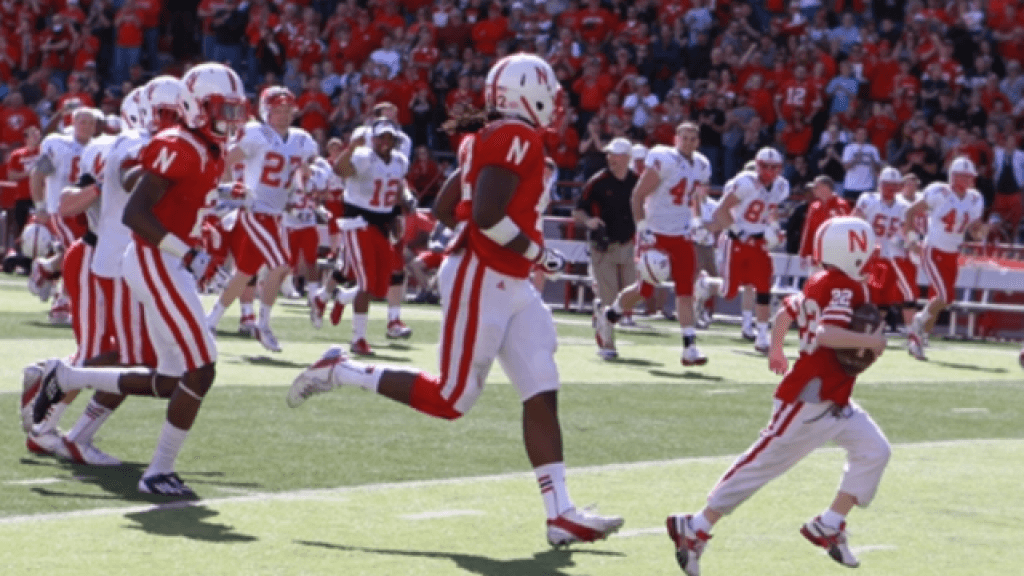 Pediatric Brain Cancer
Pediatric brain cancer is the second-most common type of cancer in children, according to the American Childhood Cancer Organization. These cancers vary in terms of symptoms and survival rates, depending on the location of the tumor in the brain and the severity. But one commonality is that they're incredibly challenging to treat.
Operating on a child's still-growing brain can have a life-long impact on cognition and brain and body function, and, often, the location of the tumor makes it impossible to operate on at all. Radiation and chemotherapy can be options as well, but again, the long-term effects can be severe.
RELATED: After Childhood Cancer, "A Heart That Must Work Harder Than Usual" — New Evidence Shows That Childhood Cancer Survivors Face an Increased Risk of Heart Disease
There's a pressing need for new treatment advances in pediatric brain cancer. And new treatments require new research, which requires funding.
A Lack of Funding
According to the National Pediatric Cancer Foundation, only 4% of federal government cancer research funding goes to study pediatric cancer. This puts a major responsibility on foundations, from major, national ones such as Alex's Lemonade Stand, to smaller, family-run foundations such as the Team Jack Foundation.
RELATED: Fourth Grader With Rare Cancer Selling Her Art To Help Pay For Her Medical Bills — And Raise Money For Other Kids With Cancer
"Small family foundations like Team Jack teaming up and working with other small family foundations across the country are what, ultimately at the end of the day, are driving pediatric brain cancer research," Jack's father, Andy Hoffman, said in a video for the Foundation's Facebook page.
RELATED: A Little Bit Of Joy — The Eleven-Year-Old Who Beat Brain Cancer And Got To Announce A Dodgers Game — Our guide To Making Dreams Come True For Kids With Cancer
Learn more about SurvivorNet's rigorous medical review process.
---