Cancer & Mental Health
In an Instagram story, actress Jennifer Love Hewitt, 42, shares a quote about the importance of kindness, because everyone is fighting a battle.
For those battling cancer, it's important to take good care of your mental health during treatment.
Depression and stress make it harder to treat cancer, and make it harder to tolerate the treatments, experts tell SurvivorNet.
Actress Jennifer Love Hewitt is sharing some beautiful wisdom with her 1 million Instagram followers this week about kindness.
In a quote repost, the Ghost Whisperer actress shares: "Everyone you meet is fighting a battling you know nothing about. Be kind. Always." During the COVID-19 pandemic, everyone is carrying a heavy load and this is an excellent reminder to always be kind to everyone you encounter, because they're likely struggling, too.
Read More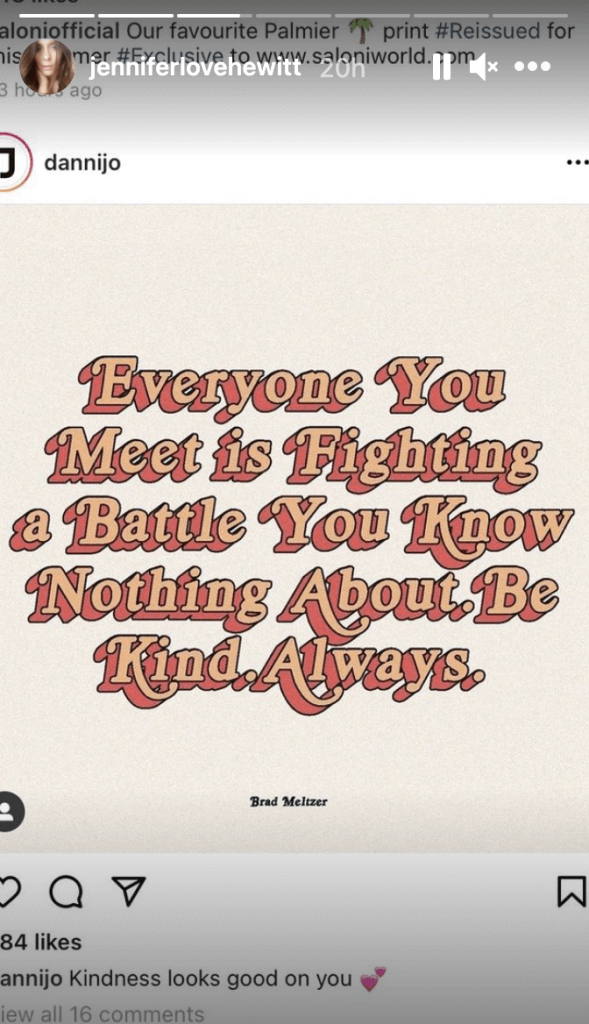 Taking Care of Your Mental Health Through Cancer
Battling cancer during a pandemic is an epically challenging battle. And it's critically important to take care of not only your mental health, but also your physical health during this time.
Related: Actress Kristen Bell, 40, Says "I've Been Struggling the Last 2 Weeks," Reminding Us Importance of Mental Health; Especially Critical For Those Fighting Cancer
With rising rates of anxiety and depression amid the pandemic, those who are fighting cancer may be even more at risk for these mental health issues, given everything that is on their plate. As best you can, find ways to cope with your new reality and seek support when you need it. Tools like therapy, meditation, and support groups for cancer patients can all be hugely helpful for those fighting cancer right now.
Feel the Fear, and Let it Go — Meditation for Cancer Survivors
Coping with Depression Amid Cancer
Depression, anxiety, and grief are all commonly experienced following a cancer diagnosis. It's important to be gentle with yourself when you're feeling these emotions, and seek support when necessary. It's especially important because feel mentally and emotionally well during cancer treatment is helpful through the treatment process.
Related: Dealing With Grief After a Cancer Diagnosis
Dr. Scott Irwin, director of support care services at Cedars-Sinai Medical Center, says in an earlier interview, "Depression is a really interesting topic, because a lot of people assume that, oh, they have cancer. They must be depressed. That's actually not true," says Dr. Irwin. "85% of patients do not get what would be considered a clinical depression. 15% do."
"For prescribing medications for depression in the context of cancer, I often try to choose medications with the lowest side effect profile," he says.  "If patients are getting hormonal therapy, there's particular antidepressants that we can't use, because they may lower the effectiveness of that hormonal therapy. And so we choose antidepressants that don't impact the cancer care. Depression and stress make it harder to treat cancer, and make it harder to tolerate the treatments."
Treating Depression After a Cancer Diagnosis
Learn more about SurvivorNet's rigorous medical review process.