News recently broke that smartphone giants Apple and Samsung are being sued over allegations that radiation emitted by certain smartphones exceeds a legal limit and puts users at risk for certain health issues — like cancer. These allegations have people all over the world worried, as many millions of us are so heavily reliant on our phones. But before we even get into the story, it's important to note that the urgency of these breaking news stories should be taken with a grain of salt. So far, there is no scientific proof that cellphone use is harmful, and various studies looking at whether they increase a person's cancer risk have found no link.
And just one more question which can hopefully put us at ease, if mobile phone use were indeed linked to cancer then why haven't the number of brain cancer cases increased as cell phone usage has surged?
Read More
So, let's break down the news.
Why Are Apple and Samsung Being Sued?
The new suit alleges that certain smartphones, such as the iPhone8, iPhone X, and Galaxy S8, exceed legal radiation guidelines. The Federal Communications Commission (FCC) guidelines are based on the "specific absorption rate" (SAR) of cellphones, which is measured in watts of energy absorbed per kilogram of body tissue. Phones sold in America are not supposed to exceed 1.6 watts per kilogram. A lot of activists consider these levels outdated; they were put into place in 1997.
The lawsuit, which was filed on Aug. 23 in the Northern District of California, claims that "recent testing of the defendants' products shows that the potential exposure for an owner carrying the phone in a pants or shirt pocket was over the exposure limit, sometimes far exceeding it — in some instances by 500%."
These numbers may seen really scary, however, it's important to note that health risks associated with cellphone use have not been proven scientifically.
RELATED: NO, YOUR AIRPODS WILL NOT GIVE YOU CANCER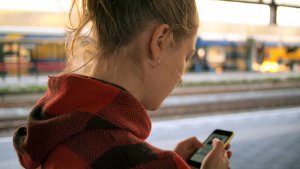 Have Any Studies Found A Link Between Phones & Cancer?
Because we tend to spend a lot of time holding our cell phones near our faces, a major concern has been whether phones could cause or contribute to tumors in the area. Studies have looked at a possible link between phones and gliomas or brain tumors, non-cancerous tumors of the brain like meningiomas, non-cancerous tumors of the nerve connecting the brain to the ear, and non-cancerous tumors of the salivary glands. Some studies have also looked at a possible link between phones and other diseases like skin cancer and testicular cancer.
According to an evaluation of studies by the American Cancer Society, the radio-frequency (RF) waves given off by cell phones don't have enough energy to damage DNA or to heat body tissues. So, it's not clear at this time how phones could possibly cause cancer.
What Do Lab Studies Suggest?
There have been a large number of studies in both human and animal subjects — and the results to this date suggest that there is no clear link between cell phone use and cancer risk.
A recent large study, lead by the U.S. National Toxicology Program, exposed large groups of lab rats and mice to RF energy for about 9 hours a day over a period of two years (the equivalent of about 70 years for humans) and found an increased risk of tumors called malignant schwannomas of the heart in male rats, as well as possible increased risk of certain types of tumor in the brain and adrenal glands. However, while a risk was discovered, there were limitations to this study. No increase was observed in female rats or among male or female mice in the study. Also, researchers were exposing the animals' entire bodies to RF, where humans using phones would only be exposed in certain spots.
The Bottom Line
Other studies, including some which used human beings, have yielded interesting results as well. However, the overall consensus is that we simply can't say for sure that cell phones are linked to an increased cancer risk. Even in the new suit against Apple and Samsung, none of the plaintiffs claim to have actually become ill or suffered health problems as a direct result of their phone use — the phone companies are being sued for allegedly misleading consumers into buying potentially dangerous devices.
Learn more about SurvivorNet's rigorous medical review process.