With a five-year survival rate of only eight percent, a pancreatic cancer diagnosis is one of the most challenging diagnoses to receive. This is in part because it's tough to detect early-on, and therefore tends to be diagnosed at a later stage. The disease is also less likely to respond to standard treatments like chemotherapy and surgery than other cancers.
In light of the aggressive and difficult-to-treat and nature of pancreatic cancer, the importance of supporting research to find new treatment options cannot be overstated.
Read More
But research is expensive—which is why many foundations, including the Pancreatic Cancer Action Network and the Lustgarten Foundation, are on a mission to help fund new ways to treat the disease.
This past weekend, James Holzhauer, now known to many as "Jeopardy James," joined in the cause, donating $1000 to the Naperville, Ill. Naperville Pancreatic Cancer Research Walk with the Lustgarten Foundation after a local resident, Ann Zediker, who lost her own father to pancreatic cancer in 2010 invited Holzhauer to join the walk.
Holzhauer has gained celebrity status for taking home a total of $2,462,216 for his 32-game winning streak on Jeopardy (he nearly broke the previous 2004 record of a $2,522,700 win). His high-roller approach to the betting and his seemingly infinite knowledge of trivia brought the beloved T.V. game show up to the highest ratings it's seen in 14 years. Holzhauer's streak ended when he finally lost the show on June 3.
But at the same time that Holzhauer was making a name for himself as "Jeopardy James," the long-time celebrity host of the show, Alex Trebek, was amassing attention for his personal challenge: a stage IV pancreatic cancer diagnosis.
When Trebek announced the diagnosis this spring, he immediately began to raise awareness about pancreatic cancer and its grim prognosis.
"The difference between the other pancreatic cancer victims and myself is I'm in the public eye, and the press has made a big deal out of my diagnosis," Trebek said in his new interview with People. "So I've become the de facto current spokesperson for it, if you will."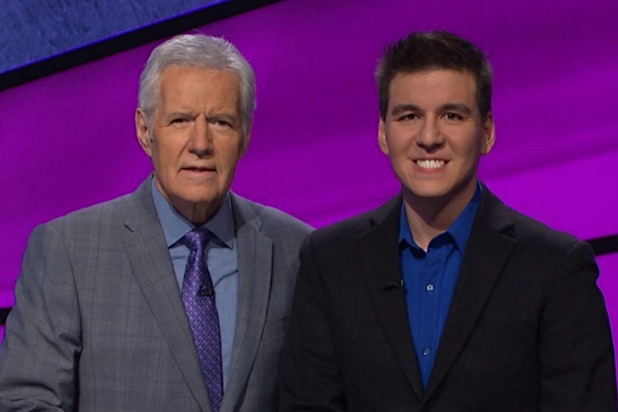 When Ann Zediker reached out to Holzhauer to invite him to participate in the walk, she acknowledged the connection: Holzhauer had won a fortune on the show hosted by Trebek, who was dealing with the very same cancer that took her father's life years prior.
"I sent him an email saying that it's been interesting to see paths cross in my life and I feel like it's time for our paths to cross," Zediker told ABC 7 Chicago. "I told him that Trebek's diagnosis rocked the world, and my heart sank to hear about how pancreatic cancer hit another beautiful soul and family. I shared with him how I lost my father from pancreatic cancer."
Holzhauer was unable to attend the actual walk, but readily donated $1,000 to the Lustgarten Foundation—contributing $1,000 more to help researchers develop much-needed new treatments for the disease.
Meanwhile, Trebek has publicly shared that his own cancer is actually responding quite well to traditional treatment—nearing remission—which is quite rare for those with the same diagnosis.
Dr. Allyson Ocean, Medical Oncologist at Weill Cornell Medical Center, previously explained to SurvivorNet the that the reason pancreatic cancer tumors are so difficult to treat with chemotherapy or radiation is that they are surrounded by a tissue called a stroma, which serves as a barrier, preventing medications or radiation beams from reaching the tumor.
"Think of pancreatic cancer as an oatmeal raisin cookie and the raisins are actually the cancer cells, and the cookie part is actually all the stroma around it." Dr. Ocean said. "And imagine having to navigate through all that stroma for a treatment to be able to get into a cell to kill it. So that's why the treatments just really aren't good enough to penetrate the cancer. But we're improving, we're getting better treatments."
With an additional $1,000 donation from Jeopardy James, the hope is, those improvements will only continue.
Learn more about SurvivorNet's rigorous medical review process.